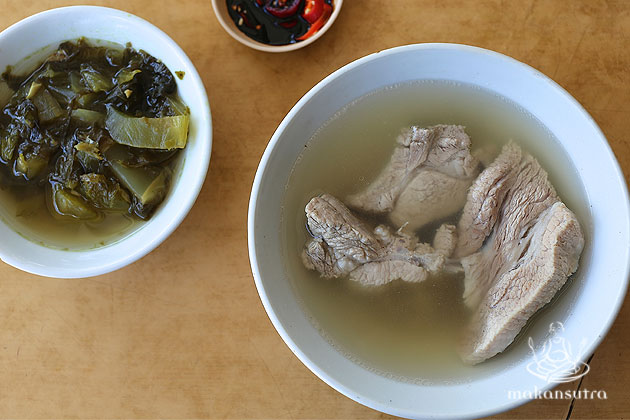 FAVOURITE 5 BAK KUT TEH
By Cecilia Joven Ong - Wednesday, Jun 17, 2015
Singapore style Bak Kut Teh is a popular Teochew Chinese  dish that consists of pork ribs simmered in broth of white pepper, garlic and pork stock. Although it is part of the Hokkien diet for a long time, it was the Teochews who defined this style and brought it to the market. The Malaysian herbal version, popularized by the Hokkiens, are also available in Singapore. It used to be a breakfast staple for the blue collared masses back in the day, but it's a 24/7 favorite today. Listed here are some of the favourite choices for Bak Kut Teh.
OUTRAM PARK YA HUA ROU GU CHA RESTAURANT
7 Keppel Road #01-05/07 Tanjong Pagar Complex Singapore 089053
Operating Hours: 7.00 am to 4.00 am (Closed on Mondays)
The owner used to be the right hand woman of the father of Ng Ah Siok Bak Kut Teh. I opted for the prime ribs ($9); the texture was amazingly succulent with its fall-off-the-bone softness. The soup was rather peppery but not overwhelming. As for the Pig's Trotter ($7), you get to choose between the lean and the fattier option which has a softer, melt in the mouth texture. Their Salted Vegetable at $1.50 is good option for a balanced meal. Though slightly steep in prices but their heartwarming service is worth the value.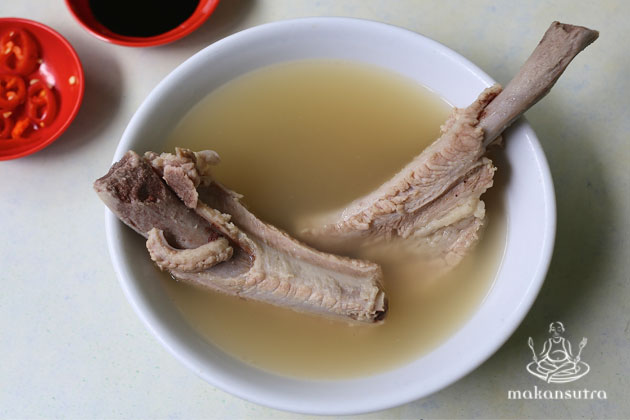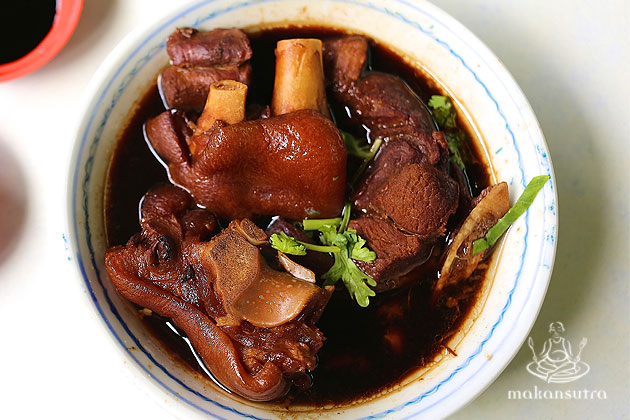 FOUNDER BAK KUT TEH RESTAURANT
154 Rangoon Road Singapore 218431
Operating Hours: 9.00 am to 11.00 pm (Closed on Wednesdays)
The founder used to be a pig farmer in Punggol and went into the Bak Kut Teh business when pig the pig farming industry saw its sunset days.  He created his own recipe through trial and error thus it is called the Founder Bak Kut Teh. The Prime Ribs is priced at $10 and the Pig's Trotter at $9. The soup has a comforting light peppery taste with a hint of garlic. The ribs were perfectly cooked to give it the desired tenderness. The Pig's Trotter was surprisingly good but what left an impression was their Salted Vegetable at $3. It was neither overly soft nor salty with a nicely soft crunch.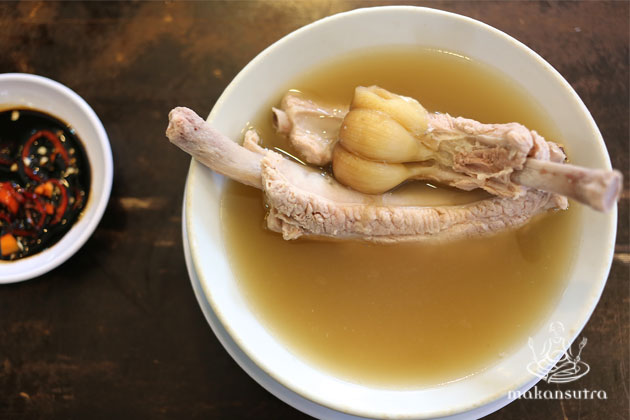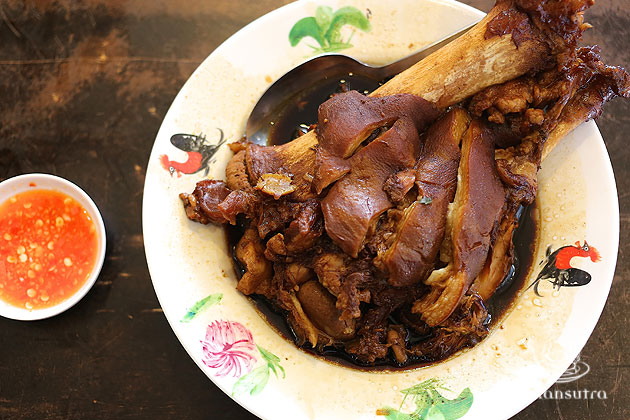 LAU AH TEE BAK KUT TEH
Block 34 Whampoa West #01-67 Lau Ah Tee Eating House Singapore 330034
Operating Hours: 7.00 am to 3.00 pm (Daily)
The owner used to be the helper of the legendary father of Ng Ah Siok Bak Kut Teh before he started this. The Spare Ribs Soup ($6) was peppery with a tinge of garlic taste that did not overwhelm. The Spare Ribs were not as tender as I liked it and it might have to do with that particular cut of the meat. Their Salted Vegetable at $2.00 was a tasty choice. The Pig's Trotter ($8) was cooked just right but not quite memorable in taste as the braised sauce was a bit too light. The other signature dish here, is the steamed fishes, found on almost every table at meal hours.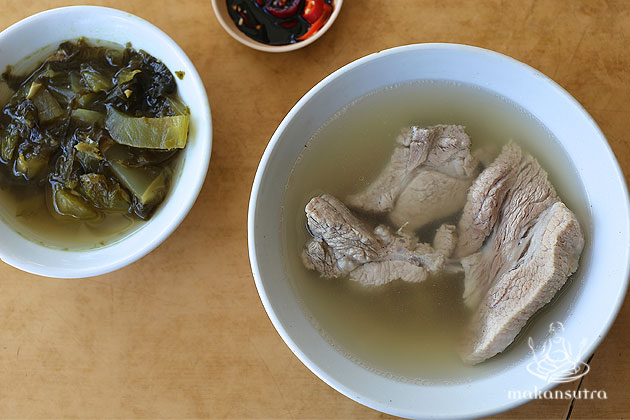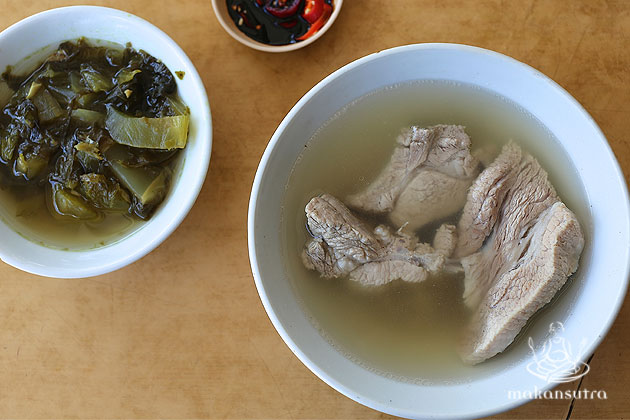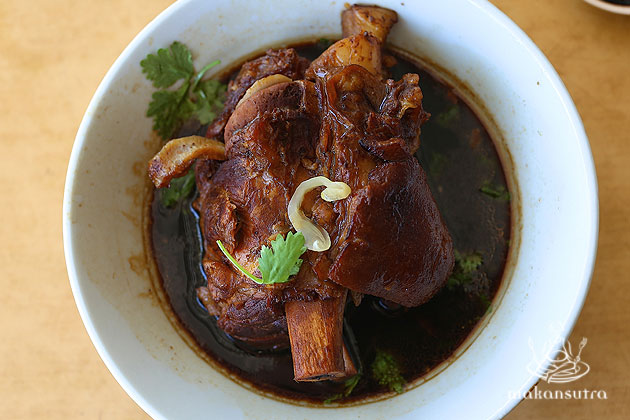 JOO SIAH BAK KOOT TEH
Block 349 Jurong East Avenue 1 #01-1215 Singapore 600349
Operating Hours: 8.30 am to 7.00 pm (Tue to Sat) / 8.30 am to 3.30 pm (Sun)
(Closed on Mondays)
The owner is the brother-in-law of the famous Rong Cheng Bak Kut Teh and he started this stall more than 20 years ago using the same recipe and with his blessing. His son has recently taken over the stall from his elderly parents. They have just moved from the hawker centre to a nearby coffee shop just 2 blocks away. I did not get to try their prime ribs as it has already sold out in the morning; the remaining option is the Spare Ribs Soup at $5.00 for a generous serving of spare ribs. The ribs were a bit too lean thus not as tender as expected; the soup was rather strong-flavored and intensely peppery. The star is their Pig's Trotter at $5.00 for quite a chunky and meaty piece; it was nicely braised and exceptionally tender and flavorful. The Preserved Vegetable is only $1.00 for a generous portion.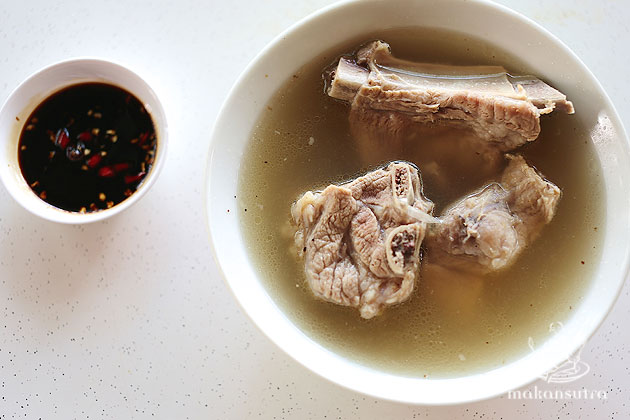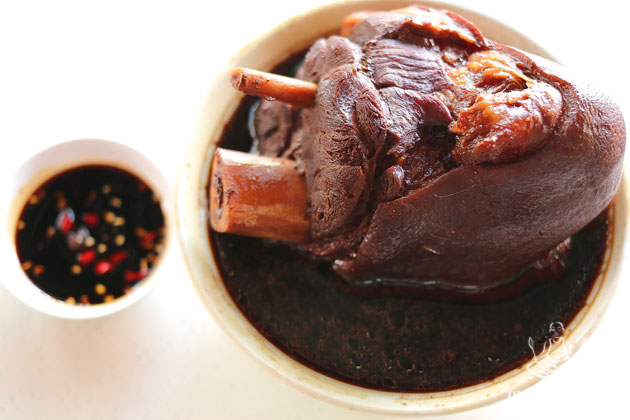 SOON HUAT BAK KUT TEH
302 Bedok Road Bedok Shopping Complex Singapore 469460
Operating Hours: 11.00 am to 11.00 pm (Daily)
This is a Social Enterprise that started in April 2013 where they give ex-offenders and former drug addicts a second chance in life through employment. Their Malaysia style dry version Bak Kut Teh ($6.90) is rather popular. The broth is reduced to thicker gravy through cooking process with ingredients like lady's fingers, dried chillies and dried cuttlefish. The taste is sharper with a slight hint of spiciness. The soup version at $5.90 was light with a unique herbal taste served with extra ingredients like enoki mushroom and fried beancurd skin. The texture of the ribs was meaty with a nice chewiness.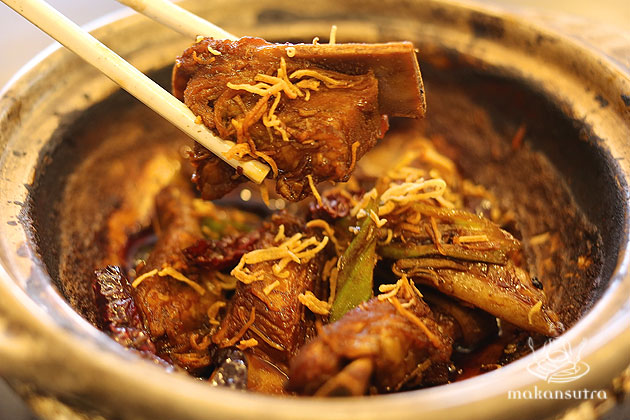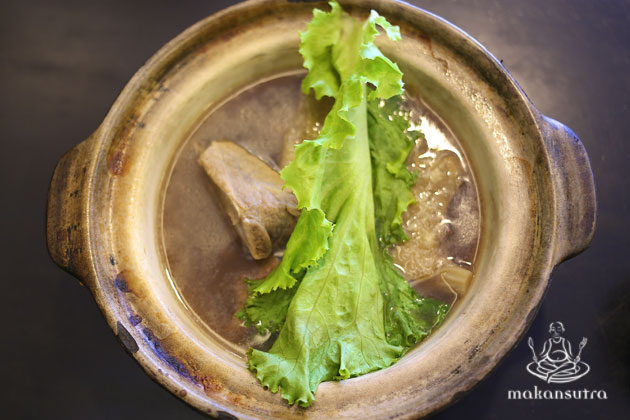 The Soup Bak Kut Teh ($5.90) at Soon Huat Bak Kut Teh