10 Chilli Laws
By Sheere Ng - Thursday, Aug 16, 2012
We don't always notice it, but chilli sauce is not an option, but often a necessity. In Singapore, it is the yardstick of a hawker's mastery, diligence and sincerity. "Customers will come to you or walk away because of your chilli sauce," says Mdm Hong, who has been selling braised duck for 70 years. Till today, she makes her chilli sauce from scratch, at least once a week. It is a key to completing the experience of her food.
Literally every street food comes with its own matching chilli sauce with a studied reason – be it for taste, texture, the complementary factor etc… "Once we changed our chilli sauce to the limey type, we got scolded big time by our regulars," says the lady boss of Heng Ji Chicken Rice, whose chilli sauce is sweet from the added plum sauce. "If the chilli sauce for oyster omelette has got no garlic in there, I will not eat it at all," says Mdm Tay, a coffeeshop assistant and self-professed oyster omelette fanatic.
Makansutra lists down 10 types of chilli sauces that are specially paired with our food. We speak to hawkers, chefs and food lovers on why they play such important role and how pairing it can make or break the dish. Note: this list is not comprehensive and probably will never be.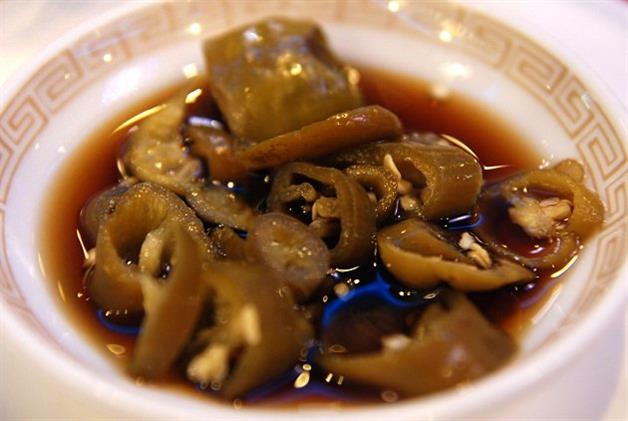 Red chilli blended with garlic, dried shrimps, belacan, garlic and shallots and then fried in the wok until fragrant. This chilli sauce has a robust, roasty flavour, and usually comes with roast duck and char siew. "Pork and duck are gamey, so you need a stronger flavoured chilli paste to go with it," says Mr Chris Khong of Moi Lum restaurant. Singaporeans are not only particular about the taste, but also the texture. Part of the enjoyment, Mr Khong adds, is to have the chilli paste "stick" onto the meat, so that it can be chewed together.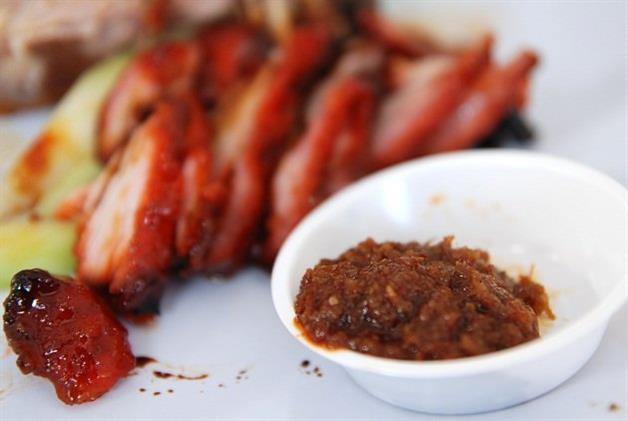 Usually eaten with fried noodle dishes like hor fun and even wanton mee, this chilli sauce is more tangy than spicy so as to cut through the heaviness of the starchy noodles. For Mr Andrew Wong, a financial consultant, it also helps refresh his palate for the next mouthful.
Oyster omelette chilli sauce is a blend of red chilli, white vinegar, garlic and some sugar. Sometimes hawkers would also add lime juice. Again, the tanginess is introduced to contain the oiliness and heaviness of the omelette, while the garlic helps to mask the fishiness of the oysters. This sour-spicy-pungent combination works like Tabasco sauce, which is also what Westerners would enliven their fresh oysters with.
The chilli sauce that comes with pig's organ soup is similar to that of the oyster omelette. The flavours of the chilli sauce follow through the slight tanginess and garlicky accents of the soup. But the balance of tang and chilli is artfully different. These flavours help "distract" the palate from the porky aroma of the offal.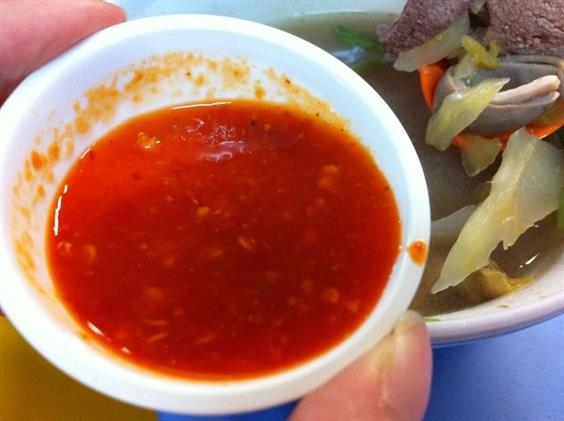 Light soy sauce with cut red chilli. Usually comes with relatively blander dishes like fish ball noodles and sliced fish soup. Dip the ingredients into this chilli accented soy sauce for something more savoury and appetising. Some people also like the temporary numbing sensation cause by the spicy chilli padi before they take that next humdrum bite of their dish.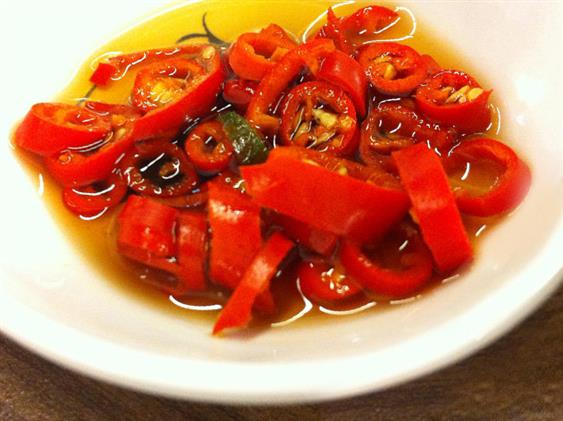 Chilli sauce for braised duck. But instead of using fresh chillis, most use dried ones (which explains the darker colour) to introduce a smoky and toasty aroma to the spice mix. This style of chilli sauce is also oilier with sweetish hint and often laced with roasted ground hae bi (dried shrimps) for texture and savouriness.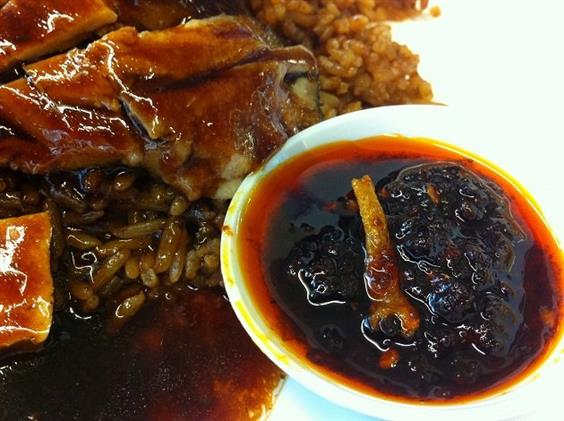 The most famous style of chilli sauce would be the one that comes with chicken rice. It is made of fresh red chilli, garlic, ginger, white vinegar and/or lime. Vinegar is used to complement and contain the "fowl" taste, says Mr Khong. "If you think about it, the chicken is basically just boiled meat and doesn't have much flavour," he says. Some stalls also add chicken oil into the sauce to enhance the fragrance and savouriness.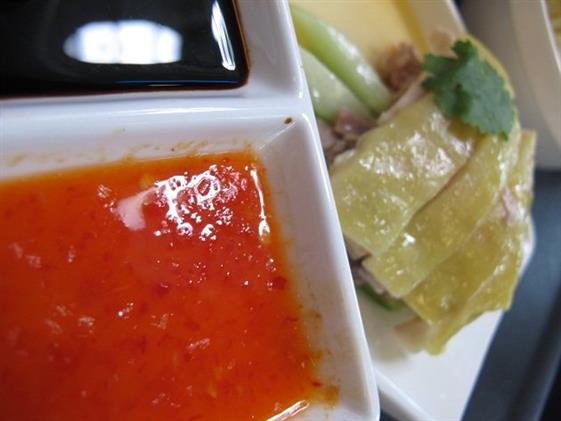 Teochew porridge chilli sauce is made with minced garlic, fresh red chilli, white vinegar and sugar. Some may also add tau cheo (fermented soy bean dip). Notice that Teochews favour seafood – steamed fish, chilled white bait, squid, cockles and fish cake – and they rarely cook them in bold flavours. (Mr Lee of Huat Kee Teochew Restaurant explains that the Teochew prefer to leave the integrity of the ingredient intact, hence, fish should taste like fish and vegetables must taste like vegetable.) Vinegar in the chilli sauce helps to foil the fishiness, while the sugar helps to balance its sharp acidity.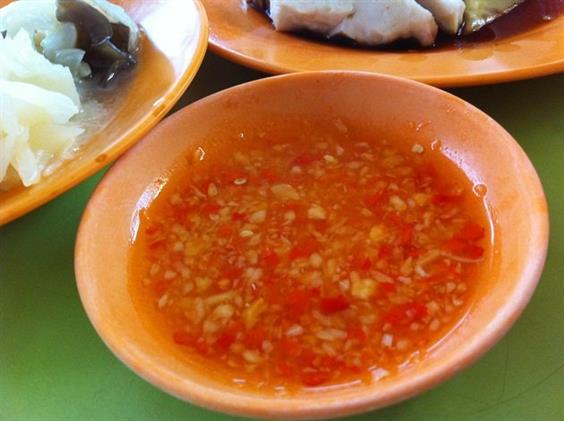 Traditionally, the chilli sauce that comes with yong tau fu is called Zijin Jiang – "Zijin" referring to the county in Guangdong province. According to Hakka chef Mr Lai Fak Nian of Plum Village restaurant, the spicy and savoury sauce comprises of tau cheo (preserved soy bean), five spice powder, dried chilli, sugar, garlic and more. However, when this dish arrived in southeast Asia, it got lost in translation. Now, yong tau fu chilli sauce doesn't have a very distinctive beany, sweet and tangy taste. Depending on where you get it from, some of them are spicy, some salty and others are sweet because the sweet black sauce is mixed in.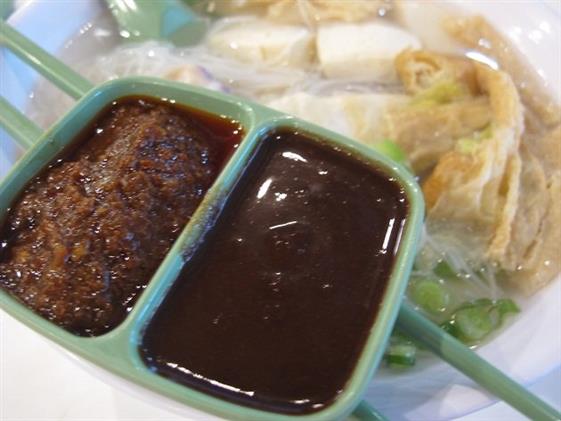 Bak kut teh has always been eaten with this combination – caramelized dark soy sauce (tau yu) and regular red cut chillis. According to Mr Lim of Rong He Bak Kut Teh, dark soy is used because the texture is thick enough to cling onto the meat. The smoky sweet-savouriness of the soy sauce also sooth the peppery taste of the soup. Chilli is added not so much for the spiciness but for the flavour. But increasingly, people add the spicier bird's eye chilli (chilli padi) to spice things up a little more.