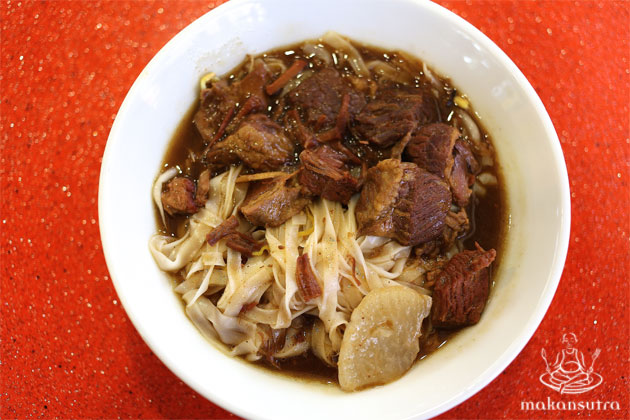 12 STONES NOODLE HOUSE: Back to Basics, again
By Cecilia Joven Ong - Wednesday, Sep 24, 2014
12 Stones Noodle House was started by Roy Loi, the main chef of the now-defunct Loy Sum Juan ( 黎三元 )at Murray Terrace, which closed in February 2014. He started as a chef working in their family restaurant about 24 years ago, before the 40-year-old Loy Sum Juan ceased operation due to a shortage of manpower and rental hikes.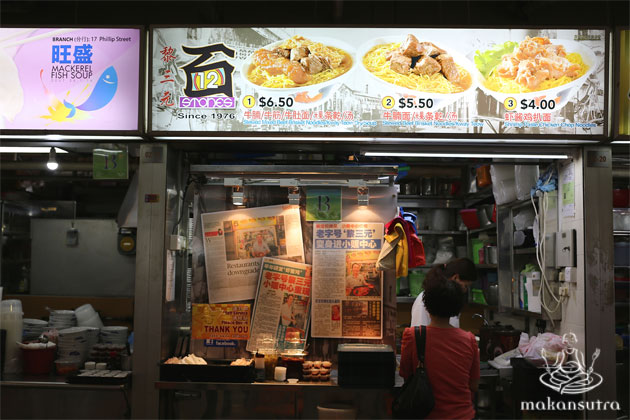 THE RELOCATION
They have recently moved from ABC Brickworks Food Centre after only being there for 3 months to Golden Shoe Food Centre in August 2014. Roy mentioned that the main reason for the relocation is to shorten their operating hours in order to have more family time. The stall is now operating from Monday to Friday, 10 am to 3 pm. Although the stall is now operating for shorter hours and only during the weekdays, the crowd seems to be better at this current location.
His signature dishes are Shrimp Paste Chicken Noodle (Har Jeong Kai Mee) and Stewed Beef Brisket Noodle (Ngau Lum Mee). The slight increase in their pricing is likely due to the difference in rental as the previous location is in a residential estate but the current one is within Central Business District with a better lunch crowd anticipated. The Shrimp Paste Chicken Noodle is now priced at $4.00, the Stewed Beef Brisket Noodle at $5.50 and the Stewed Mixed Beef Brisket Noodle at $6.50.
I first tasted the Prawn Paste Chicken Noodle when they were at the ABC Brickworks Food Centre. The Prawn Paste Chicken was one of their signature dishes at Loy Sum Juan. Their original recipe was created by Madam Wong, Roy's mother. He serves it differently now as compared to how it was when at the ABC Brickworks Food Centre. The Prawn Paste Chicken used to be in the form of chicken cutlet, which he then chopped into smaller slices. Now, it's back to being served in chunky pieces, just like how it was back in their family restaurant. The prawn paste marinade was fully infused into the chicken, giving it a well-balanced flavour without overpowering it. It tasted noticeably crispy with its moistness retained within. It goes perfectly well with the noodle in soy-based sauce, and you can have the option of having beansprouts added.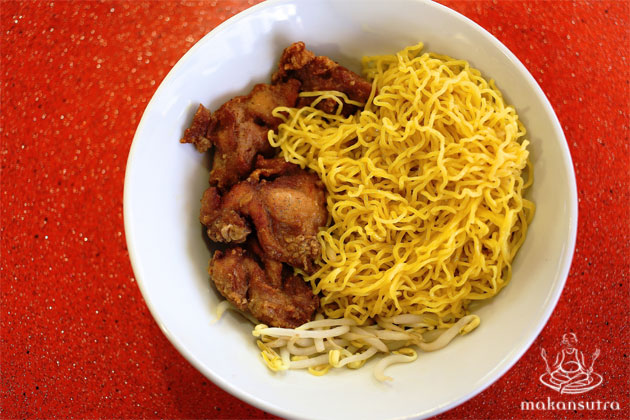 Stewed Beef brisket Noodle has always been my favourite, but it is somewhat difficult to find one comparable to what I tasted in Hong Kong. The version served here did not disappoint. The beef brisket tasted tender and is complemented by the light yet flavourful broth. It was served together with a piece of white radish that fully soaked up the flavours.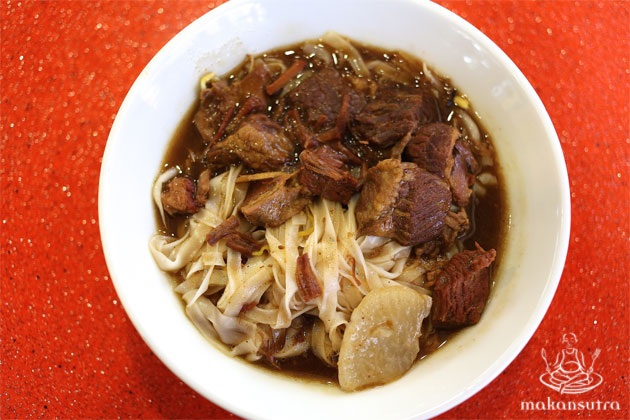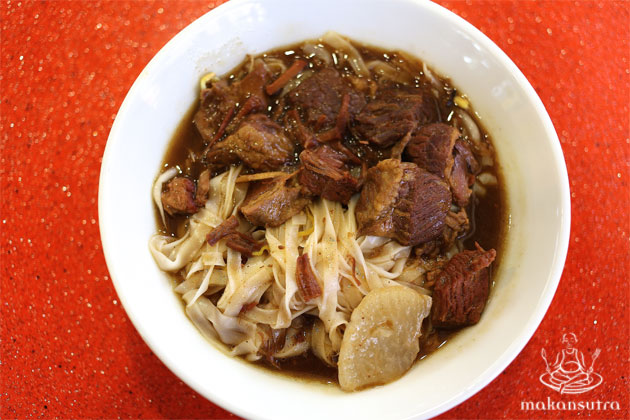 They used to offer Hainanese Pork Chop together with the noodle, but it has been taken away from the menu after the relocation. I felt that the pork chop did not go too well with the noodle and it's not big loss for me now that it's removed from the menu.  
RELIVE THE LEGACY
Although Roy started this hawker stall without including the Prawn Paste Chicken in the original line-up, it is hearting to see the transformation from family restaurant fare to humble hawker stall offering. This will not only enable them to preserve their legacy, but it will also enable a whole new generation to experience the taste of their family legacy Prawn Paste Chicken.
12 STONES NOODLE HOUSE
50 Market Street #02-21 Golden Shoe Food Centre Singapore 048940
Operating Hours: 10 am to 3 pm (Monday to Friday)