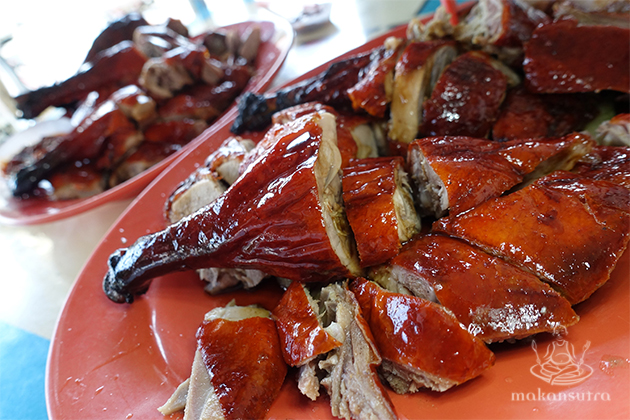 The $13.80 Roast Duck War
By KF Seetoh - Friday, Aug 04, 2017
It's no quack. But that's what a few roast duck stalls are offering for the whole fowl for these days, give and take a couple of dollars. I was told about a $15 roast duck take-out only stall in Chinatown by another hawker, Melvin Chew of Jin Ji Kway Chap. The social media post I made generated 325,000 views with 3500 shares in 24hours. Then, another foodie whispered "hey, there's two more offering them at $13.80." All of them offer a smaller, below 2kg duck, but no one is complaining. So today, I'll set my record straight- whose duck is licking them all.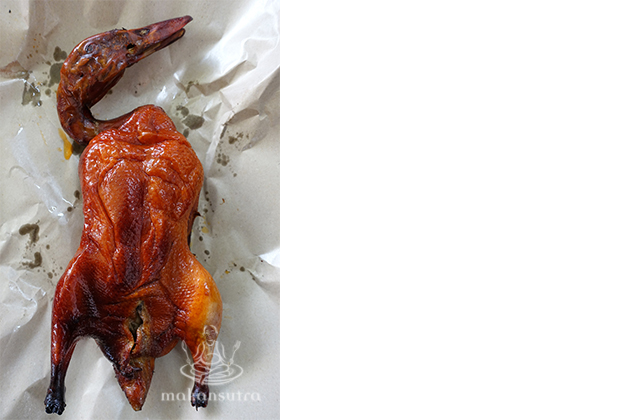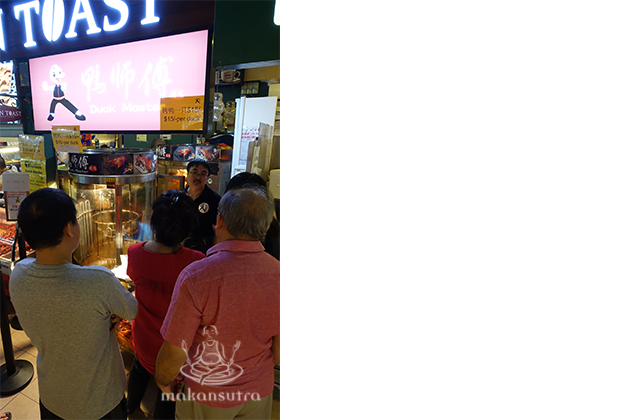 Duck Master. 01-K99, People's Park Complex (next to MRT exit) 10am-10pm(Monday to Friday), 9am-10pm (Saturday and Sunday).
The main appeal here is the two tempered glass oven that shows two rows of ducks spinning slowly inside. It's a visual treat. After my FB post, the queues and wait went up to 2 hours ($15 each) and some were told to come back the next day. Quality- it came hot and roasty but not quite the roastiness I like adore like from some of my favourite roast meat joints. But is better than most. They claim to use chilled ducks imported from Malaysia. The meat is tender enough and the marinate is basic and light with tinges of salt and some spices. They do no chop the duck for you; queue and take them home, whole, on its own, head and all attached. No seating space nor cutlery is provided.
Jiu Xiang Xiang branch 1, 369 Balestier Road, 24 hours daily
They had been offering the whole roasted-on-site duck for $18.80 but now lowered it to $13.80. The duck looks a little bigger (about 1.6-1.8kg) and it comes meatier and chunky. The marinate is tamer than both the others but that's because they rely on an umami laden, sweet and savoury hoisin-like sauce that is slathered over. You can have it with noodles, or rice and even a dumpling soup. They also offer a herbal Dang Gui (angelica root) to calm all that "duckiness" at $16.80 each. You eat here in air-conditioned comfort and with service. They whole un-chopped duck costs $13.80 (takeaway) and you add a dollar more if you want it chopped. Its $16.80 if you want it cut and for an eat-inside order.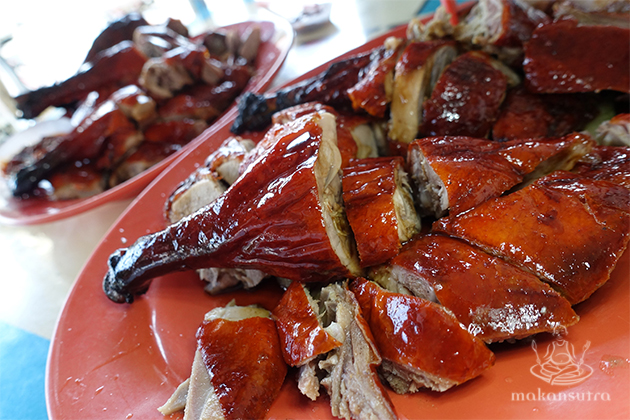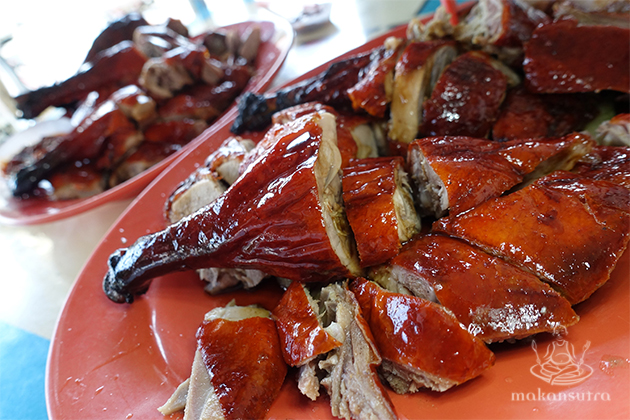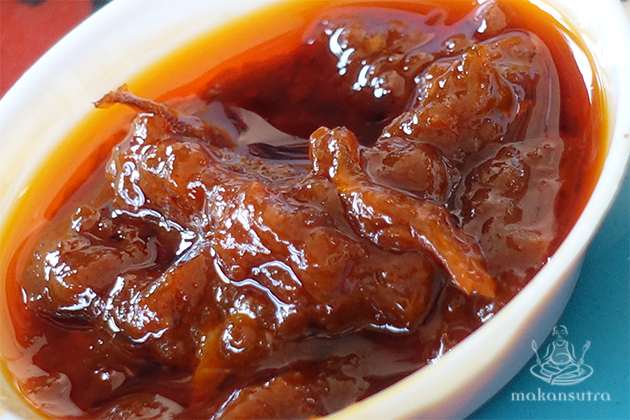 Jiu Xiang Xiang, 588F Balestier Road (junction of Jalan Datoh), 24 hours daily
This one is my favourite of the lot. They roast them like how many restaurant do- marinated in bright orange colours, hung to air dry and roasted in the "Apollo" oven out in the back open kitchen. The duck has a roasty aroma even when it's not fresh off the oven. Imagine if you get one that comes piping hot off the Apollo. The skin is dark orange, shiny and roasty with some crispiness (not quite the Peking Duck style, as it uses another breed). I love demolishing a whole duck- flavourfucl all on its own without any need for sauce. I adore their sambal- it comes with bits of whole tiny ikan bilis (white bait is used). Best to have them all by the five foot way kopitiam atmosphere here and washed down with some cold beer or Chinese tea. The too offer it with rice, noodles and dumplings and their prices are the same as Golden Duck's above.