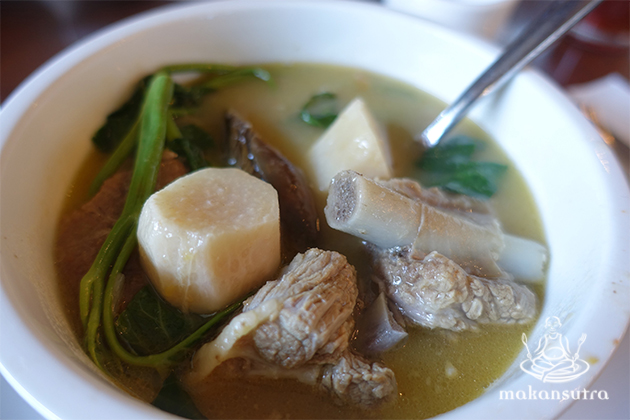 25 Seeds: Multiple Flavours
By KF Seetoh - Friday, Apr 20, 2018
He was part of the opening team behind Jaan restaurant atop the then Westin Stamford Hotel, way back in 2003 and is an alumni of the Culinary Institute of America. Four years later, Chef Sau Del Rosario headed back home to the Philippines and carved his own career on TV and opened his own string of restaurants. There is a movement now in Manila where top chefs like Sau seeks to return to their roots and relook at heritage food. These are the "beyond adobo and lechon" chefs. If you hadn't known, lechon and adobo are not originally from Philippines but brought there centuries ago by their colonial Spanish landlords. Sau hails from the proud food capital of Pampanga (a 2 hour drive  from Manila) and one of his latest venture, barely two years old, is 25 Seeds Restaurant, sited in a century old Spanish colonial bungalow in Pampanga. The menu is a fierce reflection of his heritage with some new takes on old flavours.
Chef Sau was also the Philippines Team Captain of the World Street Food Congress in Manila last year but this time, he humbly leads his own kitchen for this meal.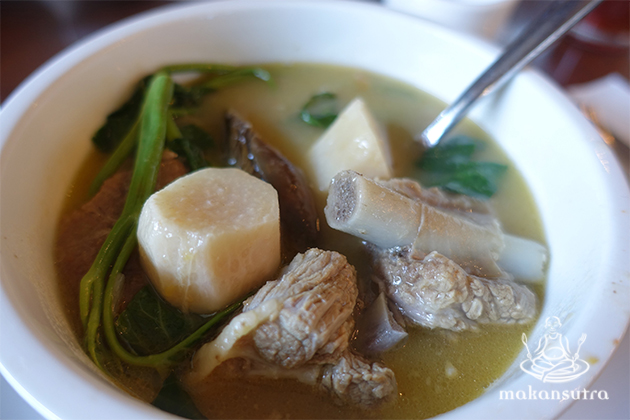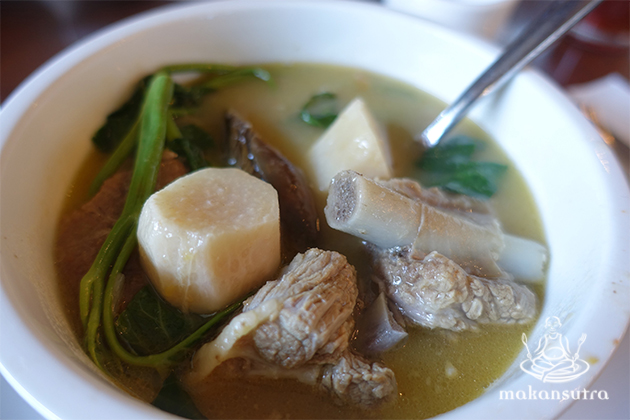 Sinigang is a sour soup (every Asian country has a version of it) and the common souring agent used is guava and tamarind or vinegar. Chef Sau served a version using taro and pork ribs. The tuber thickened this soup somewhat and contained the pork-iness and was sharpened by the tamarind. Definitely not a Lucky Plaza Pinoy café rendition. The soft ribs and the smooth tangy broth held it all together.
The toman or snake head fish Porchero was next. A whole fresh fish was cooked with a tomato based stew with some greens and it was supremely comforting with steamed rice after that Sinigang. You just need to manoeuvre the soft bones (in line with keeping it real and authentic) and the sweet soft fish will please you to no end, in that tomato stew. This is when the Lagad salad (banana blossoms cooked in coconut and lime. The restaurant occupies the spacious second floor of this preserved old Spanish house and that high ceiling grandeur is captured in the interior design.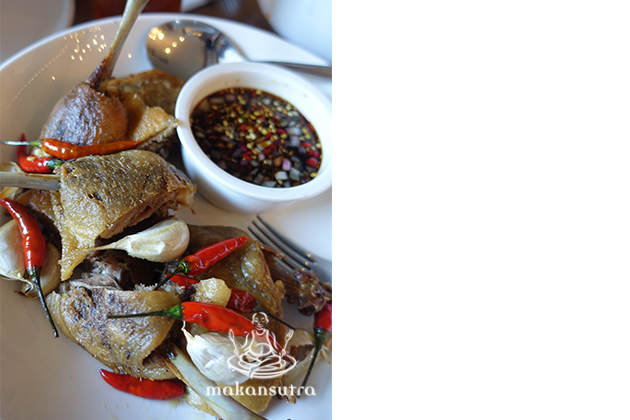 The fried duck or confit was up next. It was done with chilli and garlic and the fowl was first braised till soft, then fried till crispy sans all that "ducky gaminess". You complete it by dunking it in the black vinegar chilli dip. Again, this had to go with some mouthful of rice (hardly any Philippines dish does not go with rice).  When available, ask for the Backyard Salad, a fresh bowl of radish and hand plucked arugula and flowers in a simple vinaigrette. Such a refreshing counter to all that meat and seafood.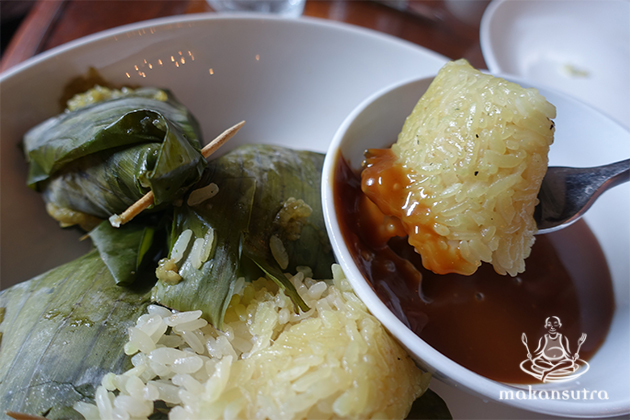 Dessert came and it looked like some bak chang. The Suman, or leaf wrapped rice parcels came with a coco jam caramel dip. A very humble Philippine sweet and we calmly ended the meal with coffee.
So, if you wonder what's there beyond adobo and lechon in the Philippines and dare not peek in their local carinderias or canteens, then this place could be Filipino makan-101 course for you. Chef Sau changes his menu ever so often but ask ahead if you want these or something special. Salamat po!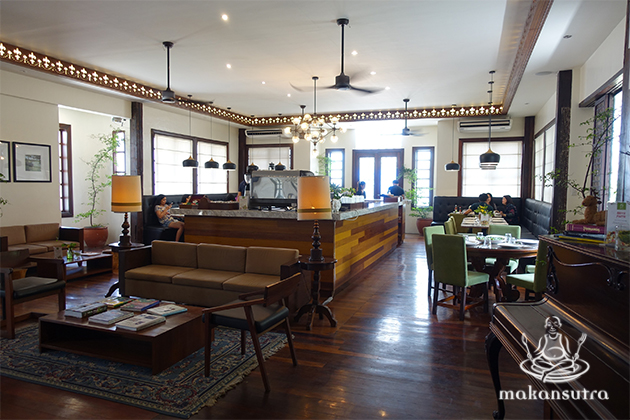 25 Seeds
2nd Floor, Dycaico Ancestral House
Sto. Rosario Street, Angeles City, Pampanga
Philippines, Tel: +63905 257 7149
11am to 10pm Monday to Friday
11am-11pm Saturday and Sunday.