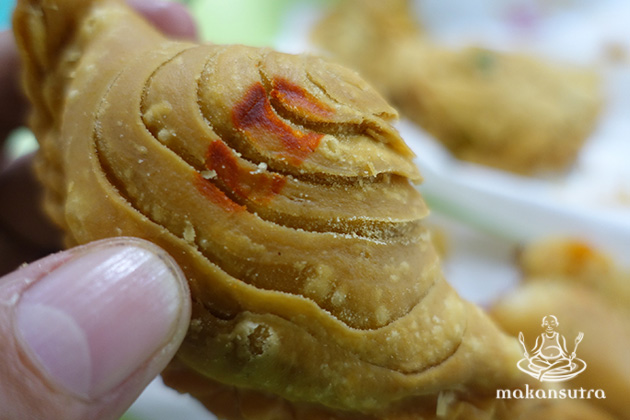 3 Old Snacks at Dunman
By KF Seetoh - Friday, Dec 22, 2017
To fully enjoy a food or hawker centre to the maximum, you should know what that hawker centre's "special edge" is, or understand that there's up to 100 cooks awaiting to serve you the ultimate "omakase" meal of your life. So, you just have to pay more attention to what each food centre's edge is, eg…may it be nasi lemak and ayam penyet in Changi hawker centre for nasi lemak or to Chinatown Food Centre for steamed fish head and braised chicken rice and noodles. I head to Dunman Hawker Centre for these few favourites of mine when I seek real heritage snacks…without question.
Dunman Hawker Centre, 271, Onan Road.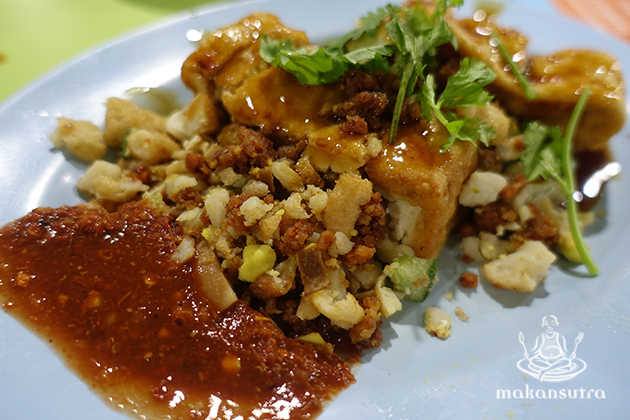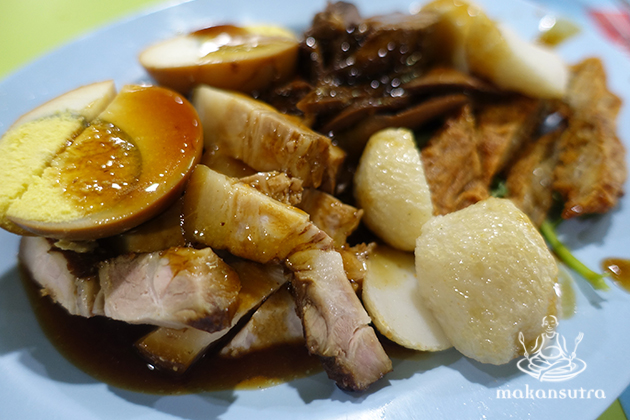 Say Seng Tau Kwa Pau, B1-05, 8am-5pm, Closed on Mondays.
This Hakka delight, sad to say, may not make in to the makan book of future. Not many know of nor have eaten them before and I have not seen a new player coming into the market to hawk this for many years now. But these folks are one of the long surviving names in Singapore and the boss was a disciple of an old defunct legendary hawker that plied this along Haig Road area back in the day. The tau kwa- is fried and stuffed with chopped eggs, crispy yam bits and fish cakes then slathered with a brown duck braise sauce. It's lovely on its own but I need a stinging tangy chili to complete this show and their vinegarish lime chili sauce, provides this finishing touch. A piece cost $1.50 and it's best you order a bed of sides- braised duck, pig tongue, belly pork, more fish cakes, braised eggs and a crispy yam cracker- all a ready for that brown sauce and chili dip.
Gina's Vadai, B1-06, 9am-4pm, Closed on Mondays.
They moved from humble to hero, with stalls in Orchard, Suntec and Katong area, then, back to a simple hawker stall, like how I first noticed them 20 years ago in a Kallang Bahru coffeeshop. Gina is still around hand making this gorgeous Indian prawn vadai ($1) or doughnut. I like it because it's not so traditional, as she does not ferment the dough as boldly as her peers. It tastes like a crispy Chinese hae-pia or prawn cake, with a couple of small grey prawns embedded on. She also offer cheese, peanut and ikan bilis versions. And, never forget to chomp it with a piece of green chili (which she provides), if you dare. In fact, just do it and complete this experience.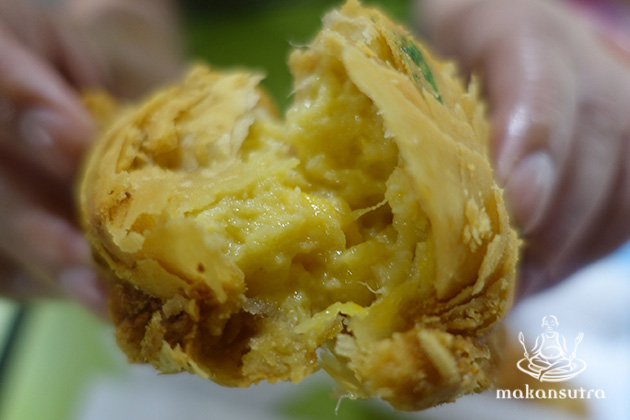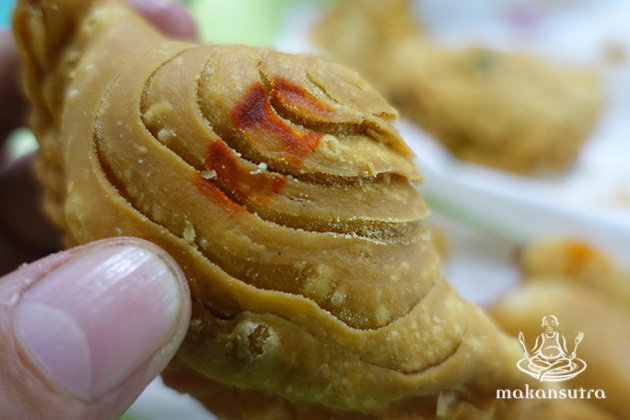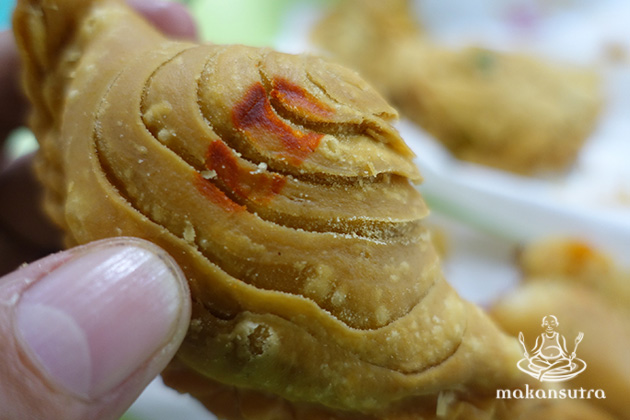 1A Crispy Curry Puff, B1-07, 8am-1pm, Saturday and Sunday only, tel: 97378009
This "shell" style of curry puff, with a faux-pas filo pastry is unique to us and these folks are known to be the first to offer it in Singapore over almost three decades back. They moved on to coffeeshop operations and sold it. But the family kept the tradition and now operate this little stall here. All those buttery and crumbly pastry filled with moist curry potatoes with chicken and egg are still handmade ($1.50), which accounts for the irregular shapes. What I was taken by was the seasonal durian version ($1.80)- stuffed with a paste-y and creamy D24 durian flesh- rich, bold and they make their own durian filling. Sadly, they only open on weekends here due to family commitments and crowd size here.