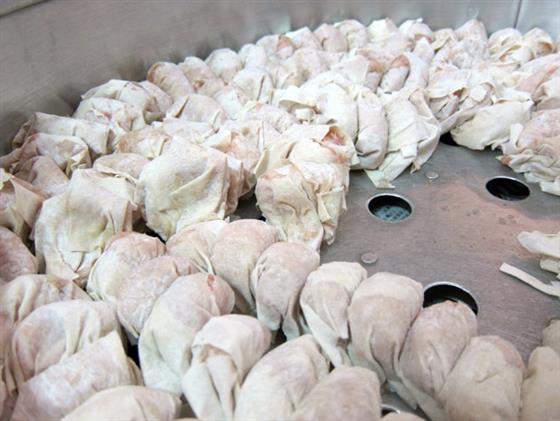 5 Disappearing Foochow Chow
By TianTianChi - Wednesday, Sep 19, 2012
Whenever Foochow (aka Hock Chew, Fuzhou) food is mentioned, most will conjure up images of Foo Chow fish ball, the UFO-shaped deep-fried oyster cake, red wine chicken and "Yan" dumpling.
The older Fuzhou folks are already lamenting the soon to disappear Dian Pian Hu, (or Guo Bian), where rice flour paste is heated at the side of the wok of seafood soup, firmed and flipped onto the broth at the bottom to cook further. They also miss the Fuzhou handmade fish balls – now mostly factory made, as well as red wine chicken with homemade red wine lees. Many of the older Fuzhou food masters have called it a day and the waning popularity of their food won't help sustain any cook's foray into Fuzhou food business. Many Foo Chow food stall have to include dishes from other dialect to survive. The artisanal craft of Foo Chow food is go, going, gon…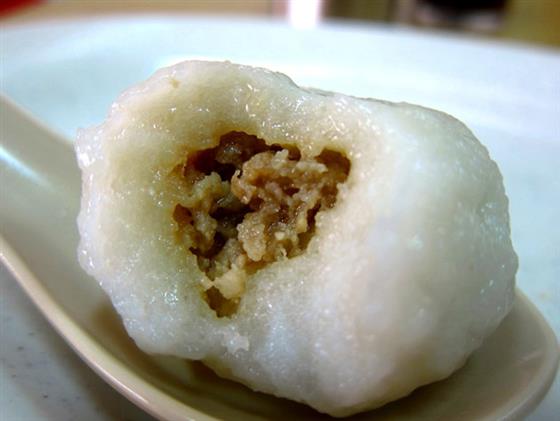 Fuzhou Fish Ball (Seow Choon Hua Restaurant 33/35 Sultan Gate, 10am-10pm)
At this 70 years old street food eatery, still handmake their stuff. Four types of fish, Ikan parang, grouper, red fish and yellow eel plus some flour, are minced and kneaded into ball and stuffed with minced meat. Each is deliberately and unevenly shaped- a sign that each one is handmade.
It comes just lightly springy, a little softly crunchy and tight texture. The fish flavour is evident and pronounced. Bite slowly as the minced meat filling can be molten lava hot – be careful. They also sell frozen packs for your parties, especially at Chinese New Year.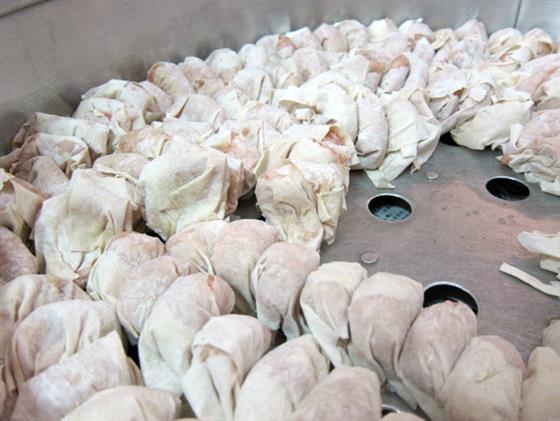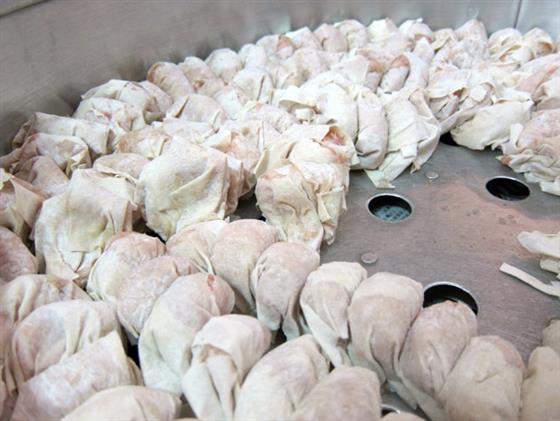 Rou Yan (Seow Choon Hua Restaurant 33/35 Sultan Gate, 10am-10pm)
The Teochews have their hee kiow (fish dumpling) and the Foo Chows have their rou yan. Very similar in many ways – fish paste is used for hee kiow skin and pork for rou yan. The meat wrapper known as Yan Pi (swallow skin) is made with bashing pork meat (not blending), then mixed with sweet potato flour to form a thin sheet or skin. It has to be elastic (that's the artisanal skill ) and resilient enough so it holds the fillings of minced pork, prawns, water-chestnut paste well. But these days, they resort to using ready made ones from China and they make the dumplings only two days a week.
The dumpling is rather firm, yet soft, like a huge wrapped prawn ball. It comes well flavoured, not too salty or sweet with an alluring hint of sesame oil.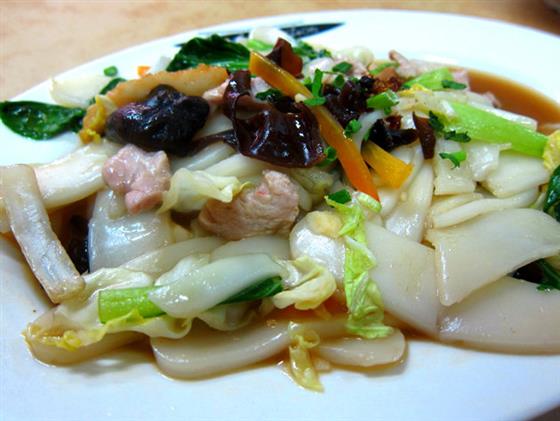 Fuzhou white rice cake (Fuzhou Delight, Blk 17 Upper Boon Keng Road #01-1169M, Blk 17 Market and Food Centre
8am-3pm, 5pm-9.30pm, closed Wed)
This was traditionally served during Chinese New Year, which is why it is also known as nian gao (new year cake), very similar to the northern China style. Rice flour mixed with water is cooked and cooled until hardened to be stored. Thin ice cream stick slices are then cut and cooked in stock and seafood.
Again, this old school labour intensive skill is all but lost, many simple used pre-packed dried nian gao (which needs to be pre-soaked for about a day). They first pan fry them then braised with a concentrated superior stock made from pork and seafood such as clams. The old master expert touch ensures gravy doesn't turn too gooey and allows the flavour to be absorbed by the rice sticks. It is soft, gummy and together with shredded meat, black fungus, dried cuttlefish and clams form a delectable and complete meal.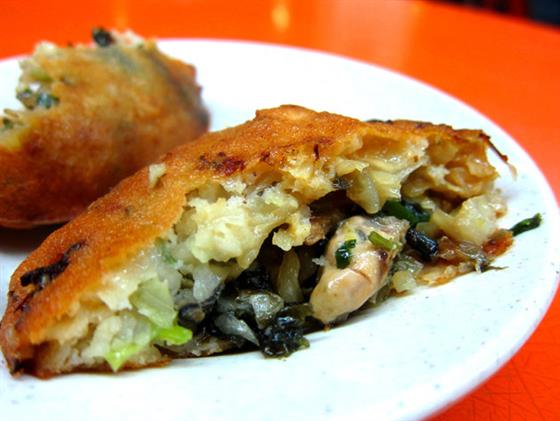 Oyster Cake (Hao Zai Lai Jia Xiang Cai, 71/73 Geylang Lorong 27 Hee Heng Eating House, 12pm-10.30pm, closed ad hoc, once a month)
Fuzhou, along the coast, is big on seafood. They are especially famous for shell fish such as clams and oysters.
This is a very popular street snack in Fuzhou where ladle of rice flour batter is topped with oysters and minced meat and vegetables, then layered with more batter before deep frying over medium fire till golden brown and crispy. It comes looking like a mini flying saucer thus the name UFO cake.
What's appealing – it's cheaper-than-CBD price at only $1.20 per piece and no smaller and is ample with fillings like juicy minced meat, cabbage, seaweed, prawns and two small oysters. The batter is appealingly thin, spongy and a little bread-y but lacks the additional crunch of peanut toppings. Do request for a freshly made ones as it turns soggy when left to sit on the shelves.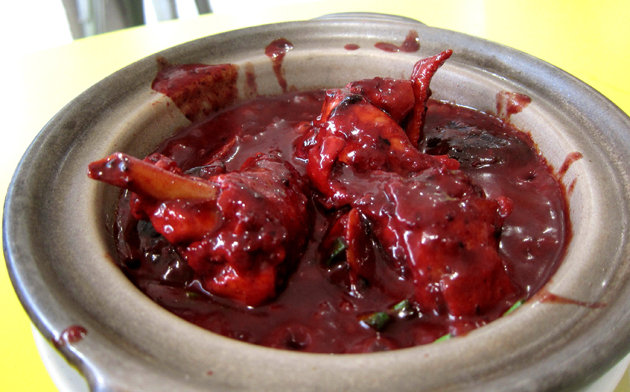 Red Wine Chicken (Ah Pang Steamboat Seafood, Blk 159 Mei Ching Road #02-21, Mei Ching Market and Food Centre, 12pm-10pm, Closed Tue & Wed)
The Fuzhou folks like their chow sweet and sour too and red wine is featured prominently in their cooking. The red-coloured wine is fermented using glutinous rice and red rice yeast. It's not as alcoholic, is sweet, with a tinge of sourness that is not over-bearing. The folks believe that it helps blood circulation, especially beneficial for women in confinement after childbirth.
Two styles are served here – the soupy style and the dryer version. We recommend the latter that is served piping hot in a claypot and comes thick and intense. There is a prominent tang from the browned ginger slices, distinctively rich and robust with an alluring and earthly wine aroma. Fresh chicken is succulently braised and the appealing sourness makes it very appetising, goes perfectly with steamed rice. They ferment their own wine here and it is common to see mothers or husbands coming by to buy a bottle or two of the wine, plus takeaway portions of the red wine chicken, for their daughter or wife in confinement.