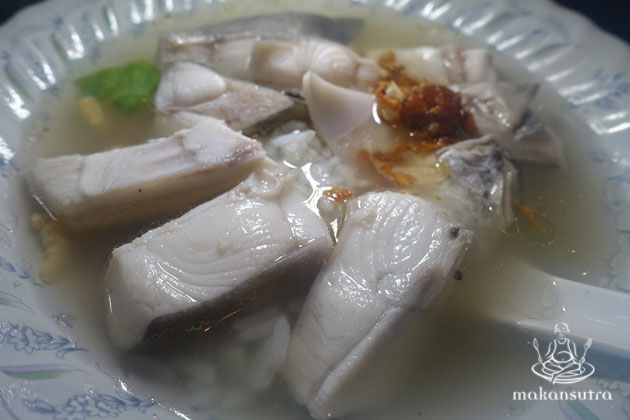 5 Plates of Pleasure
By KF Seetoh - Monday, Nov 23, 2015
This week isn't about one particular restaurant or hawker that floated my boat because that's not how my makan mind works. It really is about the dish the people and the stories behind it. It also frames us for a list of new finds and tales that we will inked in our next edition of Makansutra Singapore, coming up soon. So much had happened since our last book 2 years back and there is a lot to share and tell. For starters, a new breed of young cooks, chef and hawker are giving a new twist to our food tales. This week, finds me pleasured by at least 5 little plates that will be etched in my mind and palate for a long time, including and old classic in Bangkok.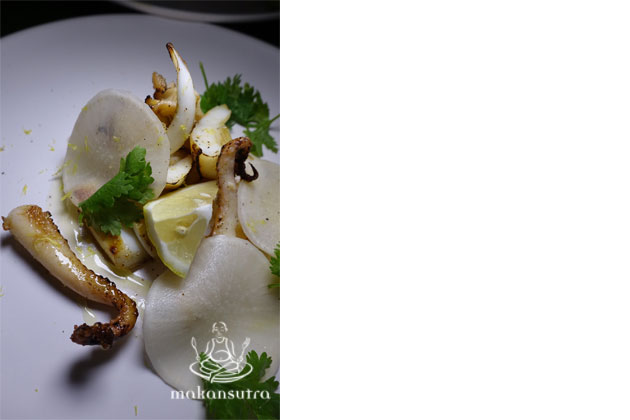 Mi Casa
51, Upper Bukit Timah Road (Hawker Centre), 02- 199,
Tues 5.45pm-9pm, Wed to Sunday 11.45am-2pm/5.45pm-9pm. Closed Mondays.

updated on 10 August 2018:
Relocated to
Mi Casa Kitchen & Bar
102C Jalan Jurong Kechil, #01-02
Daily: 6pm to 9pm
Thurs-Sun: 12 noon to 2pm

(grilled squid and citrus pickled daikon and grilled pork collar)
It's a little hawker stall, smaller than usual, at the top of the hawker centre but hunky Gen Y chef Micah Jarod Lim, 26, is flooring them with his Spanish tapas and meals. It takes imagination to churn out these stunners at his impossibly simple kitchen, like his Grilled Octopus with citrus pickled daikon and herb aioli. It had just enough bite yet was not hard. His crispy Pork Collar with mash and pickle had a moreish fork-soft interior .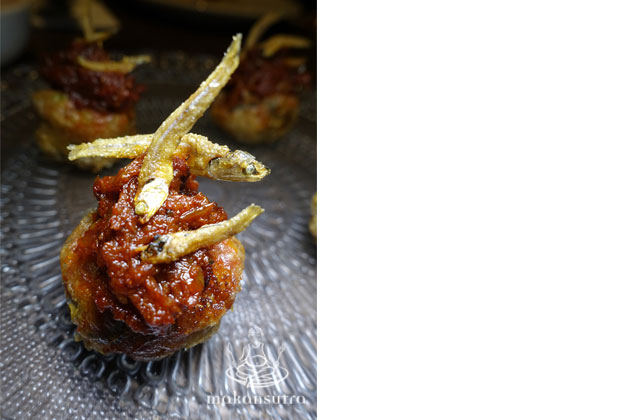 Candlenut Restaurant.
331 New Bridge Road, Dorsett Residences.
Lunch and Dinner daily.Tel: 8121 4107.
Relocated to
17A Dempsey Rd
Fri & Sat: 12-3pm, 6-11pm
Sun- Mon: 12-3pm, 6-10pm
(Bagedil sambal ikan bilis and his Sambal Buak Keluak Mee Goreng)
Chef Malcolm recently introduced a ridiculously affordable Nonya Omakase meal with up to 14 items for $50. It was a hit and miss initially, but now, it came full circle. His little morsels of pleasure includes a mini Sambal Ikan Bilis Bagedil and a stunning BBQ chicken with sambal kicap manis. He changes this dinner menu but the bagedil seems to be a regular feature with the regulars. He will also be offering a Sambal Buah Keluak Mee Goreng at his pop up stall in the TakeOut SG50 event at Tan Quee Lan Street, Nov 27th to Dec 6th.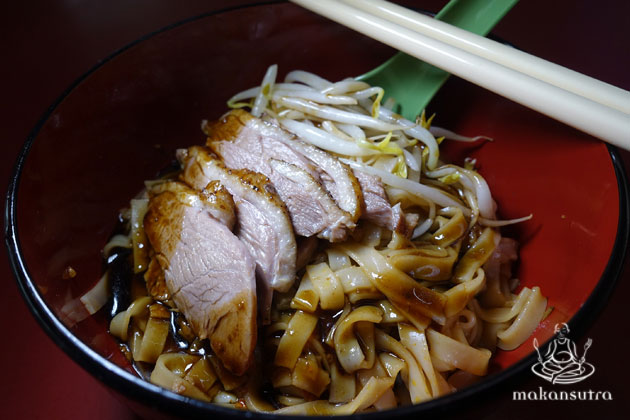 Jin Ji Braised Duck Kway Chap
Blk 335 Smith Street, Chinatown Hawker Cte, 02-156,
10am-7pm, closed on Thursday.
Melvin Chew took over this stall from his late father and he knew he had to re-invent the offering. So I helped him create his (now famous and viral online) Kway Chap Bento set. But my senses was reignited with their old classic, braised duck kway teow with a thick sauce enlivened with crunchy bean sprouts. You have to spoon in some of their own made garlic vinegar sambal to complete this exercise.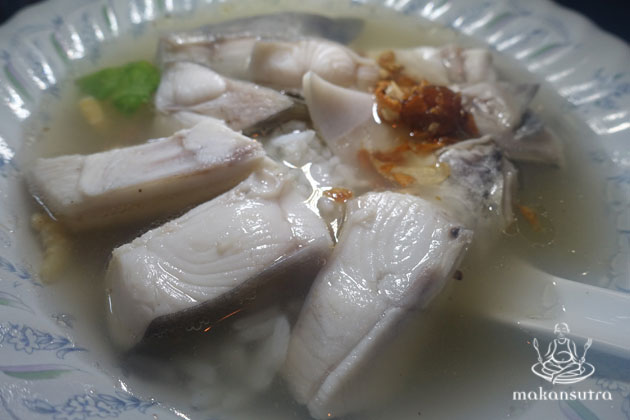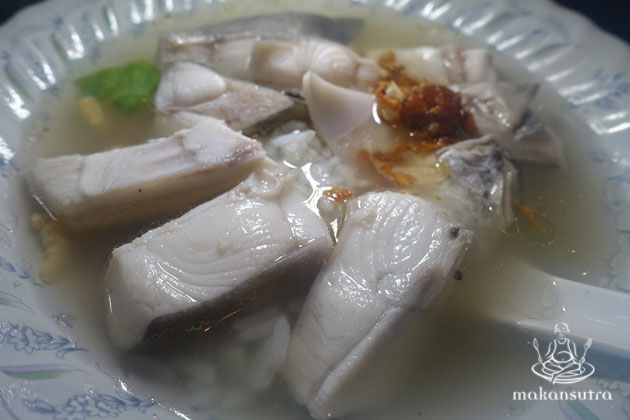 Xiang Ji Teochew Pomfret Porridge.
54, Soi Bumrungrad , Yaowarat, Bangkok (after Grand Princess Hotel).
From 6pm to late daily
This has to be the best, most traditional (in recent recorded history at least) Teochew fish porridge in the world, in my opinion. This humble stall at the edge of Bangkok's Chinatown looks like a street side shop you see in old Chinese Wu Xia kungfu movies. The old and proud Teochew couple had been at it for decades and so are their hard core Thai-Teochew regulars. Their pomfret is so fresh and comes with a juicy and softly crunchy firmness. It sits on a clear fish soup redolent with teepo, dried and smoked sole fish bones. It cost a whopping $12 (300baht) a portion but the chunks of the expensive fish they give, makes it worthwhile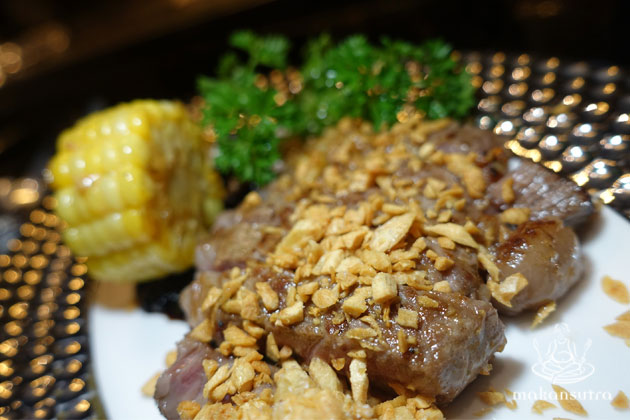 CLOSED- Vicki's Teppanyaki
315 Tanjong Katong, reservations-tel 9868 6111,
Harry Ang up and left for Vietnam over a decade ago but never lost his makan heritage. He set up Vicki's, a Singapore teppanyaki outfit there and has 8 outlets currently. Now he is back home and he's roped the Iron Chef Vietnam champ plus teppanyaki master from Thailand to helm his gig at Tanjong Katong. Beyond the very entertaining flair by the hotplate, they churn out stuff like sambal lobsters and oysters but what I liked was the simple medium rare slice of tenderloin rained upon with crispy garlic bits and the seafood fried rice, so grainy and fluffy and intense with eggy and umami flavours.