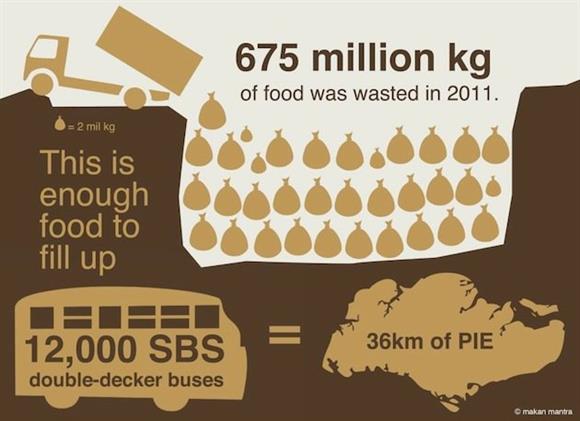 600 million kilos of food wastage yearly
By Tris Marlis - Monday, Mar 11, 2013
Singapore is a food paradise. Every eatery is on standby each day to cater to as many customers as possible- from affordable hawker fare to five star dining. But what happens when they don't show up, what about the food surpluses?

A group of final year students from Nanyang Technological University named Makan Mantra recently conducted a survey on 114 Singaporeans aged between 23-35 to find out their eating habits.

The result shows that 73% of them do not always finish their food, and throw away the leftovers. Based on the National Environment Agency's statistic, over 600 million kilos of food is wasted in Singapore in 2011, and this amount is enough to fill up over 12,000 double-decker buses.

To tackle the problem, the Makan Mantra group has created eight mantras that you can implement in your daily life to avoid food wastage. These include "Don't Shy Shy" to ask for take away boxes, "Appreciate the Little Things in Life" as the side dishes are delicious too, "Are you a S/M/L" is the portion too big for you?

The group also partners with F&B outlets to implement these mantras. They are asked to provide smaller portion options or offer take away boxes to those who can't finish their food.

We at Makansutra also suggest you carry a few biodegradable plastic bags with you each time you eat out. Just pop whatever is left in, and part of your next snack or meal is taken care of.

The campaign will further discuss this issue during the Makan Day on the 18th of March. There will be a forum discussion with panelists from Singapore Food and Beverage Alliance, Singapore Environment Council, Nanyang Technological University, and Miss Earth Singapore 2012 who will represent the common people.

There is also a cooking demo by Chef Nguee from Preparazzi who will prepare canapé using common food surplus in kitchen. Chamaeleon Mobile Bar will also showcase how to make use of fruit skin to make cocktails.

The last segment of the event is an exhibition of projects by Dunham High School, F&B operations and local photographer, showcasing their perspective of food and leftovers.

The event will take place at the Cube, Asia Square, 6:30pm. For further information and to reserved a seat, go to their website at www.makanmantra.com

We are also looking forward to have them at the World Street Food Congress, where the group of students will continue to have discussion during our Jamboree event. Look out for them during the event from 31st May to 9th June.