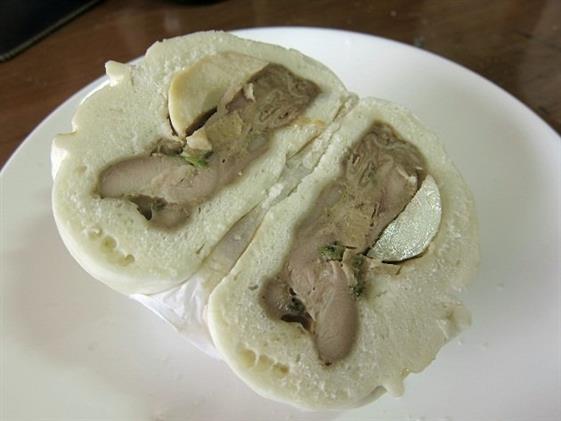 600grams Baos Anyone?
By TianTianChi - Thursday, Jul 26, 2012
While smaller golf ball-sized baos with char siew, chicken or pork meat filling is getting very popular over here to appease nibblers, there are some old fashioned bao masters who still believe that size matters and that bigger, is better.
They are often made way bigger than the "usual" big, fist sized ones.
Here are five of our favourite giant baos. Proceed with caution.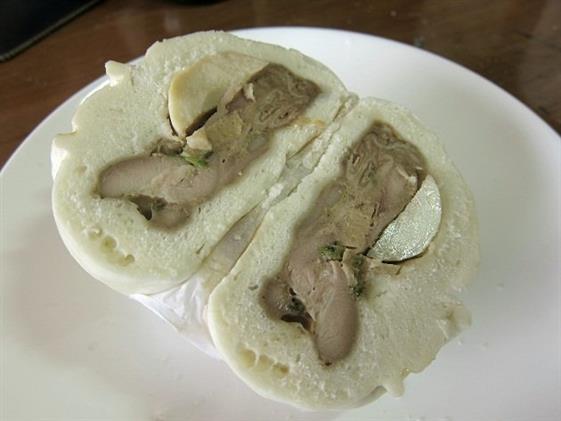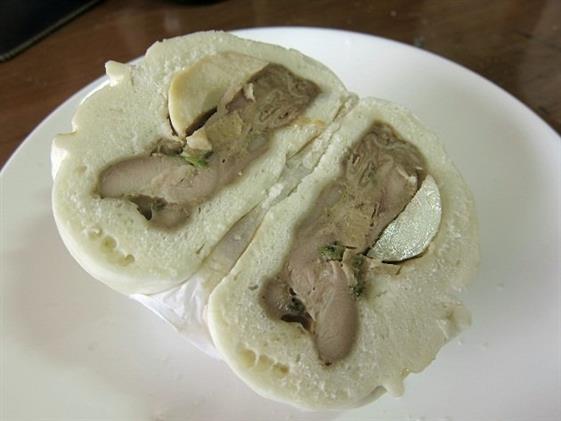 Cantonese Big Bao
"If you haven't tried Da Dong's bao, you haven't really been to Chinatown.", so they said about this 1928 Chinatown icon.
Encased in the bun is a huge chunk of chicken thigh meat alongside half a hard-boiled egg, Chinese sausage, some turnip and mushroom. At 250g, they are as big as a Big Mac and yet still small to eat on the go. The skin is thin, stuffing is not soggy or dampen the seasoning is also light so the natural flavour of the meat, enhanced by the sweetness of the sausage, shines through. The turnips lend a nice crunch to the sensation.
Da Dong Restaurant 39 Smith Street Tel: 6221 3822 Mon-Fri 11am-10.45pm Sat-Sun 9am-10.45pm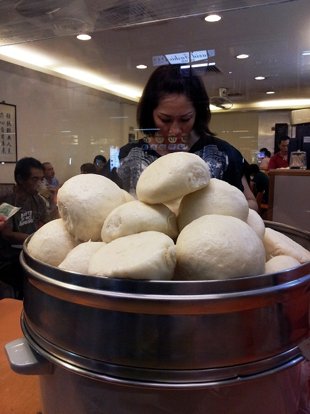 Shandong Da Bao
These are the ones well loved by blue collared Chinese mainland folks here (it's comfort food and it fill them up). Several types of Shandong da baos can be found here and the most popular- the pork meat with large scallions.
Handmade and steamed fresh throughout the day, these 250gm baos are slightly flatter, with a more resilient skin that has a gummy bite to it. The predominantly minced meat filling, with scallion and garlic, is densely packed, moist and is very much like large jiao zi (dumpling).
Jia Xiang Kitchen 1 Park Road #01-67/68 People's Park Complex (facing People's Park Food Centre) Daily 11am-9pm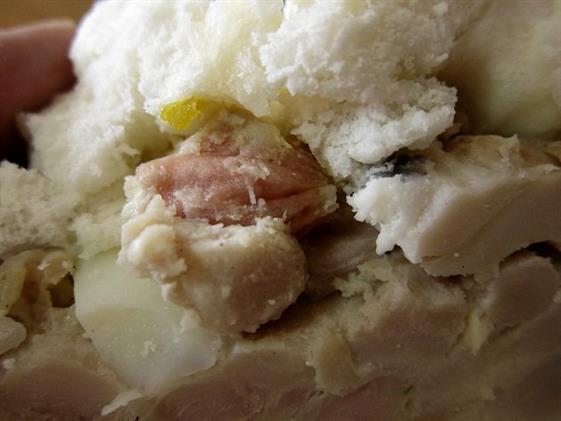 Hong Kong Style Da Bao
They tout a Hong Kong style bao which tastes lighter and fluffier than the local style bao. Stuffed with chicken, hard-boiled egg, Chinese sausage and mushroom, it weighs in at a hefty 400g.
While the size is substantial, the skin is a little too thick and rough which affects its fluffiness. The meat (generous) is lightly marinated and not overly salty but the oily Chinese sausage smoothens the feel. There are mushrooms and egg yolk but does not much to enhance the fragrance.
Yum Cha Restaurant 20 Trengganu Street #02-01 Tel: 6372 1717 Mon-Fri 11am-11pm Sat-Sun 9am-11pm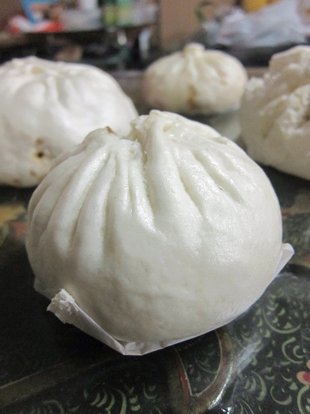 Porn Star Bao
This Kuala Lumpur, Malaysian style has been around for more than 20 years and was created in honour of voluptuous 90's Hong Kong soft porn siren Amy Yip (Ye Zhi Mei). So you can imagine the size. Malaysian chef and owner Mr. Loi claims to be the one who popularised it in Singapore while he was working in another dim sum stall in the east of Singapore.
His bao is a whopping 500g and just nice for two hungry tummies or one crazy bao fan. The stuffings are simply chicken and pork meat, egg and turnip and is heavily marinated with a dark (from black soy sauce) look inside and is a little on the sweet side. Flavoured almost like a lo mai kai (glutinous rice with chicken).
Johor Ye Zhi Mei Handmade Dim Sum 208 Jalan Besar (corner of Maude Road) Tel: 62942210 24 hours. Close Mondays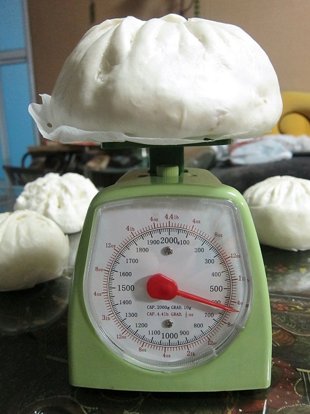 Phoenix Da Bao
This old-style restaurant, with a 1970s feel, was started by the Four Heavenly Chefs of Chinese Cuisines in Singapore and has a history spanning over 40 years.
Two of the heavenly chefs – Chef Hooi Kok Wai and Chef Sin Leong – ate the Ye Zhi Mei bao in Malaysia years ago and they introduced an upsized version of it in their restaurant. This bao can be regarded as the king of all the giant baos in Singapore. At 600gms each, it comes in the size of a Chinese tea pot.
It is so big that you have to cut it into portions with a knife. The well-packed filling has a strong aroma of meat, a sweet scent of liver and meat sausages and the musky mushroom flavour engulfs you. Instead of a chicken egg, they stuff in a whole salted duck egg yolk and added liver sausage to the mix. It is almost tastes like claypot rice, sans the smokiness. The skin is soft and slightly spongy but a little bland, perhaps not to overwhelm the flavour of the fillings.
Red Star Restaurant 54 Chin Swee Road #07-23 Tel: 65325266 7am-3pm, 6pm-10pm