7 Singapore Foods: Eat Singapore Day
By KF Seetoh - Monday, Aug 11, 2014
Now that the fireworks and all that emotional national songs that makes us feel that "This is Home Truly" is over, it would be a great day today to work on that fire in tummy and tear into meaningful stuff that we can truly call a "home meal". I am talking about dishes we can call our own, stuff that is "home truly" to us. Here' s 7 of my favourite evolved or born-in-Singapore dishes and places you can take the gang to today on a little makan crawl (apart from the usual Chicken Rice and Chilli Crabs).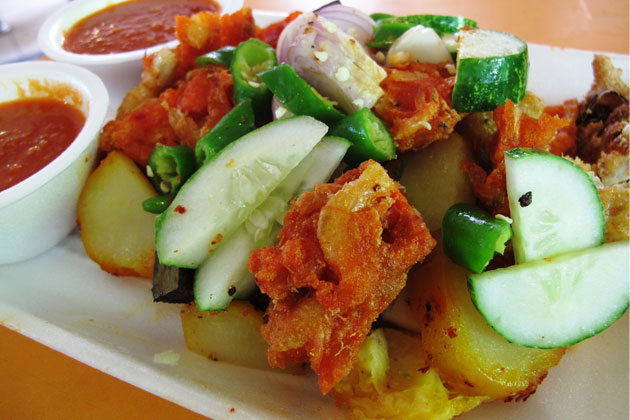 Indian Rojak (Siraj, Blk 270, Queen St, #01-120, Albert Street Food Cte, 8.30am-8pm. Close last Monday of each month)
It was created, according to an 80 year old Indian Rojak hawker from the Waterloo Street sarabat stall days, by "Mr Mydin". He created this set of fritters, from potatoes, coconut, tofu and prawn cakes with a wickedly pink sweet potato chilli sauce for the majority Chinese population here, before the war era.
Bak Chor Mee (Hill Street Tai Hwa, Blk 466, Crawford Lane, #01-12, Tai Wah Eating House, 9.30am-9.30pm, close first and 3rd Monday of each month)
It was the Tai Hwa family that created this back in the day. The Teochew patriarch married Chinese black vinegar with local sambal plus smoothened it with lard and tossed it with mee poh plus topped it with porky stuff..and oh boy, it became a well loved local makan icon.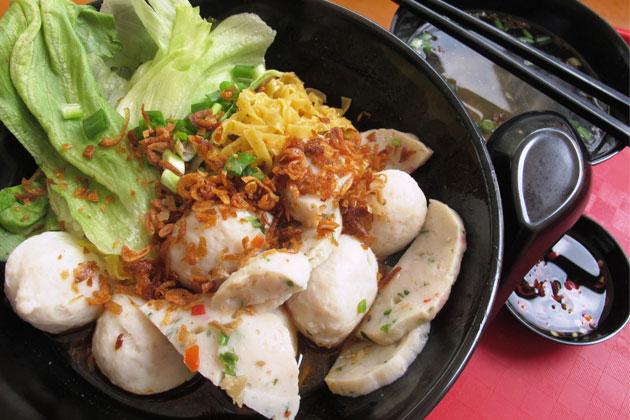 Mee Poh Tah (Fish Ball Story, #01-85 Golden Mile Food Cte, 10.30am-5pm daily)
Fish ball noodles are common in the region, but to have this with a tomato sambal with lard, is rare and special to Singapore. The fishball must be unforgivingly fresh, soft yet bouncy to make any impression.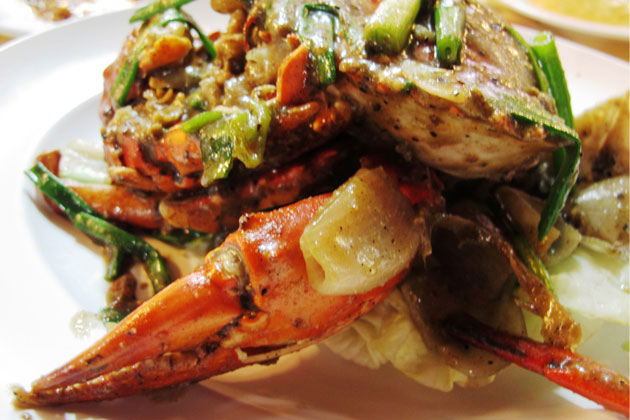 White Pepper Crabs (Mattar Road Seafood BBQ, Blk 51 Old Airport Road Food Cte, #01-63, 3pm-11pm. Closed Wednesday and Thursday)
This was created by Mr Choo of No Signboard way back when. He felt the then popular black pepper crabs left a bitter aftertaste. So, this was created.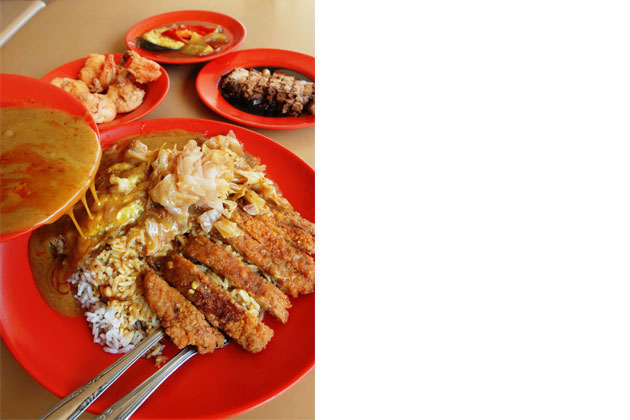 Scissor Cut Curry Rice (Feng Kee Hainanese Curry Rice, 209 Pasir Panjang Road #01-41 Pasir Panjang Food Centre, 4am-2.30pm (Closed on PH)
The versatile Hainanese migrants created this, with influences from India, British and the Japanese curry katsudon. Although there are many variations in the region, it is here that they serve with a pair of scissors. It's fast, clean and it makes sense- clip, snip, snip and serve.
Roti John (Rosy and Nora, Blk 14, Haig Road Food Cte, 2pm-10pm, close on Monday)
Once upon a time, Mr Shukor wanted to attract the westerners living around the Cluny Road area to his humble Taman Serasi (Botanic Gardens Hawker Centre) hawker stall decades ago. So he created a pan seared "meat loaf" using eggs, onions and minced mutton. They came and the rest is history.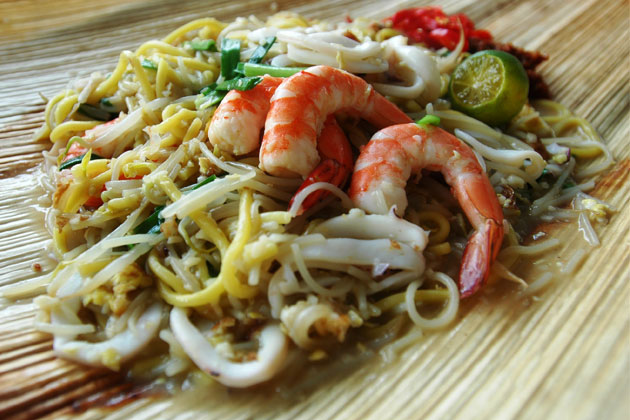 Cha Hae Mee or Fried Hokkien Prawn Noodle (Come Daily, Blk 127, Toa Payoh Lor 1, #02-27, 9.30am to 6pm, Close on Mondays)
This dish was first seen post war around the Rochor Road area- which is why the old name for this dish is Rochor Mee. Chinese migrants would buy leftover seafood from the Beach Road seaside fishmongers and fry it diligently into noodles with eggs.
Happy 49th birthday Singapore, be well and keep eating well.