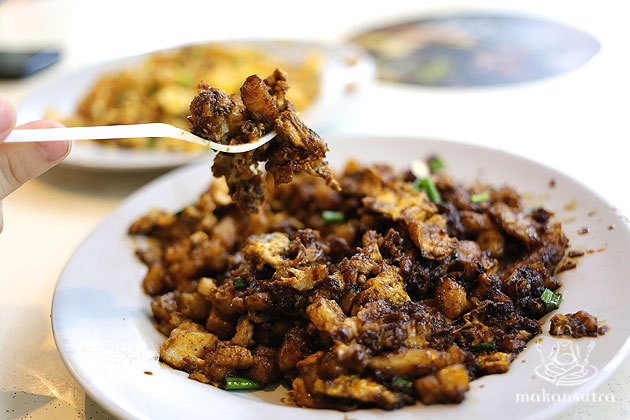 8 Best –kept Secret Hawker stalls
By Cecilia Joven Ong - Friday, Nov 21, 2014
We trawl the streets and malls to track good food- that has always been our style. It's the only way we know how to unearthed new makan treasures in out midst. Often, many escape the common food radar because of a few factors like location and an uninspiring décor. We often take the other fork on the road to hunt and sniff out new gems. Here's 8 relatively unknown we've located recently. 
Fei Lou Porridge (11 Telok Blangah Crescent Telok Blangah Food Centre #01-116 Singapore 090011). Operating Hours: 6.30 pm to 10.30 pm
This stall is a popular hangout for the supper crowd. Their operating hours start from 6 pm to near midnight or until sold out. Their signature Boneless Fried Chicken Wing at just $1.20 is a popular choice and a must-order. Their white poached White Chicken is a good choice for a healthier alternative. You could have it with the Fried Bee Hoon or their different choices of porridge. Braised Cabbage, Stewed Chicken Feet, Fried Pork Ribs are some of their popular side dishes. Long queue is likely to be expected during dinner.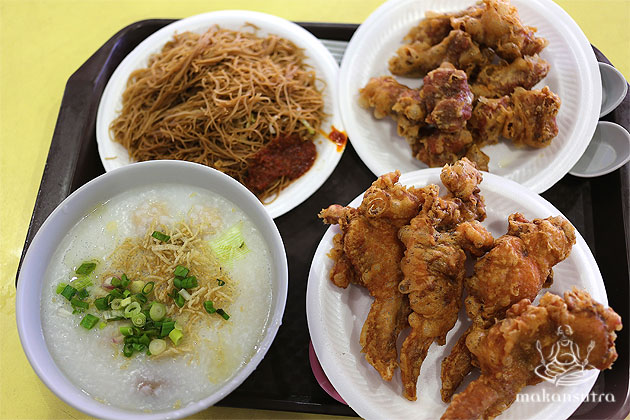 Leong Yeow Waterloo Famous Chicken Rice (261 Waterloo Street #01-29 Nan Tai Eating House Singapore 180261). Operating Hours: 11.30 am to 7.30 pm
This Chicken Rice stands out amongst the other big names. There is a choice of roasted or white poached chicken with their fragrant rice, but the roasted chicken is a tad more popular. The roasted chicken has an agreeable flavour and holds the juiciness within. You have to smother it in their sharp own-made chilli sauce- it  complements the meat very well. Warning-  there is always a queue during lunch.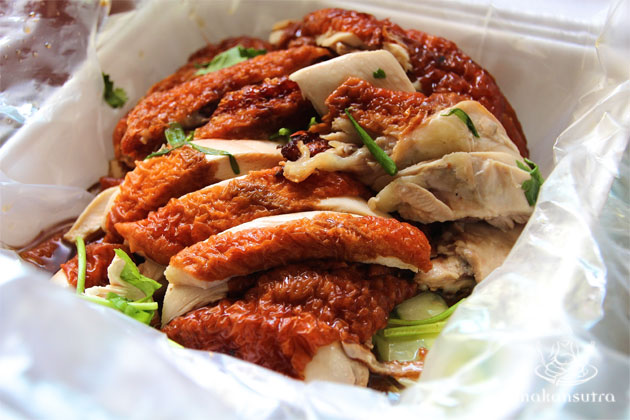 Lao Sim Shredded Chicken Noodle (Block 127 Toa Payoh Lorong 1 #02-01 Singapore 310127). Operating Hours: 7.30 am to 2.00 pm
This stall has been around for quite a while though it moved from  a few locations in the past. They are famous for their addictive handmade fish dumplings and sadly, these are not available for much separate orders as they can't make enough (manpower problems, as usual, we guess) . Each bowl of noodle is only accompanied with 2 pieces of fish dumplings and you are given an option to purchase a bowl of fish dumplings soup with 5 pieces at $3.50 additionally. Each person is only entitled to 7 pieces of these fish dumplings in total. They are usually sold out before 2 pm.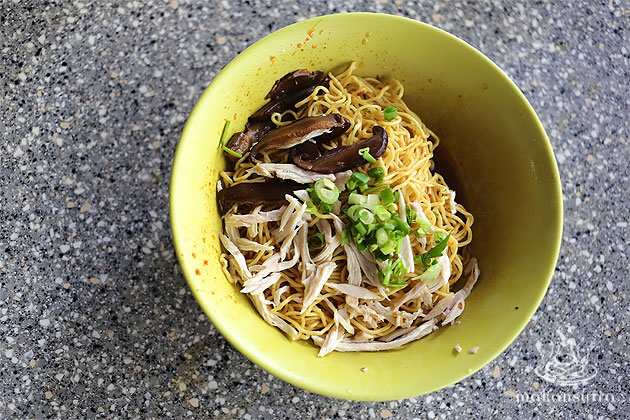 Chef Chair Lao Ban (134 Casuarina Road Singapore 579522). Operating Hours: 10.00 am to 10.00 pm
The boss is a Hong Konger that speaks with a distinctive Cantonese accented English and is always eager to recommend some of their popular items. Their Stewed Beef Brisket Noodles at only $4 is highly recommended for those who longs for authentic Hong Kong style taste. It is served in a good sized portion with decent chunks of tender beef brisket along with pieces of radish. Their signature Red Bean Ice Blended drink is worth trying.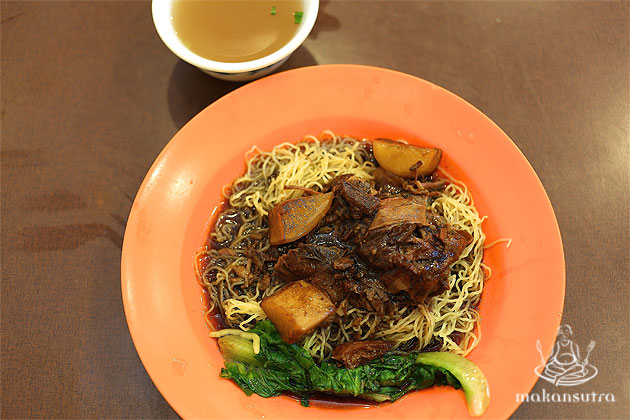 Poh Hwa Fu Zhou Oyster Cake (209 Jalan Besar Singapore 208895). Operating Hours: 10.30 am to 6.00 pm
Their traditional Fu Zhou Oyster cakes are a popular snack for the lunch crowd. Most of their customers usually order some while waiting for their lunch orders to be delivered. The usual one is priced at $1.60 and the one with additional ingredients is at $2. It is freshly deep fried with pieces of oysters embedded in it. Another popular item is their Fried Spring Roll.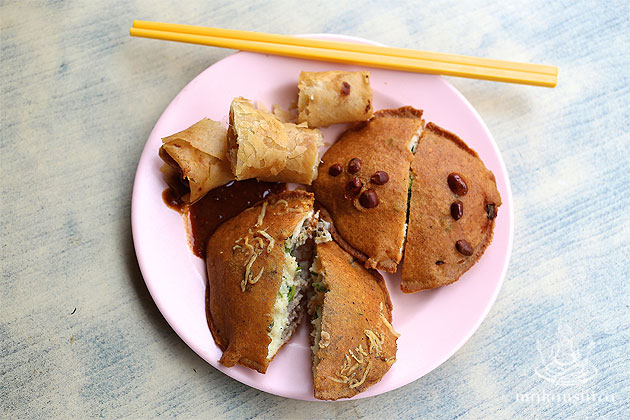 Grill & Pasta (590 Upper Thomson Road #01-34 Sembawang Hill Food Centre Singapore 574419). Operating Hours: 12.00 pm to 2.30 pm / 5.30 pm to 8.30 pm (Closed on Monday)
This is a popular stall run by an ex-Chef of an Italian restaurant working along with his wife. They have been in this food centre for a few years now. It tasted just like what you expected in a proper Italian restaurant minus the ambiance and fien cutlery, but at a cheaper price. A basic Spaghetti Bolognese with a good amount of cheese and tomato based meat sauce is only at $5 for a fulfilling  portion.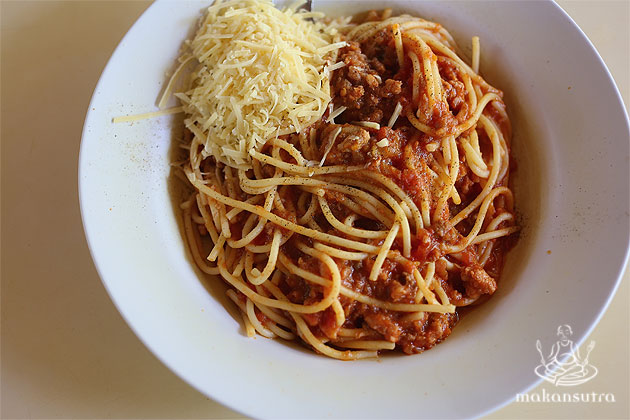 Pandan Leaf Nasi Lemak (6 Tanjong Pagar Plaza Tanjong Pagar Food Centre Singapore 081006). Operating Hours: 8.00 am to 2.00 pm (Mon to Sat)
This stall has been in this food centre for more than a decade. Long snaking queue is a constant and when portions are low the boss comes out to take orders and to warn the queue that he will be need more time to cook an extra batch.  It is worth the $3 per serving. It consists of a choice of Chicken Drumstick or Chicken Wing accompanied with Otak, Luncheon Meat, Fried Egg, Ikan Bilis and Fried Kuning Fish. The coconut infused rice is cooked with pandan leaf to give it a light green color and flavor.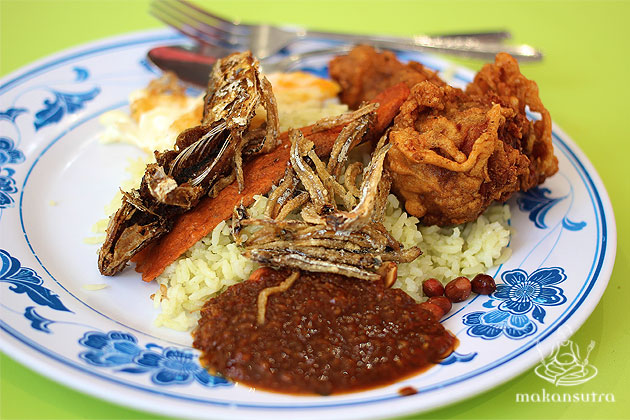 Ang Mo Kio 107 Carrot Cake (Block 107 Ang Mo Kio Avenue 4 #01-64 Singapore 560107). Operating Hours: 6.00 pm to 11.00 pm (Mon, Tue, Thu, Fri)
This humble carrot cake stall operates from 6 pm to near midnight and is run by an elderly Uncle. They use to steam their own carrot cake right at the stall but have since been outsourced, as it is getting too tedious for the elderly Uncle. The waiting time is about 30 minutes if you come during dinner. Both the black and the white are equally popular but the black version is our favourite here. If you need more oomph and savouriness, ask if he can add more chai po or preserved radish.