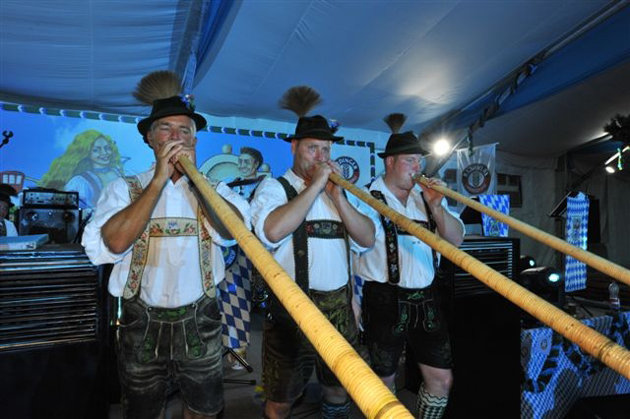 A 260kg Roasted Ox for October Fest
By Joanne Yeo - Tuesday, Sep 11, 2012
Oktoberfest is a popular German festival that is celebrated with abundant beer, food, loud camaraderie and oompah music. Since 2000, the Swiss Club has brought this German tradition to Singapore, not just for  German community, but all under the sun here.
Authentic German dishes such as Crispy Pork Knuckles, German Sausages, Apfelstrudel together with their Signature dish – a 260kg Roasted Ox will be served at the event.
Food aside, attendees can get into the Oktoberfest "spirit" with Weiss and Dunkel Erdinger beer as well as Tiger beer. Alcohol-free Erdinger beer (a bit of an oxymoron), wine, soft drinks and other fruit juices will also be offered.
About 2000 or so guests will be expected each evening from 12th to  15th  of September 2012. The evening's celebrations will only be catered to adults. Families can also revel in Fruehshoppen, a family brunch and German cultural event on Sunday, 16 September.
Entry to the event is only at the Bukit Tinggi Road entrance. There will no parking facilities at the club. Only Swiss Club members and official vehicles will be allowed entry. For after-party transportation, taxis will be on standby from 10pm onwards with a $10 surcharge (excluding other applicable surcharges).
Oktoberfest 2012. 12 September-15 September 2012 from 7.00pm till late; Ticket prices: $57.50- $105.00; Fruehschoppen(Family Brunch) 16 September 2012 from 10.00am to 2.00pm; Ticket price: $22.00 (adult), $12.00 (child 6-12 years old).
Only coupons can be used as payment at the event. Beverages booklet are sold at $50.00 per booklet ($5 x 10 coupons). Visit www.myticket.asia to make your reservations.  For any assistance, contact SeatAdvisor Singapore at 6492 1000.