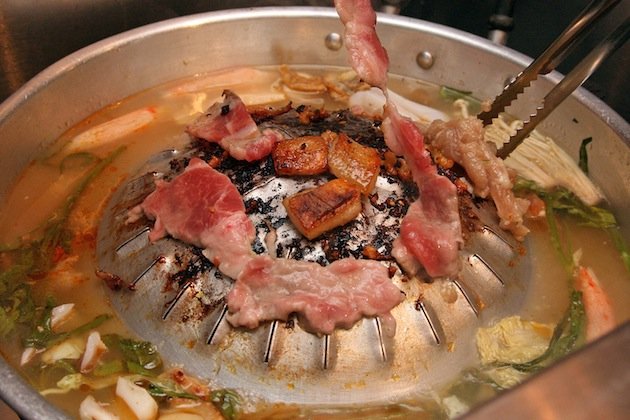 A Better Mookata Steamboat
By Catherine Ling - Tuesday, Feb 12, 2013
You must have seen the "moo ka ta" or Thai-style "pig skillet" grill-steamboat restaurants popping up in more and more places. Most are casual, no-frills eateries touting bargains rather than quality offerings. Some don't even inspire much confidence in the hygiene section.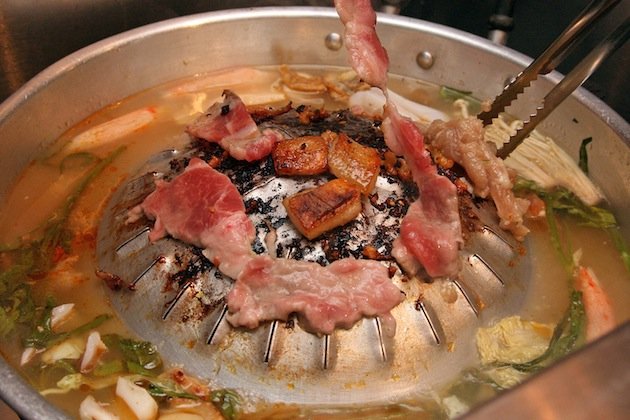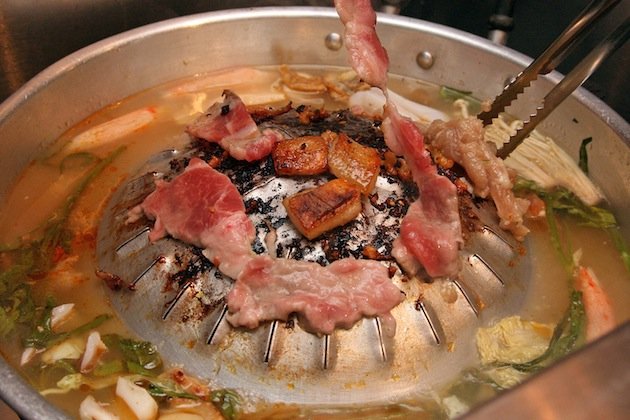 But MooJaa at Keong Saik Road looks bring some class to this form of cuisine, in not just one but several aspects.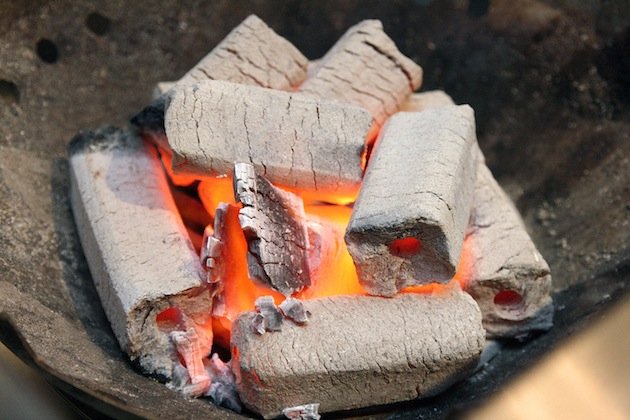 Firstly, MooJaa uses binchotan – Japanese white charcoal – that doesn't produce soot and gives a more even heat for cooking. It's that expensive charcoal you normally see at Japanese kushiyaki grill joints.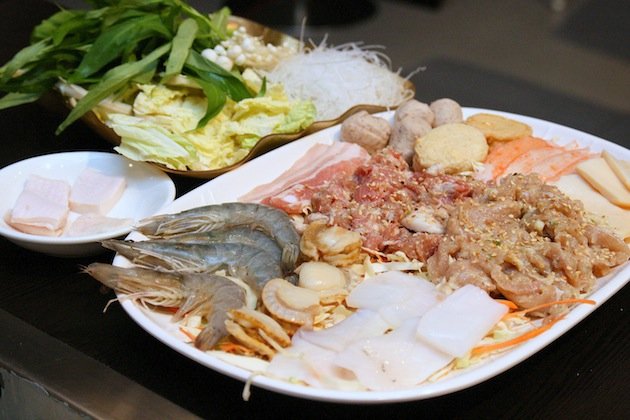 MooJaa has two sets that removes the a la carte decision-making headache.
Set Moo (Pork Set – $39.90) features sliced pork collar, while Set Gai (Chicken Set – $39.90) gives you boneless chicken. Both sets come with prawns,fish/pork balls, squid, luncheon meat, sausages, golden mushroom, tang hoon, xiao bai cai and kang kong.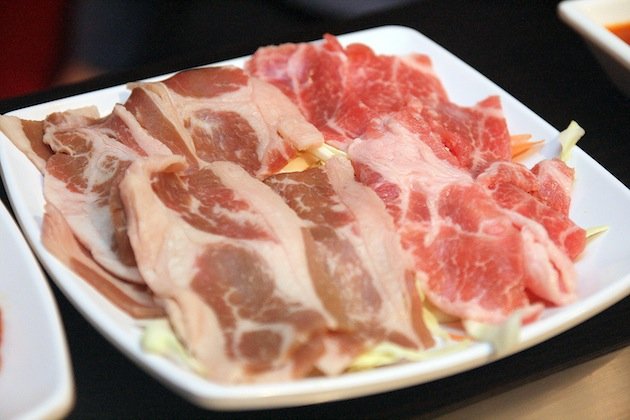 But you'll be hard pressed to find Kurobuta pork and Angus beef at any other mookata joints. Both are a la carte additions at S$22 each. Freshness is critical. The chef personally selects all ingredients every morning from the market.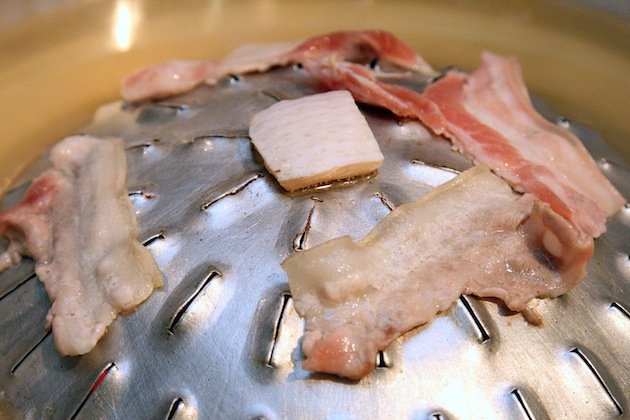 The grilling starts with a cube (or more) of pork lard atop the dome. It releases its bounty of oil, effectively greasing the grate so meats do not stick to the metal. The best part is that towards the end, this cube turns into a crispy piece of glory (see earlier photo), much like the fried pieces of lard we so love on our mee pok and char kway teow.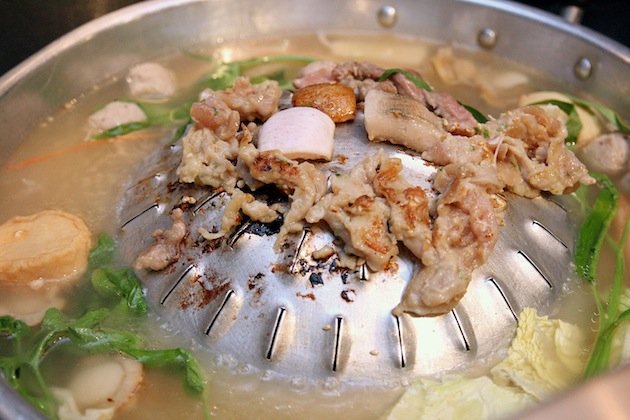 It's a bit of a balancing act, making sure the meats stay on the dome. But even if they slip into the soup, it's not a bad thing. The chicken and pork bone soup has been deliberately designed or "reverse engineered" to ensure that the final taste after all the ingredients have gone into it will be just nice, and not too overpowering. While it's been boiled for five hours, it starts off quite light. The owners did many iterations to ensure a wonderful end broth. And it is indeed one of the best parts of the steamboat, so leave some stomach space for it at the end.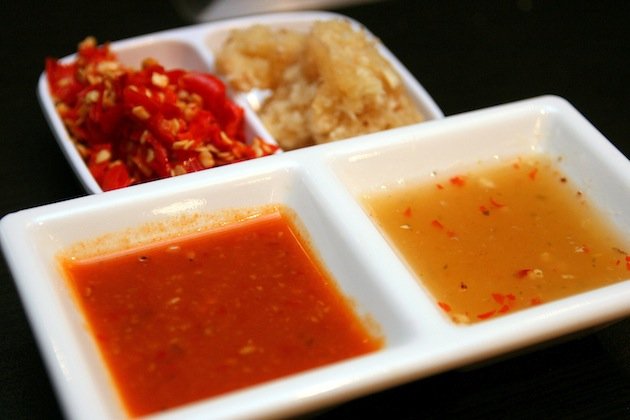 A lot of effort goes into the two dipping sauces (Spicy BBQ and Sweet Sour Seafood) as well. The cooks make these from scratch, using over 30 ingredients and six hours of non-stop stirring over the stove. Nothing store-bought here, and these sauces truly add a burst of complex and highly appetising flavours to the meats.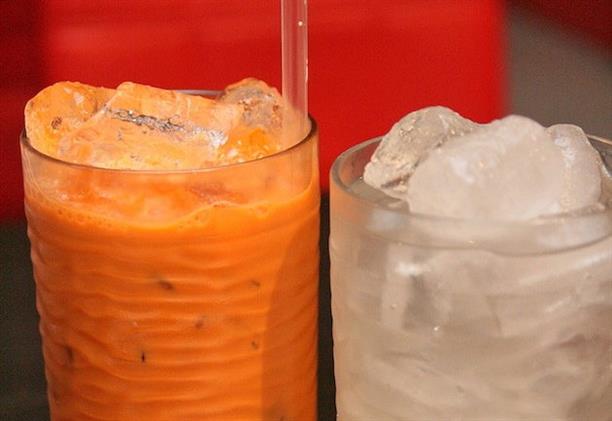 After all the grilled meats and spicy sauces, you'll need something cool and refreshing to calm the palate. The Thai iced tea is a must-have; it's as close to the real thing as possible. They also have a pleasant lemongrass drink.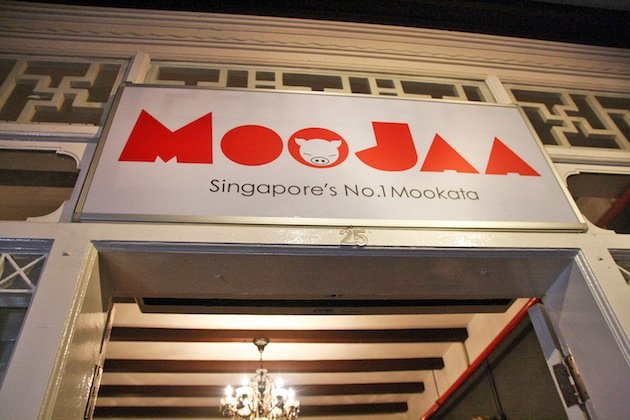 MooJaa is Thai slang for "my lovely pig", a term of endearment that ladies use on boyfriends who have put on some happy weight in the relationship (gentlemen, please do not try this term on your girlfriends).
MOOJAA MOOKATA
25 Keong Saik Road Singapore
Tel: +65 6536 4780
Opening hours:
Lunch: Monday to Friday 11am – 2pm
Dinner: Monday to Sunday 5pm – 11pm