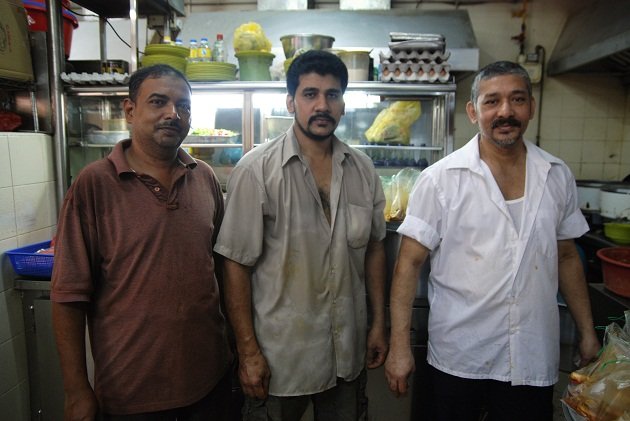 A Briyani Master's Favourite Briyani Stall In Singapore
By Sheere Ng - Thursday, Sep 06, 2012
Mr Nazeer and his brothers, Mr Jahabar and Mr Ansan, sell what we think is one of the best Nasi Briyani in Singapore. They have come a long way. From helping at their father's stall at Albert Street, learning to cut vegetables when they were still in primary school, reducing the stalls range of six offering to just one (whenever their father fell ill because of their limited cooking skills), moving to Beach Road to taking over the business about 10 years ago and turning it into one of the most well-known Nasi Briyani stall in Singapore. (They don't even have a signboard nor a proper sales counter at their stall which is perpetually blocked by the incessant crowd each day.)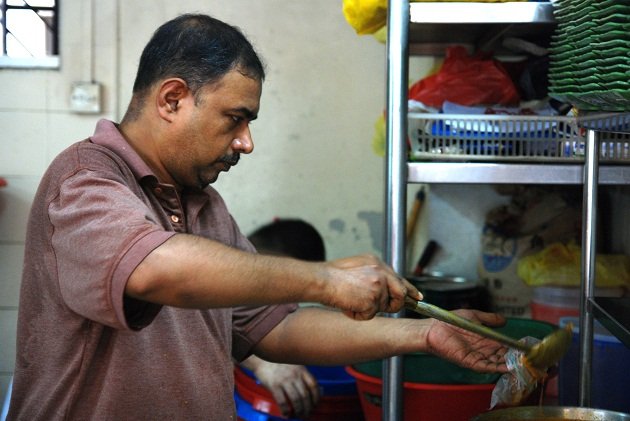 Who are these people and why do money changers in Singapore love them so much that at least 80 companies (each company has between four to 12 employees) pack lunch from them every single day? Makansutra speaks to Mr Nazeer to find out.
M: What has changed since your father's time? Mr Nazeer: Now we add more spices and increase the quantity. Last time, the briyani come in a normal small plate but now we have bigger plastic banana leaf plates.
M: Besides your own, whose Nasi Briyani do you like the most? Mr Nazeer: A restaurant called Tiffan Bhavan at Campbell Lane, around Serangoon Road. Their rice and curry are less fragrant than ours but not too bad. Texture, everything okay.
M: So you eat Nasi Briyani even on your day off? Mr Nazeer: No. We seldom eat out. People tell us where have good Nasi Briyani so we go and try. Otherwise we eat at home because our wives cook.
M: What do your wife cook at home? Mr Nazeer: We eat chapatti, rice with curries and vegetables.
M: What is your favourite dish to cook at the stall? Mr Nazeer: Kurma (a non-spicy mixed vegetable curry). Because it is easy to cook, and there's not many ingredients. No need to think so hard.
M: What do you think about when you're cooking? Mr Nazeer: The curries. Once we start cooking we don't talk, so that we don't forget to put salt.
M: After so many years, is it still difficult? Mr Nazeer: Yes, because we cook at least four different things at the same time. Like Thursday we have chilli chicken, tulang curry, perut kambing and tamarind curry. I need to remember which pot I already put what into.
M: Does each of you have your own specialities? Mr Nazeer: Jahabar makes the best dhal and fish briyani. Ansan is good at making chicken and mutton briyani. I make good kurma, my favourite thing to cook.
M: What kind of customers are the easiest to please and why? Mr Nazeer: The Chinese. They very easy. Just give them, meat, briyani and papadum. They never ask for more this and that.
M: Who likes what type of briyani ? Mr Nazeer: Women like to eat chicken briyani, men eat mutton briyani and old people eat fish briyani because mutton has high cholesterol. Chinese love papadum.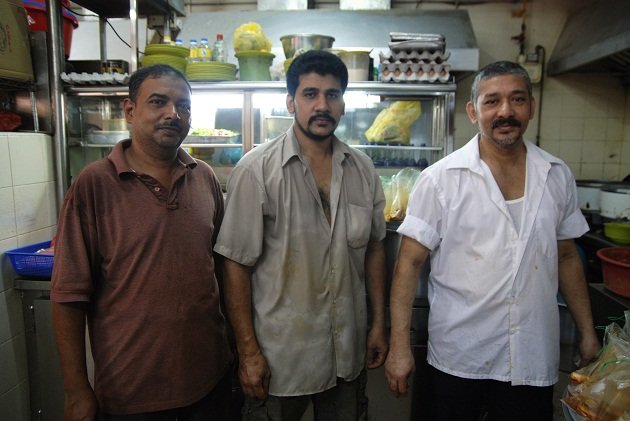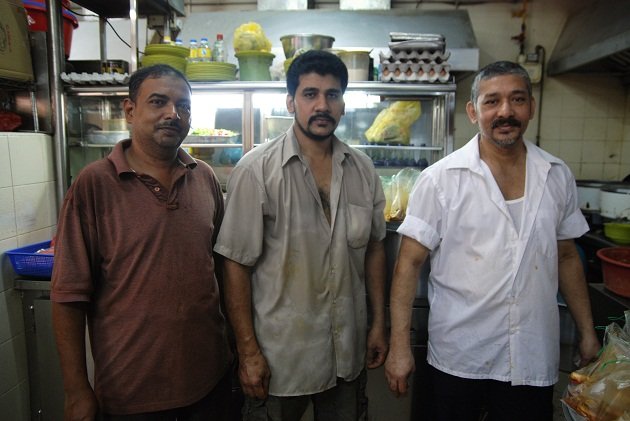 Muslim Food Stall
Blk 17 Beach Road, #01-4705
7am – 2pm (Briyani from 10.30am onwards), Closed on alternate Tue