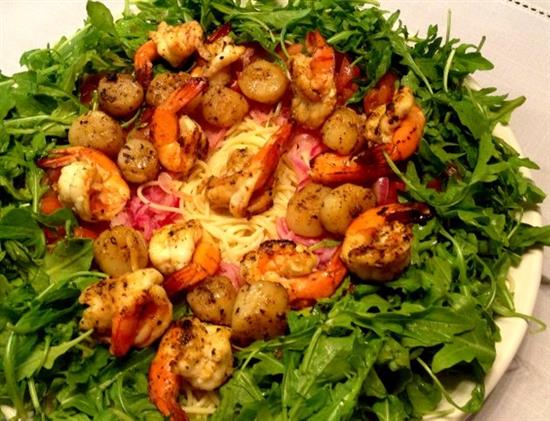 A Cool Spin on Salad
By Stefanie Chao - Thursday, Mar 07, 2013
I don't know about the rest of you, but I'm still recovering from the side effect of too much feasting over the festive periods! Let's face it, the only seemingly healthy Lunar New Year food is the ubiquitous Lo-Hei. But even that has high sugar content, what with the plum sauce-based dressing and the various types of candied condiments.
Finally, here's the so called 'recovery' period – the attempts to eat healthily and cleanse our systems. But, if I look at another limp salad sold at delis, I'm going to scream. Gourmet salad bars sell decent versions, but the price tag is way too steep to eat on a daily basis!
So why not make your own with this Pasta Lo-Hei, that can be eaten all year round? Whether you make it in an individual serving to take to work or serve it at a party, it's a dish that will please your palate to no end with its bright flavours. The grilled seafood, smoky and sweet at the same time, goes well with the zingy dressing and the peppery wild rocket. The cubes of juicy tomato and the onions, which has its unpleasant raw edge taken off with a light pickling liquid, provides a nice contrast.
Furthermore, it makes for good conversation when you get everyone to the table to toss it together! It is versatile enough to allow all sorts of additions, including slices of grilled fish or grilled vegetables for your herbivore buddies! But if your pocket allows it, add luxurious items like a few prawns and scallops to make you feel like you're eating like a king, when really, you're eating virtuously for good health.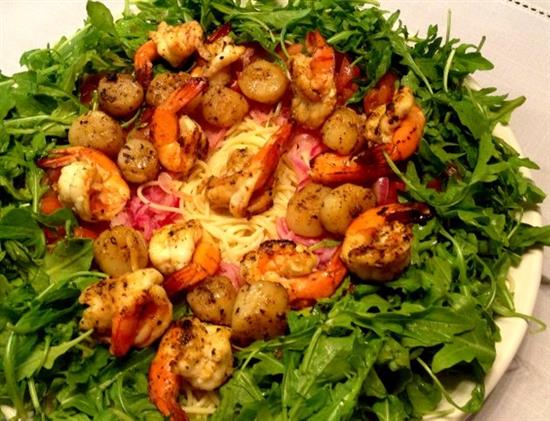 PASTA LO-HEI: (reminder! serves 8 to 10 as a starter)
250g pasta (vermicelli, angel hair or capellini)
4 red Momotaro tomatoes, diced and chilled well
3 golf-ball sized red onions, peeled
100g wild rocket (or babyarugula), washed and spun dry, then chilled.
500g of shelled and deveined king prawns, scallops, cuttlefish or a mixture of all 3
2 lemons
30ml olive oil
30ml choice of flavoured balsamic glaze (Fig or Seville Orange is best)
120ml Ponzu or Yuzu soy sauce (from Japanese section in any supermarket)
Sugar, sea salt and black pepper.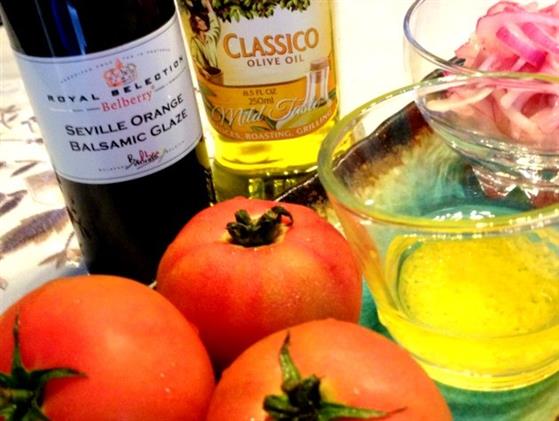 1) Start off with the dressing by infusing the grated zest of 2 lemons in the olive oil. Juice the zested lemons and set aside.
2) Marinate your choice of seafood with a sea salt and black pepper to taste. Refrigerate if you are not ready for step 6 anytime soon.
3) Slice the peeled onions in half, then cut into paper thin crescents with a sharp knife or with a mandolin. Pour the reserved juice of the lemons over, add 1 tablespoon of sugar and ½ teaspoon of sea salt then toss gently. Chill for 1 hour, tossing it once in a while. The pickling liquid will turn a pink colour and the result will be a crunchy and piquant onion pickle, terribly addictive and fantastic on ham sandwiches as well.
4) To the flavoured lemon oil, whisk in the balsamic glaze and the Ponzu Soy Sauce. Chill well.
5) Boil the pasta according to packet instructions then plunge into a deep pot of water with lots of ice. Let the pasta chill in the water until you are ready to serve it.
6) Heat up a grill pan over high heat and drizzle in some olive oil to coat. Grill the seafood until just cooked. Set aside and keep warm.
7) To serve, arrange the drained pasta in the middle of a big platter, then the vegetables in concentric circles—starting with the drained onion pickle, the tomatoes then the wild rocket. Arrange the seafood on it and drizzle over the dressing. Call everybody to the table, then toss your way to good health and indulge in this feel-good salad!