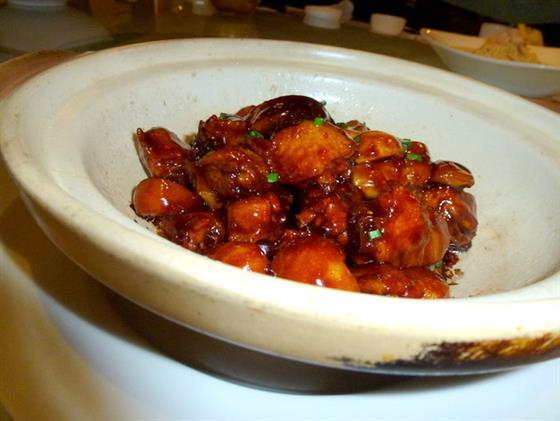 A Crush on Garlic
By Stefanie Chao - Friday, Jan 11, 2013
In the Pulitzer Prize-winning novel "The Good Earth", what fascinated the most was how the author Pearl S. Buck wrote of the farmers eating raw garlic with anything and everything, even sandwiched in between a roll of fresh unleavened bread. Incidentally, China is also the world's largest garlic cultivator, accounting for over 70% of the world's output. It was not surprising then, that a recent trip to Shanghai unearthed the wide usage of garlic in many of their dishes, be it street food or in fine dining establishments. Whether used to complement or add a punch of seasoning to each different dish, the garlic flavour differs in intensity and aroma depending on the cooking method.
It is undeniable however, that this humble ingredient exhibits more potential good then just warding off vampires and if taken raw in copious amounts, it might just really succeed, based on breath alone! Health benefits of this wonder bulb include lowering cholesterol, prevention of heart disease, healing flu etc. It is also preferential to consume garlic raw as cooking it destroys most of the active compounds that promote good health. However, everything needs to be consumed in moderation, garlic over-consumption can lead to heartburn and an upset stomach!
To take the unpleasantly raw edge of garlic away, it was observed that in most of the dishes, garlic was combined with other condiments such as salt or vinegar, or parboiled then stewed to render it wonderfully sweet and caramelised. These are my top 5 favourite dishes in Shanghai that featured garlic in some ways that were very pleasing to the palate!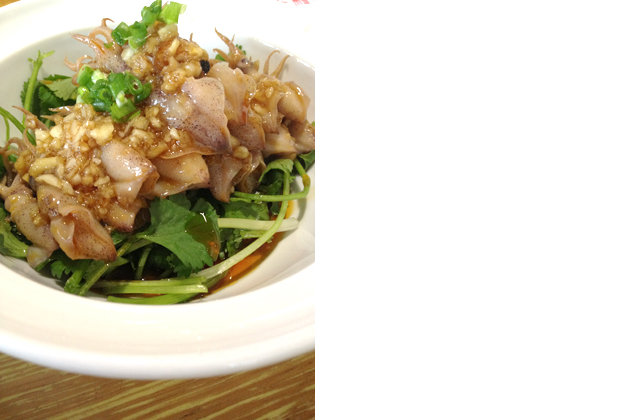 First up was a cold dish of squid (RMB 15) at 望湘园 (South Memory, Pudong, Lu Jia Zui Xi Lu, Super Brand Mall, 4th floor), which served passable mains but blew us away with the cold dishes, especially this one. The sweetness and freshness of the squid shone in this appetizer and the pungent vinegar-based dressing made even headier with raw garlic and fragrant coriander, proved to be a winning combination.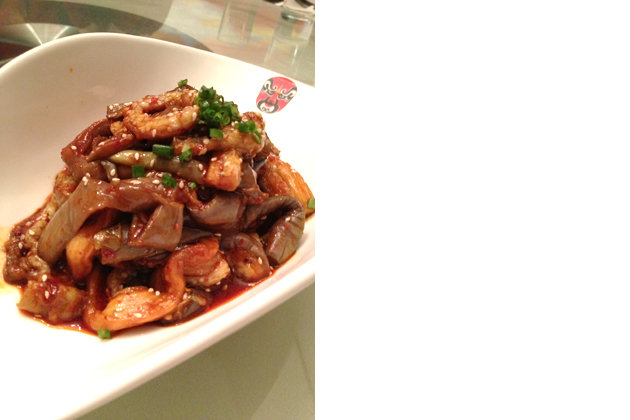 Similarly, the cold dishes at 俏江南 (South Beauty, Jing An Qu, 881 Yan An Lu), China's answer to Din Tai Fung, with many outlets peppered throughout the country, and a fair few in the city of Shanghai impressed us. A stellar dish which deserves accolades is the crisp Indian Lettuce (also known as mak choy to us), drizzled with a fragrant sesame paste dressing. But what caught our attention was a very simple dish of cold eggplant in a vinegar, garlic and chilli paste dressing. The garlic was nowhere to be seen in the dish at first glance but a bite proved otherwise! It was finely ground to a paste and whisked together with the fiery hot dressing, which when drizzled over the smoky grilled eggplant, made our palates sing.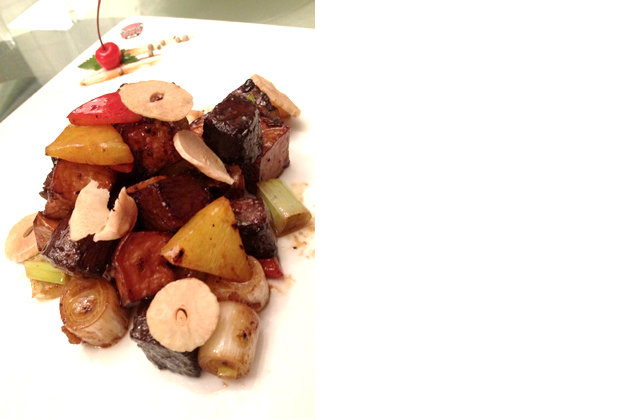 Next, the common sautéed black pepper beef was lifted to great heights at 俏江南 (South Beauty) too. Most of their main dishes are commendable but what stood out particularly was how the thick slices of garlic, almost crunchy like a chip, added a deep mellow flavour and complemented the peppery beef very well.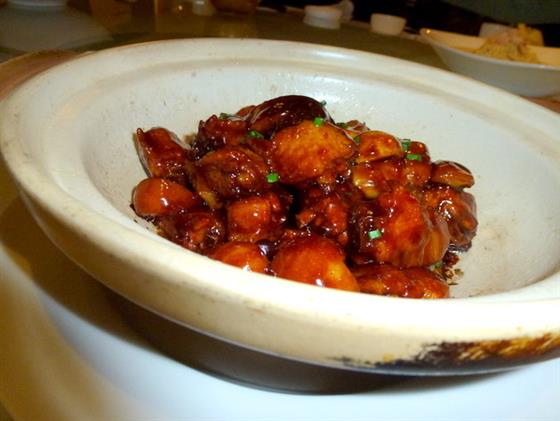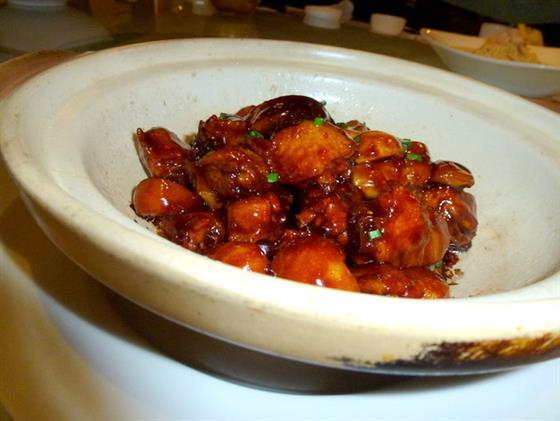 A visit to the mid-priced fine dining establishment (福 1039, 1039 Yu Yuan Lu) with a minimum spending of RMB200 per head is a must. Tucked away down a lane and through a garden, with the deceptive signpost indicating a swimming complex at 1039 Yu Yuan Road, the food is as beautiful as the ambience in this restored 1930s villa. Again, the cold dishes here rendered this writer speechless but a special dish of chicken and chestnuts in a claypot was unforgettable. Thinking the big nuggets of the whole garlic cloves which made up about a quarter of the pot's contents was a rip-off (forgive the Singaporean in me!), I picked it out, thinking it would taste obtrusively raw. An urging from my brother who had accidentally bitten into one and was now reaching for the others, made me sample it. Obstrusively raw? I could never have been more wrong. Somehow, the chef in the kitchen had worked some magic into this modest ingredient and had treated it with such love, that I was biting into a soft, yielding nugget of sweet garlic that had me hankering for more!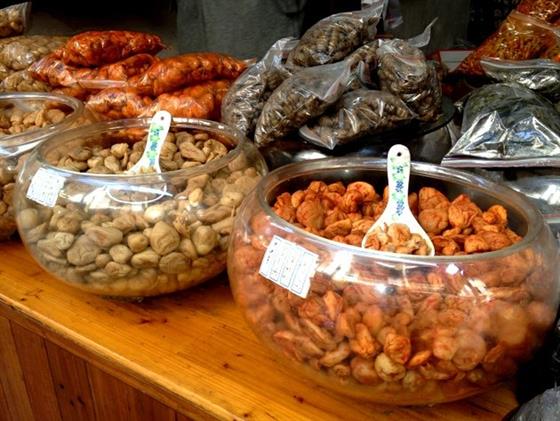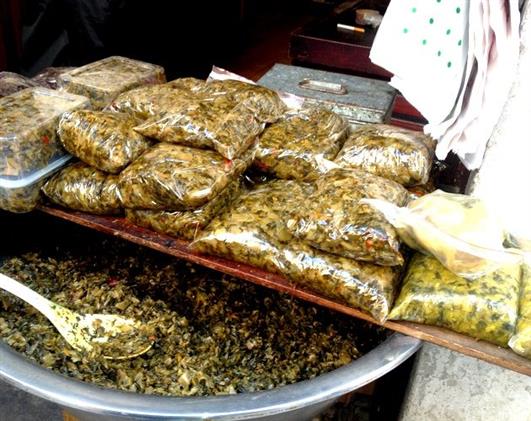 Lastly, a visit to Shanghai's Venice (朱家角, Qing Pu District) unearthed some very yummy culinary delights, including homemade sesame candy and individual servings of stewed pork belly wrapped in fragrant lotus leaves. However, whilst wandering through the streets of this fascinating water-town, I chanced upon a shop that sold preserved vegetables that were made in-house. At the insistence of the shopkeeper who was very passionate about his wares, I sampled his preserved radishes and preserved mustard leaves and was impressed with the depths of flavour when I expected nothing but extreme saltiness. Aromatics such as dried chilli and garlic fully brought out the savoury tang of the preserved vegetables and I found myself purchasing boxes to take home because in the words of the shopkeeper, "Traditional tastes like these are hard to replicate today." And how true that was, for an austere dish of his stir-fried preserved vegetables with sliced pork I made when I reached Singapore, had never been so delicious and reminiscent of the beautiful simplicity that these most time-honoured ingredients can bring.