A Makan Day with John Woods
By KF Seetoh - Monday, Mar 31, 2014
His name would not ring a bell in many of us. Especially when we are so caught up in making monies to upkeep our most expensive-nation-in-the-world status. But this former marketing director top job at Microsoft to top echelon maverick, gave it all up and did something of the opposite – raised monies so he can build schools and library for the less fortunate around the world. Today, as a co-founder of the Room to Read movement, John Woods has helped over 10 million underprivileged kids and built 1,500 schools and 12,000 libraries for them worldwide.
We hardly fail to catch up for some makan trawl whenever he has some free time in town (in between his fund raising gigs). Not because he is a serious foodie (in fact he can't even pronounce almost all the stuff we chow down on), but because, his fiancée Amy Powell is a food fanatic and blogs at her site "Pho the love of Food".
I usually drag them to places "off the eaten track", where tourists are rarely seen – like the car workshop industrial corner of Sin Ming Road area, this time around. Food hounds will know I have bak kut teh in mind, more precisely, the Rong Chen folks. But the coffeeshop where their main stall roosts (son Lionel runs a branch nearby) is a little makan secret haven where almost all the stalls are highly rated by Makansutra. At least four of the stalls in that kopitiam are top hawker masters. We over-ordered and overate at these stalls there.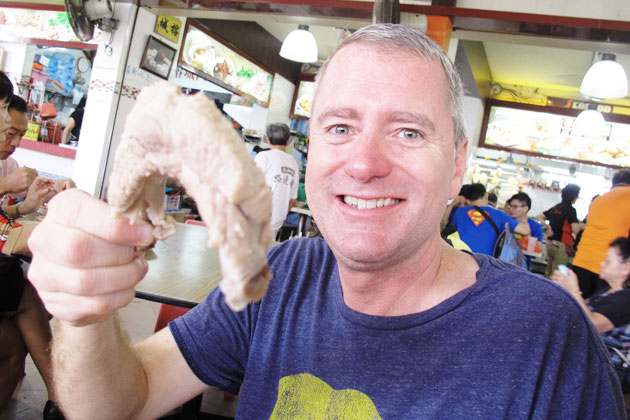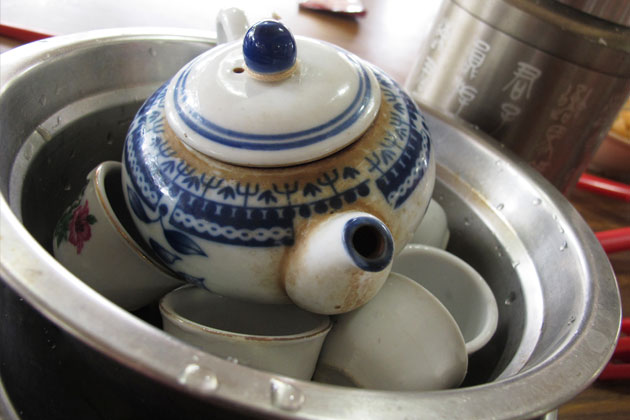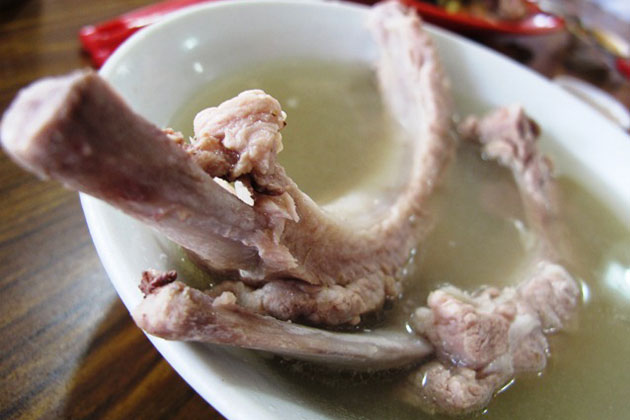 1/ Rong Chen Bak Kut Teh, Hours: 7am – 4pm daily
This is the classic Teochew clear soup version that is uniquely Singaporean. It was peppery, garlicky and porky plus the side order of stewed trotters completed the trick. Both John and Amy loved it. The highlight was when boss Mr Lim came up and sang us a song, after his lunch and tipple of beers. It was a moment to remember.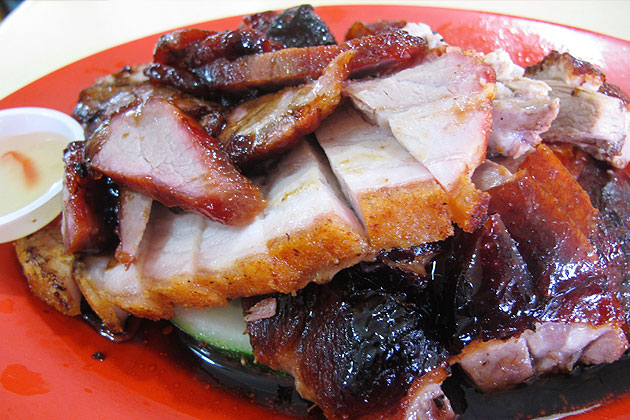 2/ Roasted Meat stall, Hours: 11am – 3pm, closed Sundays
The $22 platter was dripping with shiny, roasty and sticky cha siew, roast pork with a softly crunchy crackling and five spice accented roast duck in a herbed soy sauce. A joy to devour. This little gem is also the favourite of chef trainer and former Singapore Culinary Olympics team member Eric Low. Tear into it and you'll know it's not difficult to like it.
3/ Hup Seng Duck Rice, Hours: 9am-2.30pm (Mon-Fri) 9am-1.30pm (Sat-Sun), Closed Thursdays
This one took the cake, and the Salted Vegetable Duck soup (kiam chye ark) is not even their main offering. Both of them could not fathom how these two items could come together for a soup but it struck them at the heart and tummy. "Easily the best dish I've had in Singapore" she declared and he agreed. It came piquant with a light hint of gaminess from the fowl which was all nicely contained by the agreeable herbs and chilli infused into the soup.
4/ Ah Orh Teochew Restaurant, Hours: Mon to Sat, 10.00am – 2.30pm, 6.00pm – 10.00pm; Sun & PH, 7.00am – 2.30pm, 6.00pm – 10.00pm )
Unfortunately we could not order from this stall as waiting time was a bother on John's schedule. So he missed out on their iconic Teochew fare like claypot duck with yam, stir fry leeks with preserved daikon (chye po), steamed pomfret, cold crabs etc… but I've had eaten there often before and if you plan a meal there, bring a big enough group to tear into all the dishes at this kopitiam.
*All stalls sited in Block 22 Sin Ming Road (Eng Ho Hup Coffeeshop) #01-258.