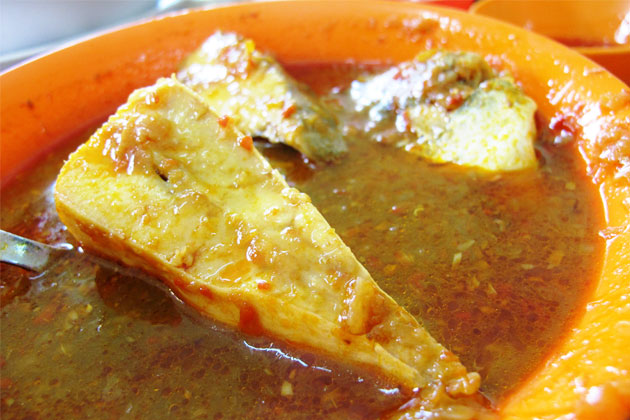 A Makan Maverick in Penang
By KF Seetoh - Monday, Feb 10, 2014
Singapore and Malaysia are his favourite places to makan in this world and calls it his "second homes". And it's also one reason why Claus Meyer, who created and owned (he has since sold most of his shares) Noma, once the world's best restaurant for three years running, started the Singapore flavoured Nam Nam restaurant. Both are sited in his home town of Copenhagen in Denmark.
He recently conducted an audition to select his head chef for Nam Nam in Singapore. Six vied for the post and eventually Jemmy Yeo, a Singapore PR, was offered the post. Peranakan Chef Jemmy, who has been in Singapore for the last 23 years, also cooks a wide range of local fare. His grilled and steamed sotong in spicy kicap manis sauce with sambal blew away both Claus and myself, who were judging the candidates back in October last year (watch the auditions here – http://www.youtube.com/watch?v=epnvAyzhAtQ).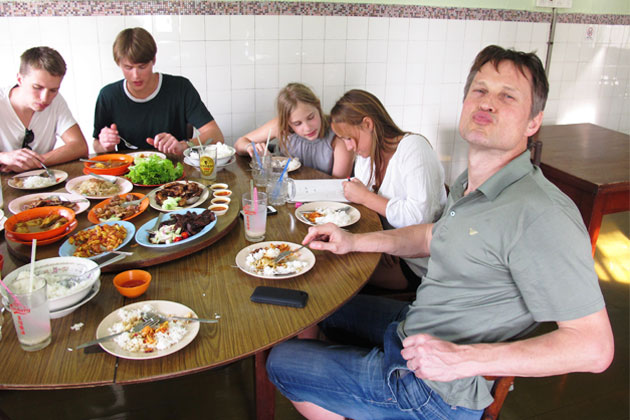 He buzzed me again recently and said "Let's eat up Penang". My mind was racing, not because I was to eat with the world's best makan maverick but I don't know where to start. It was his first trip to Penang. We hit the delicious streets of Georgetown eating – from Lebuh Kimberly, Chulia Street to Chowrasta area. But is it was a simple Hainanese Nonya coffeeshop that struck him (and me, it's one of my makan pilgrimage stops each time I go Penang). Sin Kheang Aun restaurant is a culinary legend of sorts there. The two story preserved shophouse is like a moment lost in time (as are many in Penang). The kitchen is like someone's home set up, with three table top stoves and a huge refrigerator. Food is served upstairs via an archaic manually wound dumb waiter (an old food lift).
I ordered the way I usually do with the boss "Please serve me whatever you think I may like today". A plate of dark pork liver in a dark sauce was the first to hit us. I never had this before, and fearless feeder Claus chomped in before he asked "what is it?". The liver was so soft and creamy but it was the sauce – a thick spicy kicap manis, that did us in.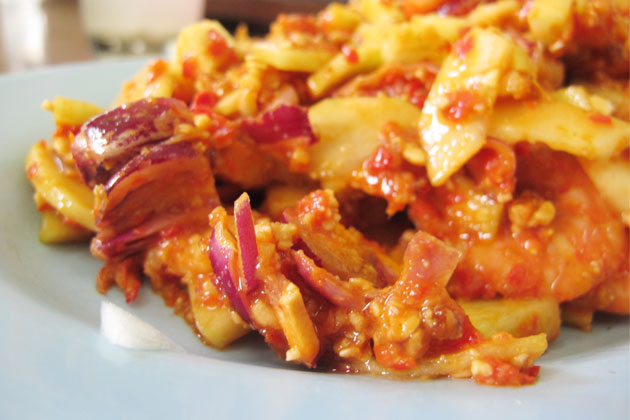 Then, a messy orange plate of rojak turned up. This one took the cake – their signature kerabu prawn salad. A mix of greens and fruits, with crunchy bits of peanut brittle, shrimps, in a sour-ish dressing with prawn paste lifted by a distinct accent of fresh blue ginger flower bits. Enjoying it is way easier then describing it, I promise. Claus wondered if he could get Jemmy to replicate this back in Nam Nam. "No fresh blue ginger flower, no way" was my report.
Our other favourite was the ngoh hiang (five spice meat roll). This is very common, even in Singapore, but theirs was made eminently well. The pork and fat inside was packed tightly, was soft and had just enough five spice marinate.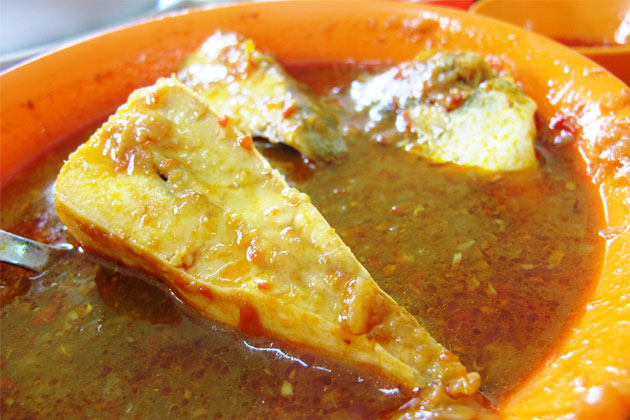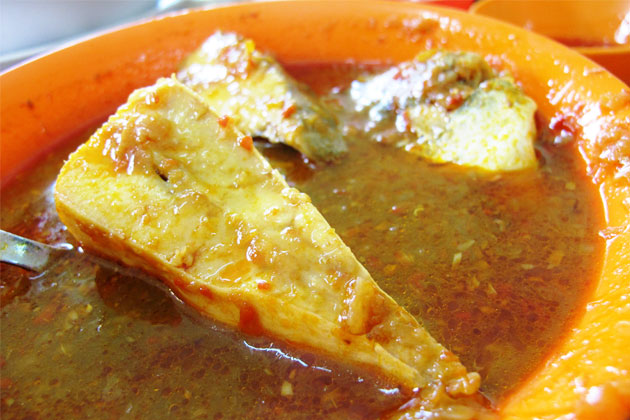 Their fail safe people pleaser was the assam pomfret. Three simple slices sitting in a bowl of sour Nonya style curry. It's the curry – it's so irritatingly addictive, they refill it for every table that orders this dish.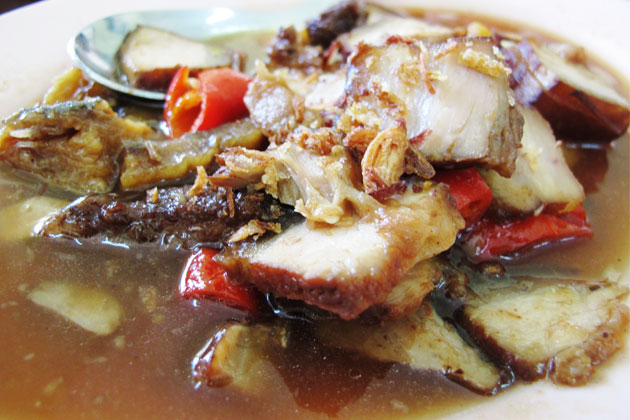 They brought out a "specially for you" dish that I've never had – kiam her blandah. A salted fish stew done with slices of fatty pork and chilli with fragrant hints of spices and sweetness. You can just imagine this over my bowl of fluffly soft rice. What a way to officially enter the Year of the Horse.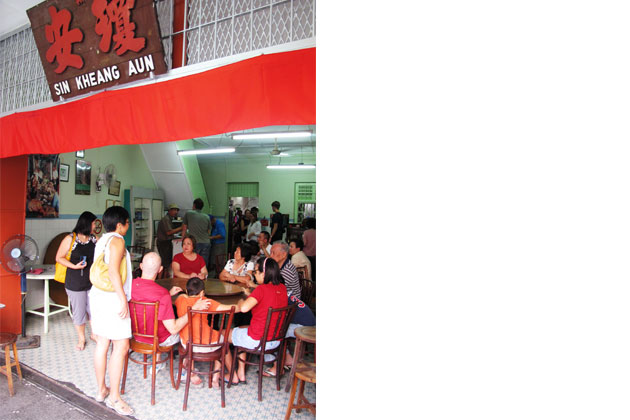 Sin Kheang Aun
2, Chulia Street,Georgetown, Penang, Malaysia
11am-2.30pm and 5pm-8.30pm
Closed alternate Mondays
Tel: +604 261 4786