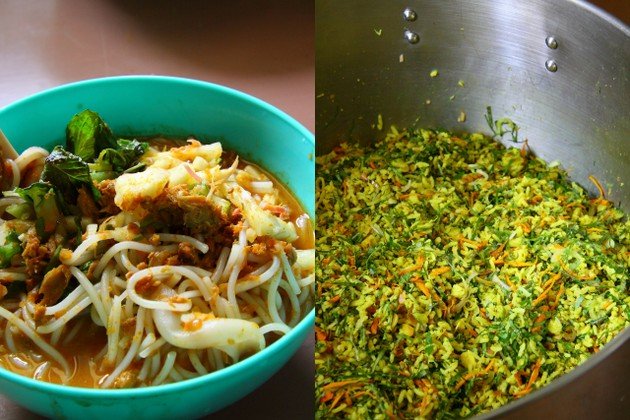 A Nasi Ulam hideout in Penang
By CK Lam - Monday, Feb 18, 2013
Mimi Nyonya Laksa is a popular little eatery in Penang for many office workers lunching around the area. The eatery, located on the ground floor of Wisma Central, was named after the owner.
Many are obviously drawn to their Nyonya delights. The daily specials are available on a rotating basis. The nasi ulam cooked with generous sprinkling of fresh herbs, garnished with daun pudina (mint leaves) and red chillies, is a firm favourite among the customers. The combination of carrots, onions, daun limau purut (chopped lime leaves), serai (lemon grass), daun kaduk (wild pepper leaves), daun kesum (laksa leaves), daun cekur (sand ginger leaves) and grated coconut layers the complex flavours of this rice dish.
The asam pedas fish (sour & spicy fish curry) is a delight with appetising, sour and not too spicy taste. This fish dish is a nice accompaniment to the nasi ulam.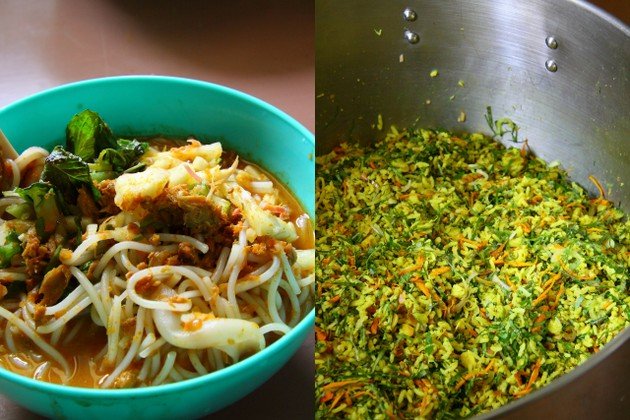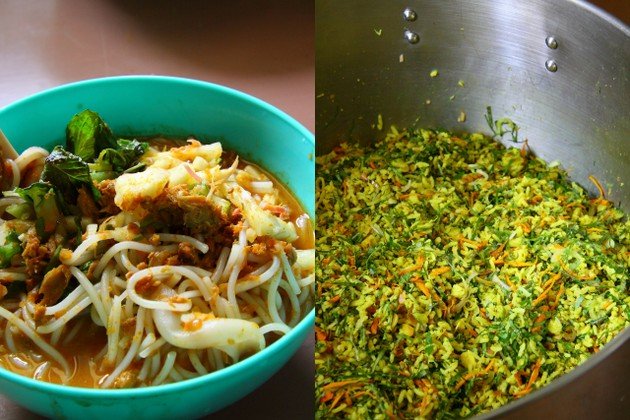 A piping hot bowl of Nyonya laksa comes with plenty of fish flakes in a slightly creamy and sourish soup. The recipe includes raw ingredients of pineapple, mint leaves, bunga kantan (torch ginger flower), cucumber besides the addition of bean sprout and kacang botol (four angled bean). The bean sprouts and kacang botol may be unfamiliar to some, but both the ingredients lend the dish an amazing crunch.
Besides the Nyonya dishes, this eatery also offers porridge. The oyster porridge is boiled till soft and is topped with dried oyster and Chinese black mushroom. It a great idea to have this dish with plenty of coriander.
The sourish assam laksa is available on Monday, Nyonya food on Tuesday, followed by porridge on Wednesday. Nyonya laksa is available on Thursday while nasi ulam is on Friday…
The eatery is out-of-sight, right at the back of Wisma Central at the junction of Macalister Road and New Lane. Keep your eyes peeled for it.
Mimi Nyonya Laksa
Ground Floor
Wisma Central
Jalan Macalister
10400 Penang