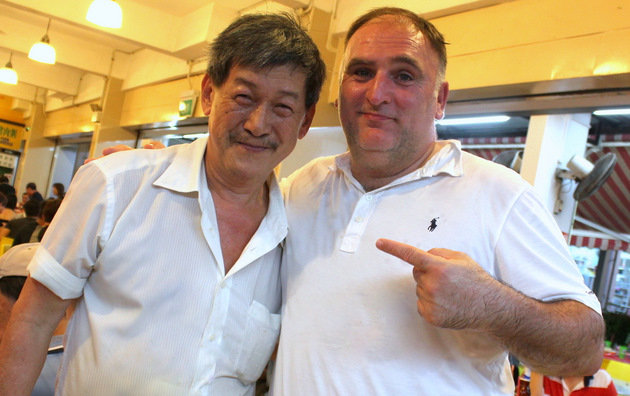 A Night with José Andrés
By Tris Marlis - Saturday, May 18, 2013
Just a few days ago, chef José Andrés was at China hanging out with his artist buddy, Ai Wei Wei, documenting Ai shaving someone's head. A few days later, he is in Singapore, giving the owner of Tong Ah Coffeeshop a double and triple fist pumps – the usual BFF thing, even though they have just met.
A few hours back, chef José Andrés was just one of the very few ang mohs sitting at Keng Eng Kee Seafood at Bukit Merah. He stared at the crabs, prawns and people in amazement. Nobody around knew that this big man, who has made a mess of himself eating chilli crab with sauces all over his palm and fingers (that drips and stained his shirt), is one of TIME's 100 most influential people and recently crowned the Outstanding Chef Award by James Beard Foundation.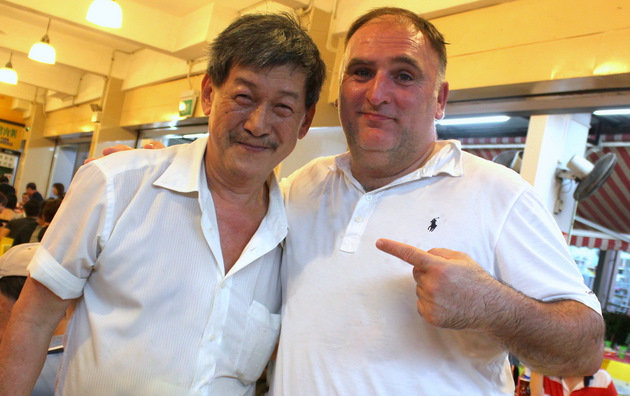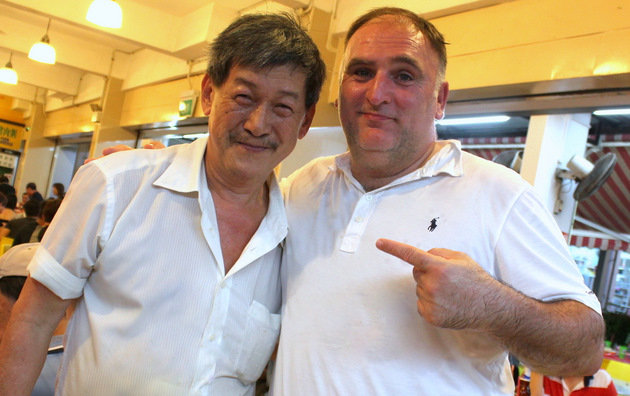 As Anthony Bourdain puts it for TIME: "That this gift of Spain to the U.S. is best known as a great chef with a portfolio of extraordinary restaurants in Washington, Los Angeles and Las Vegas is almost beside the point. He's bigger and more important than that. No one kitchen — or 10 — can contain him. He is advocate, promoter, entrepreneur, philanthropist, artist."
Chef Andrés is also known as the man who brought small plates of both traditional and modern Spanish cuisine to the United States. That night in Singapore, he made a trip to the Keong Saik Road where tapas bar, Esquina, is located. He also sneaked in to one of the latest establishment on the block, Burnt Ends, to check out their customised wood fired oven, a kiln. For him, the sight of young chefs dishing our Spanish inspired food marks his long journey. "20 years ago, nobody knew who we (spanish) are! To see someone doing traditional Spanish cuisine in Singapore today is… crazy," mumbles Andrés as he stepped out of the restaurant.
Back in Tong Ah Coffeeshop, chef Andrés continued to tweet about his meal, tour and life in Singapore. "YES!!" he bang on the table and screamed in excitement, "they made 600 rolls today!" On the screen of his phone is a mixer working on a large amount of dough. He is the founder of World Central Kitchen in Haiti which he started after the earthquake in 2010. The organisation aims to create sustainable solutions to fight hunger and malnutrition. One of the latest projects is a bakery in Zamni Beni Children's Centre where 600 rolls of bread were made that day. Now these kids not only can bake for themselves, they can fend for themselves too.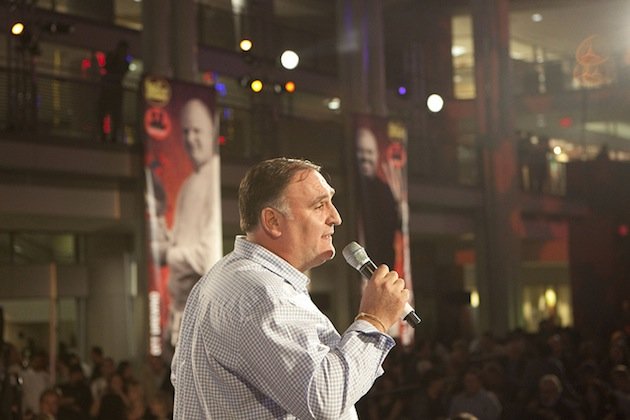 The way he cares for food is so pure and simple, it is contagious. Even though in person he is quite a restless man, who seems to be amazed by every small little thing, it is like he is living everyday as if it's his first.
Chef Andrés' trip to Singapore marks an exciting chapter, both for him and this city. We can't tell you exactly what project he is up to, but we can tell you that if you think tapas was the big trend last year, think again amigo. It was just an introduction. When Andrés is here next time, the wave will follow.
For now, he's back in Washington D.C. and just saw a Taylor Swift concert with his daughter.