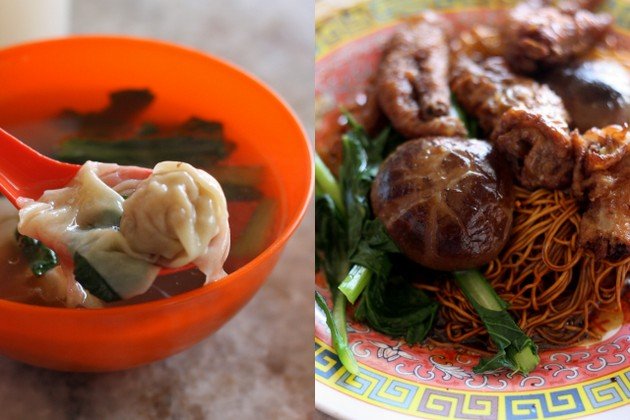 A Noodle Legacy in Kuala Lumpur
By Lee Khang Yi - Monday, May 06, 2013
As you walk into the quiet Toong Kwoon Chye, it feels caught in a time warp, harking back to a long forgotten time. Despite being a hop and skip away from the crazy chaos of the MRT construction and traffic diversions, this corner coffee shop housed in a three-storey building has a serene air about it. Even its furniture and the retro tiled floor tells a story of its past. Unlike the flimsy plastic tables and chairs that usually pepper coffeeshops, this place sports well-patronised sturdy tables – a mix of grey hued marble tables once white, and worn melamine covered tables. Even the chairs are made from sturdy wood.
Service is brisk once you sit down. As you wait for your noodles to be prepared, lend an ear to Madam Yap Lin Ying, who runs the place with her siblings -all well into their sixties and seventies. The humble shop boasts of an enviable three-generation heritage, harking back to the original stall in Pudu. Madam Yap recalls her grandfather started his stall at the bustling site of Tai-Wa or Majestic cinema. She's vague on the dates, but it was probably around the 1930s, when the cinema was built. The stall moved around Pudu and Bukit Bintang before it finally settled in this building in 1954. In the 1950s, the Bukit Bintang stretch was a flurry of activity, with the emergence of the first hotel, Federal in 1957 and a year later, the popular Cathay cinema. Nowadays, this side of the Bukit Bintang is quieter and patronised by budget travellers who check in nearby hotels.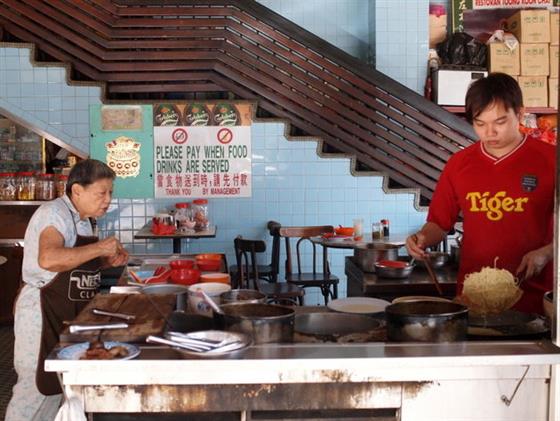 My chicken feet and mushroom noodles (RM6.50) is served on an old fashioned melamine plate. The noodles lightly mixed with the dark soy sauce, have a lovely al dente texture. "It tastes just like the old days," a friend once remarked when she first ate here. She's right as nowadays the noodle strands feel fake with an artificial crunch more attributed to the use of alkaline water or kan sui. Madam Yap's brother, Yap Kok Weng makes these noodles, just like everything served here, from the wantan skins to the roast meats. In the early days, the noodles were made by "bamboo shaking" as Mr. Yap describes it. This was a large bamboo rod, used to press the dough to make the noodles and skins. Nowadays, he prefers to make it the modern way or "with a touch of button" since it means larger quantities. But Mr. Yap sticks to the original recipe, using what he calls good quality eggs and flour. The noodles are even supplied to a reputable Chinese restaurant.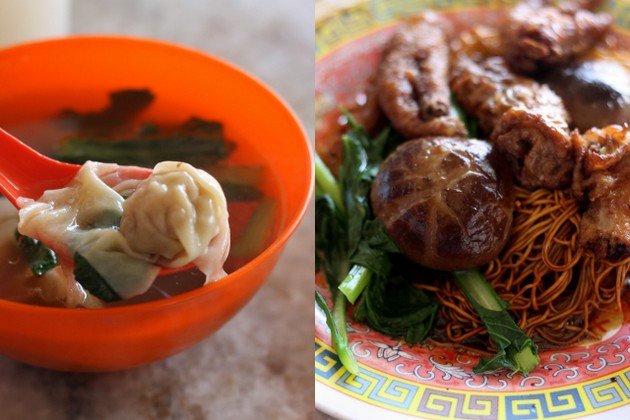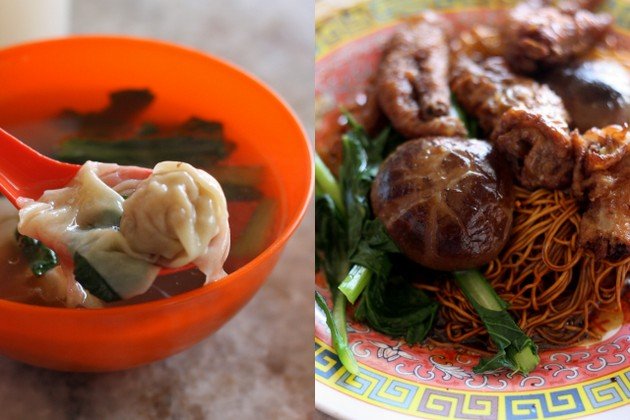 Savour each wantan (RM4.50 for a small bowl) with its silky skin filled with hand chopped pork mince. I had chosen the old classic of braised chicken feet with mushrooms, whereby each claw is tender and its sauce is lightly flavoured soy sauce. Other classic toppings kept since day one, include their poached chicken or wat kai (smooth chicken in Cantonese) and the char siew. Everything is made in-house, from the poached and roast chicken, to the char siew, hence they can keep the quality. Rice is also served with the roast meats.
I've always assumed its name referred to their famous braised mushrooms (perhaps they misspelled Koo with Kwoon) but as Madam Yap lets on, it was just their father's nickname, since he was a Cantonese immigrant from the Tong Koon province in Southern China. The future of the place remains to be seen but Mr. Yap is hopeful his son will continue their noodle legacy. "He likes to cook and he's very creative too," says Mr. Yap.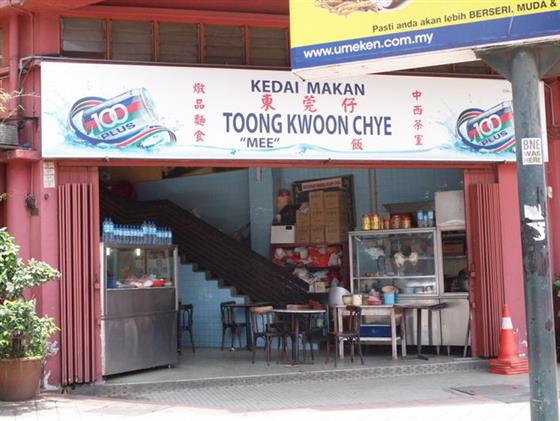 Toong Kwoon Chye Mee
9 Jalan Bukit Bintang
Kuala Lumpur
Tel:+60173294945
Open daily: 8.30am to 7pm