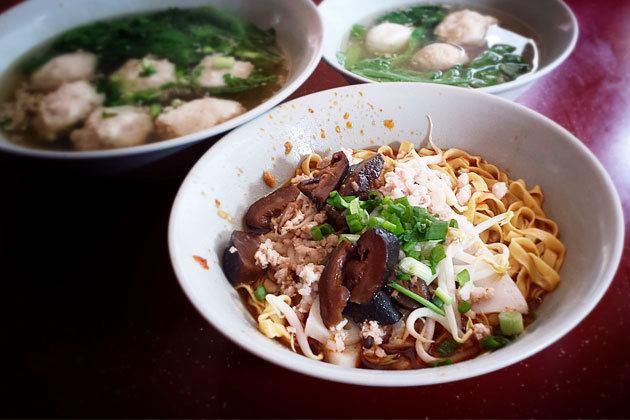 A Practical Bak Chor Mee Twist
By Tiantianchi - Tuesday, Dec 24, 2013
Just 5 years ago he was just a simple factory worker but answered the call to be a noodle seller after an old bak chor mee master; a friend of his father, suspected he could be more than meets the eye – and offered to teach. However when we tried his food, it was very unlike his mentor who runs a wildly popular bak chor mee stall at Chinatown Complex.
His mee pok comes softer and thinner than most, made with his specification. "There are many old folks here who prefer their noodle softer" he said, which is a practical approach to take. Though this is something we were not so used to, we do like the sambal sauce. The sambal though not too spicy is flavorful with some nutty accent and he pairs it perfectly the black vinegar and some stewed mushroom sauce. He can also do a KL wanton mee style dark sauce version. "Just to add some varieties for a younger breed, but most still prefer the traditional sauce".
He serves the regular fish balls and pork balls, supplied by his mentor. Those are decent but do not stand out very much. The main act which draws in the long queues each day, is his meat and fish balls. There is a higher proportion of fish meat in it to give it the distinctive Teochew fish cake like feel, wobbly and spongy. The flavour of the pork is however not diminished in anyway. He also does not knead the ball too finely or form it evenly round; this gives it a lumpy, rougher texture for a satisfying bite. The meat ball is flavourful, juicy and enhanced with bits of pork fat added to the blend.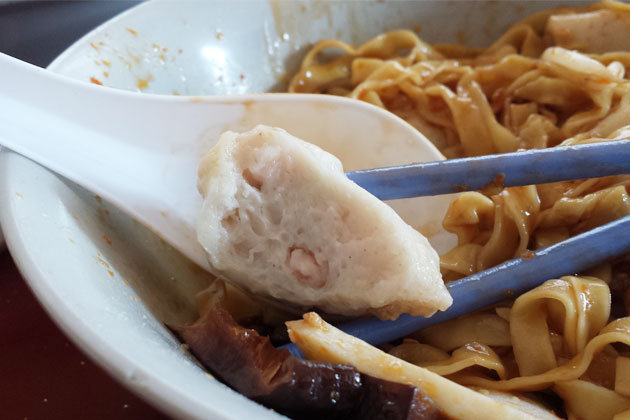 His standard portion costs only $2.50 but we suggest upsizing it to a $3 portion which comes with assorted meat balls and fish cake as well as generous amount of noodles, minced meat and stewed mushrooms. "I try to keep the price low so that more people can eat my food" he says. We also found out from some regulars that he is an active participant of the Choped Food for the needy program. "There are many disadvantaged people coming to this food centre, picking up left over food and I feel sorry for them". He is however discerning and is careful with the donations, only giving out the food when he can be sure the receivers needed them. He told us however the donations have dwindled as the program is losing steam but he does not stop giving out free food. "The food is at cost to me and the business is doing okay. I am not out to make tons of money and will help whenever I can".  We wish there are more businesses that can be like him. It will make the world a lot better.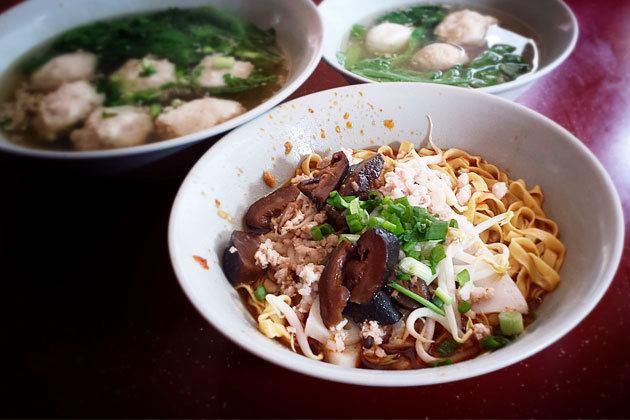 Ah Seng 270 Queen Street, #01-77, Albert Centre Market & Food Centre, Hours: 7.30am-7.30pm (Closed on Saturdays)