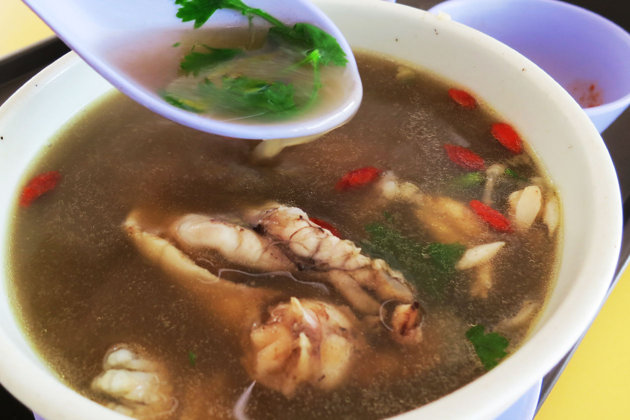 A Soupy "Wetnesday"
By Jovita Ang - Wednesday, Apr 23, 2014
It's a bowl of comfort and soul or however you wish to associate it. It has been said that in ancient China, people had soup on a daily basis. China's dynastic families indulged in luxuries such as shark's fin soup, while the common folks made a meal of watery mixture with beancurd or any local produce that was available. Despite its birth thousands of years ago, people of today still enjoy this humble fare.
My mum is my soup master and her signature is the "steamboat" soup (adding an assortment of items to the broth, resembling a steamboat). It's a sensation that says "home" and it is easily my favourite part of the meal. However, age has caught up and sometimes, cooking becomes a hassle. Thankfully, there are hawker soup masters out there that can fill up this void for me.
Havelock Turtle Soup 
Havelock Road, Havelock Road Cooked Food Centre, #01-04
Hours: 10am to 2.30pm (Closed on Sundays and Public Holidays)
This is the kind of gem you're not sure you want to write about when you first discover it. But it's not like they need the extra publicity. Having owned this stall for over 30 years, they have their loyal followers. Their menu is straightforward – either frog leg soup or turtle soup. It's more often the former for me. They use a similar stock base for both.
Service is quick despite the rather long queue, you eventually get a robust bowl of full bodied soup- so flavourful it pleases and is comforting. And it helps that their portions aren't stingy either. The meats are chunky and softly chewy, although it lacks flavour (it's all infused into the soup). That is a minor blip to me as it's all about the broth. Have it with a bowl of yam rice and add an extra oomph with their homemade chilli sauce. It completes this comforting experience.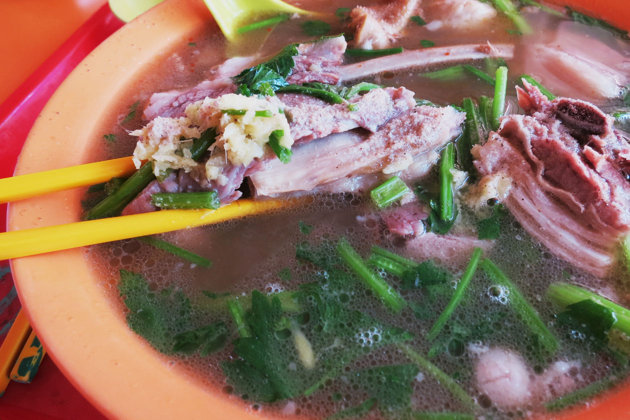 Frog leg soup starts from $5 while turtle soup starts from $8. Free refill of soup is also available upon request.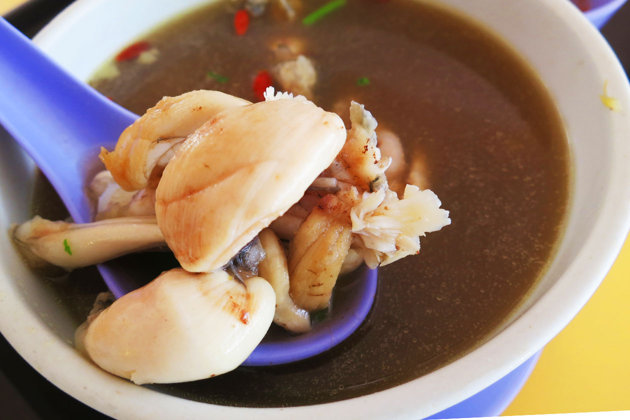 Chai Chuan Tou Yang Rou Tang 
115 Bukit Merah Central, Bukit Merah View Food Centre, #01-51
Hours: 11am to 2.30pm (Closed on Sundays and Public Holidays)
They begin at 8am in the morning, but opens only for three hours. Early mornings are dedicated to making their mutton soup, allowing it to simmer and boil and release all its flavours. The appreciative and long queue of customers forms even before they open for business.
The kitchen is helmed by a mother and son duo. Each day, they prepare 60kg to 70kg of lamb ribs, but it never seems to be enough for the customers. It says they close at 2.30pm, but their pots dry up usually by 2pm and it's easy to see why.
At only $3.50 a bowl for a regular mutton soup, you get an impressive serving of lamb ribs and meat. Almost fall-off-the-bone delicate, the meat is tender, lightly gamey and well seasoned. The soup is intensely flavoured yet light, albeit having a thin layer of fat swimming on the surface.
The menu here also offers bolder options like lamb innards and lamb brain. The innards are delightful, all cleaned and cooked well. Customers here love their lamb brain soup too.
This family began back in the day by selling duck noodles, but soon made the switch, as poultry then was getting too expensive. But no customers are arguing with that and each time they wait in line, a cheerful lady greets you and politely asks for your order, no matter how busy she seems.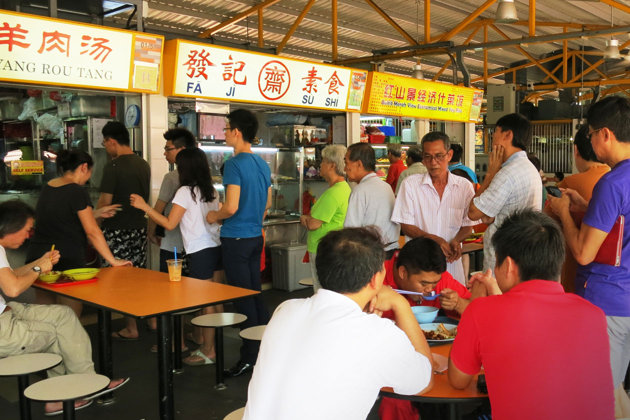 Pek Kio Seafood Delight 
41A Cambridge Road (Owen Road), Pek Kio Market Food Centre #01-35
Hours: 11am to 11pm
I was introduced to this stall by my dad, who insisted that I had to try this "really good" fish soup. It's a tad pricey, but sure is money well spent.
If you prefer thicker slices of fish, this is the one to turn to. They come thicker than usual, and is fresh and tender. The broth is slightly cloudy, and the fragrance hits you hard. Unlike the usual light and clear fish soup, flavours here are heavier, but nonetheless comforting. Wash down your taste buds with added fresh vegetables like bitter gourd and tomatoes.
At $8 a bowl, it's enough to satisfy two stomachs. Cze char items here are also worth a try.
Good soups are like a little black dress – classic and an essential, never out of fashion. Variations can be infinite, but I like my soup best kept simple. How do you like yours?