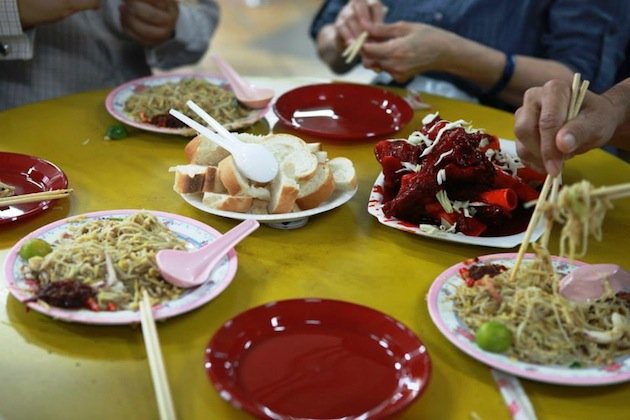 A Taste Tour Like No Other
By Tris Marlis - Thursday, Aug 08, 2013
For many Singaporeans, it probably makes more sense to travel to Hong Kong or Bangkok for food, but a food tour in Singapore? It sounds like we are given a tour around our own house, except this takes us to small hidden corners we foresee everyday. A food tour is, as described by Terence Ng – one of the foodies who recently experienced a food tour with Makansutra: "exploring Singapore in a way like no other."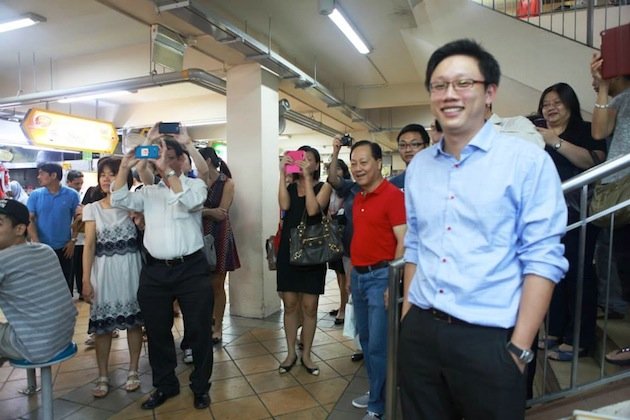 Ng and 17 others are winners of a contest on The New Paper held in conjunction with the World Street Food Congress. Each of them won a pair of tickets to the World Street Food Jamboree to try out street food dishes from 10 countries, plus a Singapore food tour that is not short on diversity. It was 6:30pm on a weekday when they arrived at the Makansutra Gluttons Bay, still in their office attire, no creased and nicely tucked in, prim and proper. They had no idea what was expected.
Back on the bus, no one was able to guess what's about to come. "Chicken rice…. Laksa… Curry fish head… Char koay teow," are just some of Singapore's iconic dishes shouted out, when Makansutra founder and makan tour host encouraged their imagination. But it was not part of the menu. Instead, at the first stop, they were welcomed with a bowl of red hot tinged gravy with humongous mutton bones. It's Sup Tulang from Haji Kadir and M Baharudeen (#B1-13/15 Golden Mile Food Centre), and it requires some messy handwork to extract its bone marrow, some knock it about, others used a straw, and the rest, tried Seetoh's suggestion- slam it down with one hand and stop it with the other, before it hits the plate, for a "jam break" effect so the marrow slides out. It was messy and they let their hair down, best way to make friends and they did.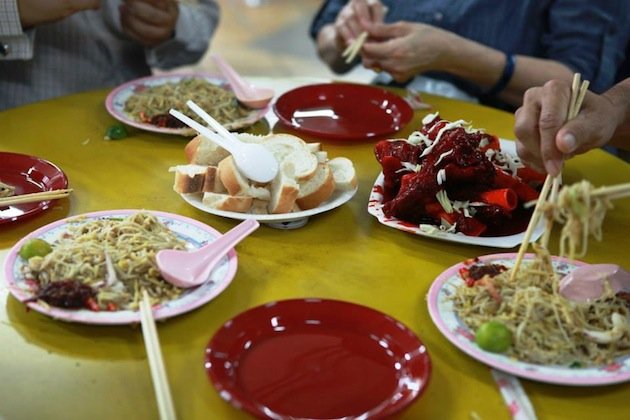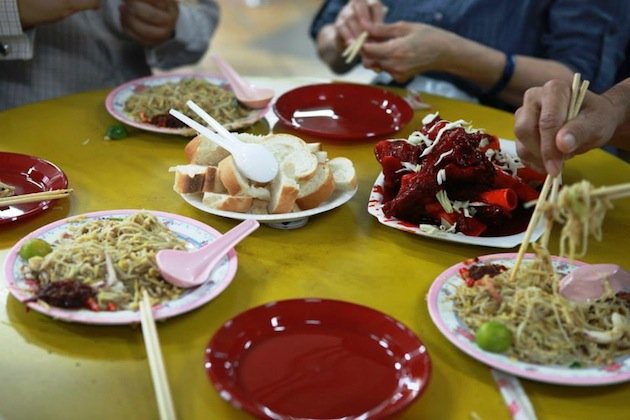 The next thing you know, everyone took out their cameras as they watched the hawker at Hainan Fried Hokkien Mee (#B1-34 Golden Mile Food Centre) danced and do a feet shuffle as he was stir-frying that plate of prawn stock infused prawn-y goodness. "I do this to distract from the routine boredom and to exercise a bit" said the hawker. It made more sense when he revealed that he has a knee problem that requires him to move constantly. It's the effort he put in his craft that makes the noodle even more comforting, and it's just one of the many small details we missed every day.
Passing by the bustling Ramadan bazaar, we arrived at Haig Rd Food Centre to meet up with a long lost friend – putu piring from Traditional Haig Rd (#01-08). There were memories on replay as everyone dug in with their hands, tearing apart the piping hot rice cakes with melted gula melaka and grated coconut. "Wah, I can't remember when was the last time I had this," said one happy feeder. It was once a childhood snack, that's becoming rare nowadays.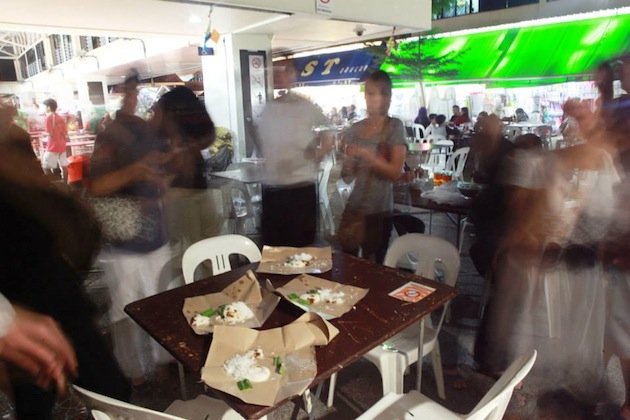 The last stop, back in Makansutra Gluttons Bay (8 Raffles Place), is where the old Satay Club once thrived in the 50s, and is now surrounded by the Marina Bay Sands skyline. It is where you may look back with classic dishes, such as crispy har cheong gai (HK Street Chun Kee), and Malay style nasi goreng putih with ikan bilis (Alhambra). And also look forward to more new creations, such as the last course of the evening – banana fritters served with kaya fondue, which was a clear favourite with the group. "I never knew this was soooo good," said one participant.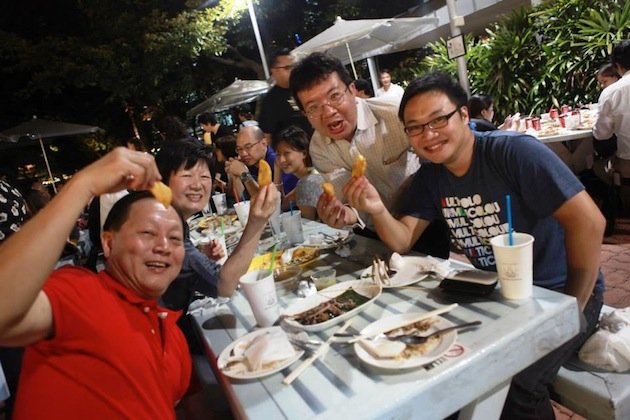 After a night of exploration, these foodies had all become close friends. One shared his favourite roti prata shop at Jalan Kayu and another talked about his favourite oyster omelette stall at Serangoon. What used to be a regular daily meal became an exciting find, and food has always been the social glue in Singapore. They all bonded over heartwarming stories and love for local food.
All of these stories, and even more, are happening "live" under our noses everyday, if only you opened up your eyes and mind, we would be experiencing one of the greatest, simplest joy being a Singaporean- eat the food and digest the heritage. It's the long weekend holiday, why not take your family our for a tasteful discovery of our home.