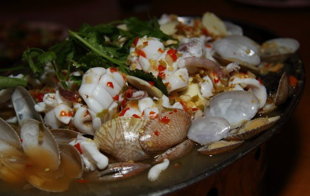 A Thai in Penang
By CK Lam - Monday, Aug 06, 2012
Thai cuisines and cultures have assimilated into Malaysian's over the decades, especially in Penang. Located in the northern region of Peninsular Malaysia, Penangite cuisines are generally spicier and sourish with the use of rich herbs.
There are numerous Thai restaurant and outlets in Penang, but a place that locals and foreigners alike flock to for scrumptious Thai cuisine is Khuntai Authentic Thai Restaurant. Located in Raja Uda Butterworth, this restaurant offers Thai delicacies with a strong emphasis on grilled and steamed seafood.
The Kerabu Khuntai is an excellent dish to start off the meal. The dish is packed with vegetables, dried shrimps, nuts and fruits. The combination of sour, spicy and sweet taste is a great starter and whets everyone's appetite!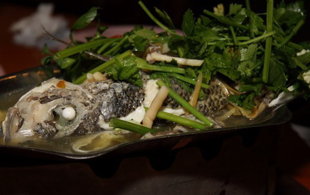 Khuntai offers a large variety of seafood dishes and one outstanding selection is the Steamed Fish Thai Style. The Red Snapper is steamed in their signature tangy and spicy clear soup and served in a fish shaped pan. The dish is kept warm under slow burning charcoal fire. Although the soup looks innocently clears, it really packs a punch of spiciness. The chef prepares the fish just right, leaving the flesh simply delightful to the taste buds.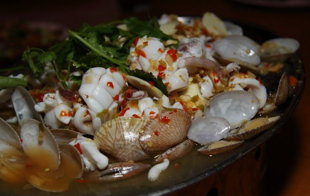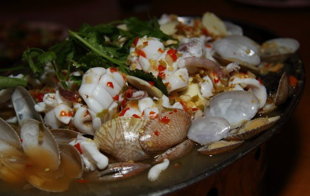 Next up is the Seafood Steamed in lime juice, which is a signature dish better known as the Khuntai Superstar! A lovely spread of seafood ranging from squid to prawn is steamed in sour-garlicky gravy. The gravy with chopped chili padi and garlic, plus many slices of garlic, teases the appetite and the taste is irresistible! Different combination of seashells can also be ordered for this dish, with choices from mantis prawns to lobsters, mussels and clams.
Besides seafood dishes, they also serve poultry. The Nameless Chicken is a crowd favourite here at Khuntai. It is essentially deep fried chicken with their very own marinate sauce, and the result is simply addictive. The chicken is flavourful right into the flesh. The meal is best topped off with the delightful Belacan Fried Rice, which is served with fresh cucumber, mango, chicken pieces, egg and lots of chili padi.
Khuntai is a spacious restaurant, with plenty of parking lots in the surrounding compound. The restaurant is usually packed on weekday nights and especially on weekends. However, the service is quite efficient despite the large crowds. There is ample seating area here, at the indoor tables or the outdoor cozy huts and shades.
Khuntai Authentic Thai Restaurant
104 Jalan Permatang Tengah 13000 Butterworth
Tel: 604 3327523 11am – 12am