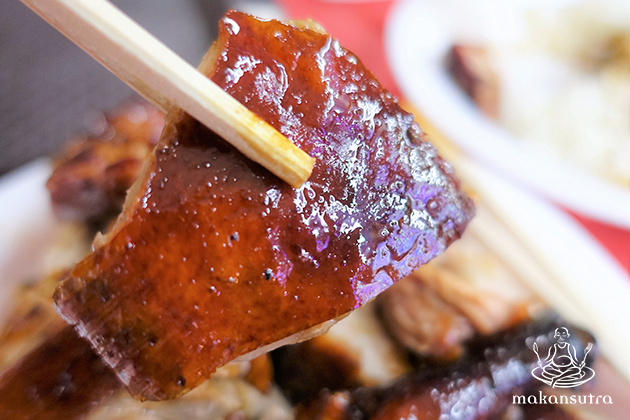 Adept at Duck
By KF Seetoh - Friday, Nov 23, 2018
You either love or hate it. Duck is a foul fowl, the pong is unbearable or stinky to some, yet it's gamely aromatic to others. I belong to the latter. The world at large has some versions of how they love to cook and eat this webbed wonder. The Europeans adore the confit method (cook it in its own fat and juices) and smoking the breast meat. The Balinese prefer it done smashed and fried (made popular by the Bebek Bengil restaurant there), the Chinese has a few popular styles- braised Teochew method, poached in salty stock the Hokkien way, and the famous Peking Duck rendition (roasted then cooked in a few ways in one serving). The Thais have their Red Curry Duck and it pairs so well with steamed rice.
But there's also another Cantonese method of roasting which is very popular in Singapore but it not quite the Peking style. For starters, the kind of duck used differs from what the Beijing-nites use. It has less fat and it is not roasted particularly for the skin. You find them hanging in Cantonese roast meat stalls amidst slabs of cha siew and roast pork. Yet within this version, there are a few styles found in Singapore. I note two popular rendition here.
Chao Ji Roast Meats, 02-165 Chinatown Hawker Centre, Blk 335 Smith Street, 11am-3pm, close Mondays
Clarence Leong of Chao Ji Roast Meats
Charence Leong, at 63, is one the last generation of roast meat hawkers, after about 30 years in the business he says "no one in my family wants to take over and I am getting tired and old". And when he calls it a day, it will be one less roast master we have. His stall sits across from the, by now, famed queues of the Michelin awarded chicken noodle stall but they hold their own with their line of regulars. His ducks come softer and with a very roasty skin, yet it retains some bite. It comes juicy and of course his art of chopping and plating is what makes his well made roast duck ($38 for whole duck) even more appealing. The sauce they use is classic vintage Cantonese style- dark caramelised soy sauce with duck drippings and hoi sin sauce. The other magic is his cha siew. I ask how and he replied that the soft meat was not about the use of a tenderiser but instead the low fire roast method. It yields a roasty and burnt ends outside, with soft juicy meat inside. This one is a winner too.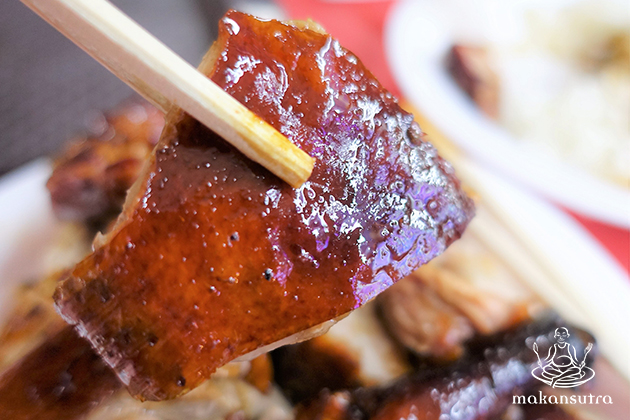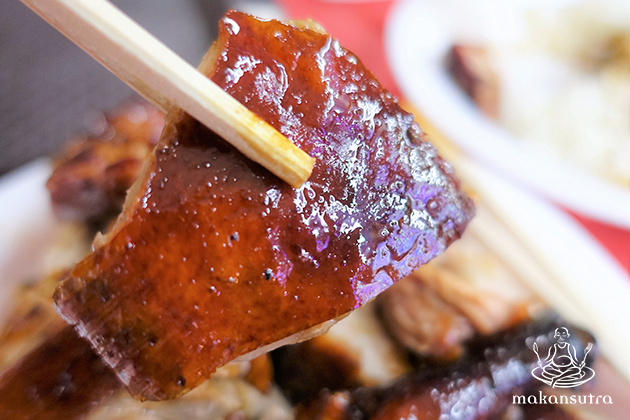 The Chao Ji roast duck close up skin flick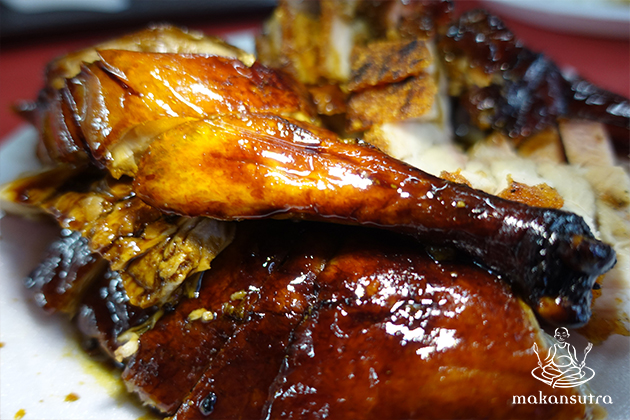 Not just the duck, but also the cha siew rocks, at Chao Ji
Yaloh Roast Duck, Golden Mile Food Centre, 505 Beach Road, #01-109, 11am to 8pm, Tel: 92267888.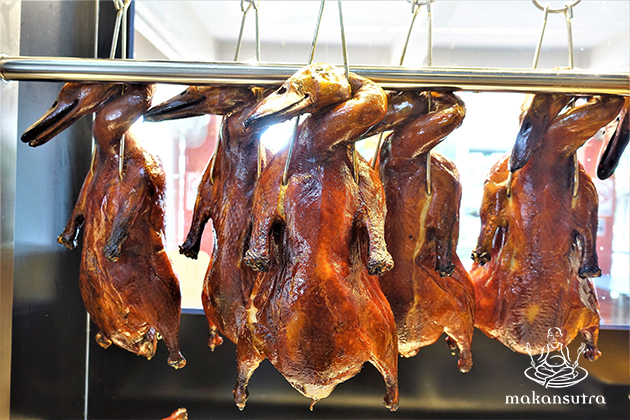 The confident row of ducks at Yaloh
These folks look to run a few outlets and perhaps have franchise models in mind. Jovison Lim has a central kitchen operation but they roast their ducks ($45 for whole duck) well as you can see from the firmness in the fowl they hang out front in the stall. The hire a former roast duck chef and he chops it with clean cuts and presents it well. The edge or difference, if you like it, is the sauce they introduce. It comes with sweet herbal overtones over a lightly salty umami taste. Bits of dang kui, chuan xiong and wolfberries peep at you in the sauce. This version tames the gamey or "duckiness" slightly because of the sauce and this new stall, barely three month old here, already have their own following.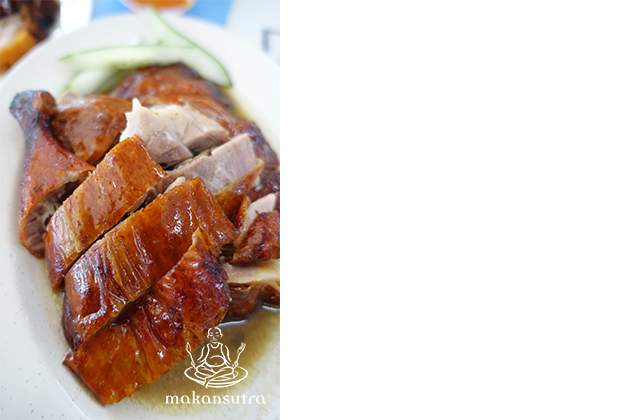 The herbal sauced platter at Yaloh