After Dark Meals in Jakarta
By Marchellinus Hanjaya - Thursday, Nov 20, 2014
Not known to many is the fact that Jakarta is a haven for the nocturnal foodie. The city may not come alive post-sunset, but there are little gems of local chow that cater specifically to late hunger pangs. This is your to-eat list should you find yourself out and hungry at midnight in the Indonesian capital.
Bubur Ayam
A bowl of hot porridge with ginger chicken cutlet or slices of fish meat before you go to bed? It's a definite yes! This restaurant is well-known as the best on Chinese-style chicken porridge in Jakarta. They had been selling the porridge and ginger chicken for years before the copycat competitors surfaced in the same area. They sell at a higher price than the competitors, but the line of loyal fans still gravitate to this stall, as it's all about quality.
Their porridge menu is simple. You can choose plain, with fish, or with chicken. And for the side dishes, they offer a good quality of free-range ginger chicken, heart, gizzard, liver, intestine, roast chicken, braised tofu, century egg, and salted egg. Just order all in small portions and eat comfortingly, and you will sleep well afterwards.
Bubur Ayam Mangga Besar I (17.00 – 00.30)
Jl. Mangga Besar I No. 46A
Jakarta Pusat
(021) 6280474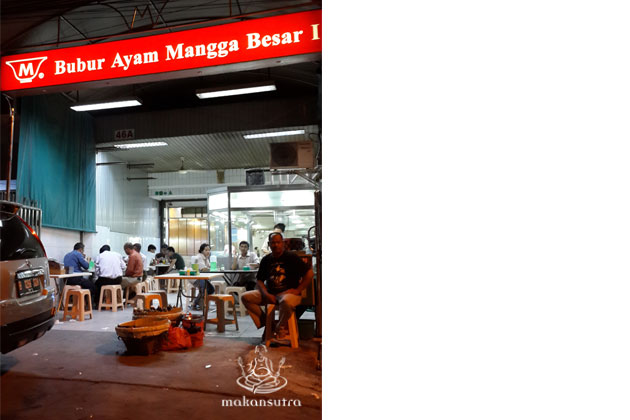 Char Kway Teow
Their char kway teow is actually a more Penang-style than Singapore's. They only use duck egg (hence the fragrance and richness) instead of chicken egg, and that means more aroma, punch and boldness in taste. The rice noodles yield a good texture, soft and flexible, yet still retains a soft resistance when you chew.
The other special dish that you must try is their mie tomato, or tomato noodle. Imagine a thick noodle soup seasoned with fresh tomato. It's intense umami in a bowl.
Kwetiau Akang (17.00 – 01.30)
Jl. Muara Karang Raya No.21
Jakarta Utara
(021) 6610359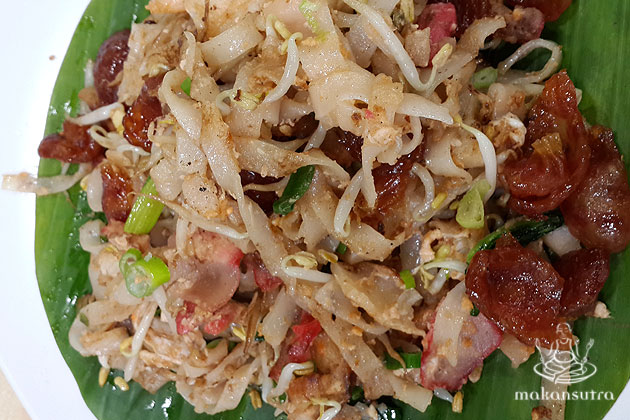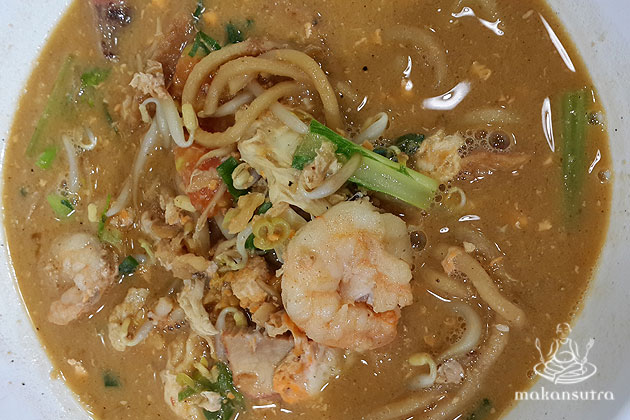 Jakarta Goat Meat Soup
This should be something that only exists in Jakarta and its environs. Cutlets of goat meat or its offal and internal parts (yes, we can find almost every part from a goat in this place, from head to toe) are served on several large stainless steel bowls at the table. Choose what you want, and they will slice or cut everything into bite sizes, blanch the sliced meat with its own milk-based soup, season, put the piping hot soup in, and serve.
Some like to add more minyak samin (palm ghee) and sweet soy sauce to enhance the aroma and taste. Don't forget to enjoy it with a sprinkle of fried shallot and keripik melinjo (paddy oat cracker).
Sop Kambing Dudung Roxy (17.00 – 00.00)
Jl. Biak, Roxy
Jakarta Barat
(021) 98612102
Nasi Uduk
It's similar to Malay Nasi Lemak, but the spices, aroma and coconut milk taste are denser. Indonesia has several types of Nasi Uduk, and this one is definitely Eastern Javanese-influenced.
While the Jakarta/Betawi style usually serves Nasi Uduk with anything deep-fried, this place offers a myriad of side dishes, like stewed chicken and offals, to accommodate different kinds of preferences. If you have ever visited a Javanese traditional mixed rice stall, you will feel at home with their cooking and variations. You'll see sambal goreng tempe to sambal sotong sitting atop rice platters – literally all over the place.
Nasi Uduk Bu Sum (22.00 – 03.00, closed on Saturday)
Jl. Mangga Dua (near Pasar Pagi & ITC Mangga Dua, Opposite side of Sion Church)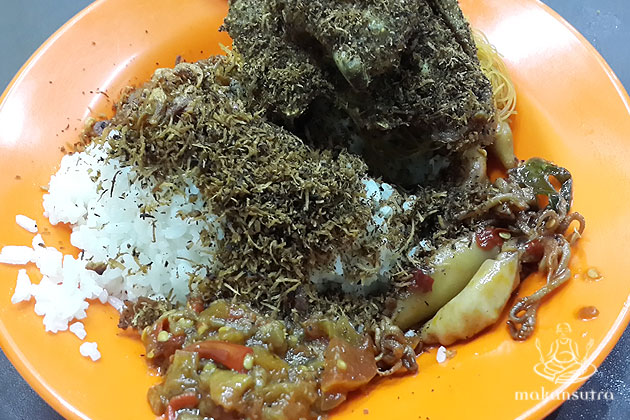 Nasi Goreng Kambing (Goat Meat Fried Rice)
What do you have in mind if you are hungry around midnight and dreaming of something fast and tasteful, but simple? Nasi goreng kambing might not be on top of your list of choices but do re-think that. Here, they always cook their nasi goreng in a gigantic wok, always ready to finish a small portion in a flash. It only takes minutes to be served, no matter how long the queue is.
What makes people crazy about it are the curry ingredients and huge chunks of goat meat. The portions are quite generous and satisfying. And one unique factor is that they serve it with mixed vegetable pickles and sambal.
Nasi Goreng Kambing Kebon Sirih
Jl. Kebon Sirih Raya No. 37
Jakarta Pusat
(021) 6007522