All About Hainan Mutton Soup
By KF Seetoh - Friday, Jun 14, 2019
Mutton, you either hate it, cannot tahan the pong or stay away from it. But to the few of us who disobey grandma's rule about the stink and stench when you eat mutton in hot and humid Singapore, you are truly blessed, albeit by the few mutton soup specialist left around. Sup Kambing, check, nice especially when you dunk it with baguette slices. Mutton hotpot, check – notice not many or hardly any steamboat places offer mutton slices. Northern Chinese cumin mutton skewers, not popular. And Hainanese herbal mutton soup, check, but there's still hope yet. You find them in a few enclaves (don't know why these areas) and they still have an ardent but not growing group of fans. There's some stalls at hawker centres like Alexandra Village, Old Airport Road, Bukit Merah View and even Amoy hawker centre, catering to the non-hipster CBD foodies. Then, there's Ivy's. It deserves all the praise and raves about them.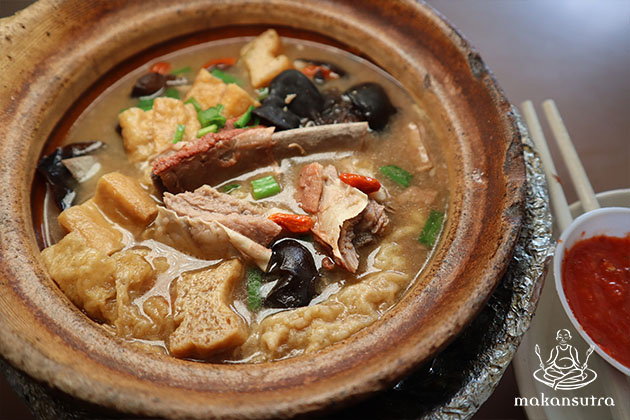 The mutton ribs come chunky and soft

Max Ng and his wife Ivy moved here from Toa Payoh some three years back and one glance at his little stall and the aficionados will appreciate why they are top in the game (literally and no pun intended). They have been at it for over two decades. This traditional style of Hainanese mutton soup has a distinct flavour and aroma when done well- that of red fermented bean curd or nam yue. You can see the reddish pieces and chunks of mutton shanks, meat and ribs stacked by the simmering brownish red broth. Good nam yue, which is made of yam is used, instead of the cheaper fermented tofu and colouring. The flavour it lends to the herbal broth, mask and contains the herbs used and I could only detect faints elements of it. The umami in the soup is a celebration for me, a Cantonese boy with a DNA that loves these ingredients which came from my late dad's hometown in Guangzhou, China.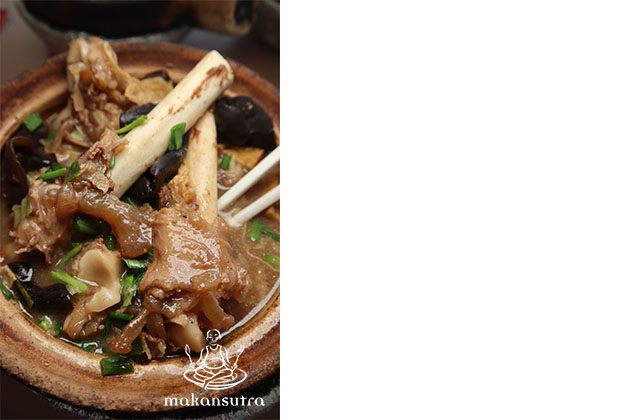 The tendon is soft and its essence escapes into the broth

For starters, mutton is way more expensive than the regular beef you get at the market, so you are looking at prices starting from $11, which is not unreasonable considering the shanks and ribs you get in his soups served simmering hot in a claypot (plus, the pricey nam yue used). Their murky rich broth alone with get to you- just pour two spoonfuls over the rice and it'll turn you into a little starving tiger waiting to pounce on the claypot mutton soup rice meal. The gaminess is almost non-existent and the puff tofu, black woodear fungus, bean skin and ginger all add to tame it and seduce you. Their shank and tendon versions are insanely good too. And any decent Hainan mutton soup fan will ask about or check out the chilli, and I detected an emotion in it- that of how I grew up eating and dipping it with. Authentic, because there are traces of limes, peel, garlic, chilli and that all important..blue ginger. One taste of the chilli and I can tell it's made for Hainan mutton soup, and Ivy hand makes them personally.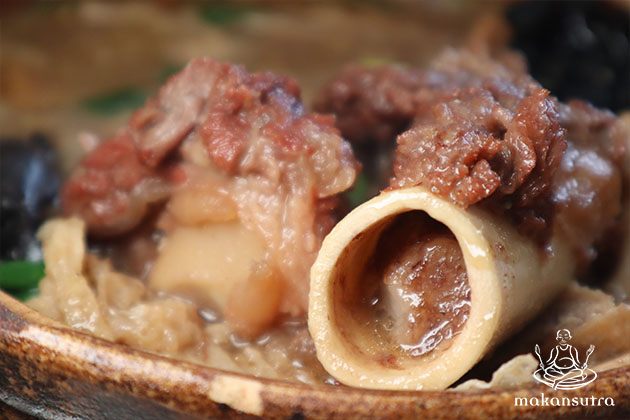 The shank and marrow version is dangerously good

I ask and Max replied, not ironically "I have no dreams of expansion, it is difficult job and not one will take up the mantle from us", plus, this authentic platter our culture is going, going and fading to black soon. But meanwhile, enjoy it while we can.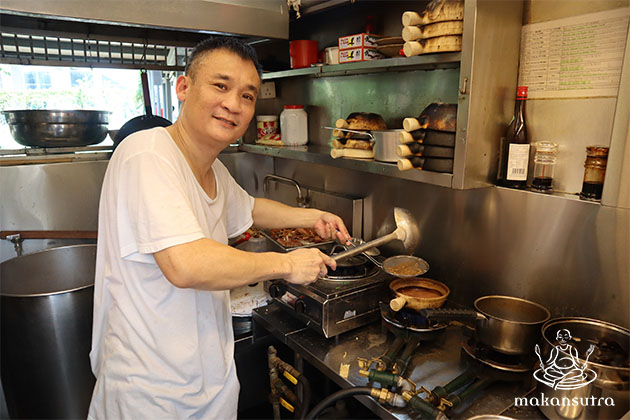 Max Ng (his wife Ivy is absent) had been at it for over two decades

Ivy's Herbal Mutton Soup
Stall 14, Pasir Panjang Hawker Centre
1130am-9pm daily