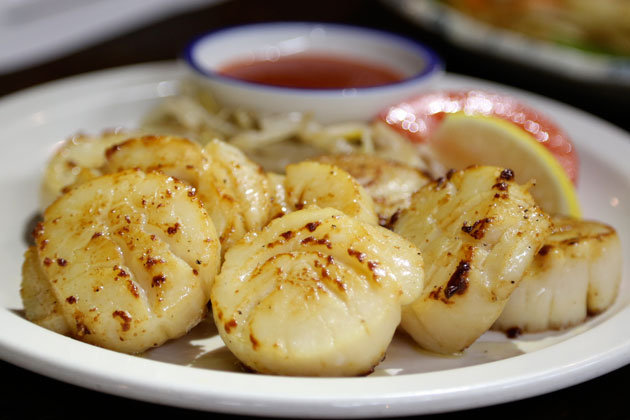 Andy's – The British Izakaya Invasion
By Catherine Ling - Wednesday, Dec 18, 2013
The arches under the JR Yamanote elevated train tracks near Yurakucho Station are bustling with all kinds of eateries – notably yakitori and izakaya joints. Known as "gado-shita" or under the girders, these lively watering holes are packed with Tokyo businessmen seeking a beer and casual bites after work. The atmosphere is incredible, and the food often cheap and cheerful. But if your mastery of Japanese extends little beyond "Konnichiwa", stepping into one of these places can be daunting.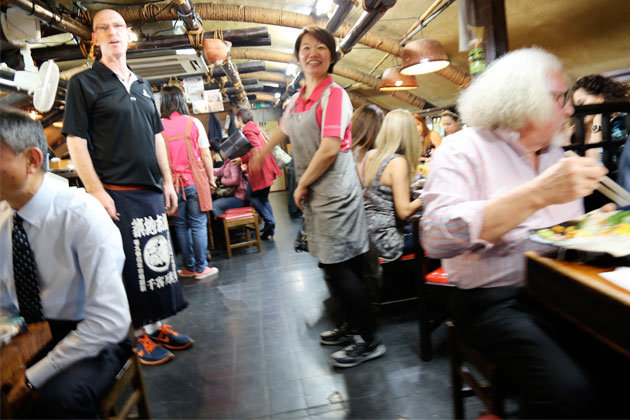 Unless you're at Andy's.
Andy Lunt is an English lad from Leicester who runs Shin Hinomoto, an old-standing izakaya that belonged to his in-laws, the Nishizawas. Here at "Andy's Izakaya" as it's fondly known, it's almost always full, with a crowd of both locals and foreigners relieved to be able to speak in English and be understood. The energy in this place is zippy and welcoming all at once.
Shin Hinomoto was his wife's family business for more than 60 years, and Andy worked tirelessly in it for what he calls a 24-year apprenticeship before taking over as formal owner in October 2009. Today he is probably the most well-known gaijin izakaya owner in Tokyo.
Andy buys seafood and vegetables fresh daily from the Tsukiji Market. As a tall, bald Caucasian, he might stick out like one of the many tourists, but the vendors there know him well and greet him with enthusiasm, showing him the special cuts they have saved for him. With his wealth of experience he knows how to pick quality fish at good prices. So much so that demand has led him to start a fish selection and delivery service, named Andy's Fish [http://www.andysfish.com/].
At the izakaya, Andy's specialty dishes are good value grilled seafood and vegetable items. It's not fancy, it's just down-to-earth home cooking with excellent portions and fresh ingredients. Our contact at the nearby Conrad Tokyo gave us recommendations on some dishes.
The cold seafood and sashimi are stunningly fresh and succulent. These Alaskan king crab legs (seasonal pricing) were ferociously large, with their shells conveniently cracked at strategic places to allow easy extraction of the sweet flesh.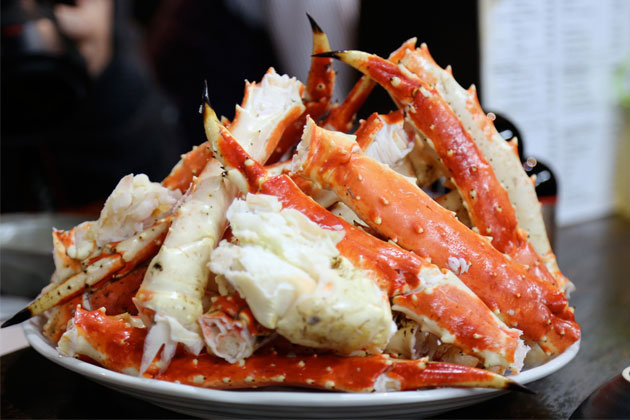 The mixed sashimi comprises tuna, skipjack tuna, fluke, yellow tail, salmon and such. For the kind of freshness, the platters are incredible value starting from 2,500 yen for 1-2 person portions to 4,500 yen for 5-6 persons.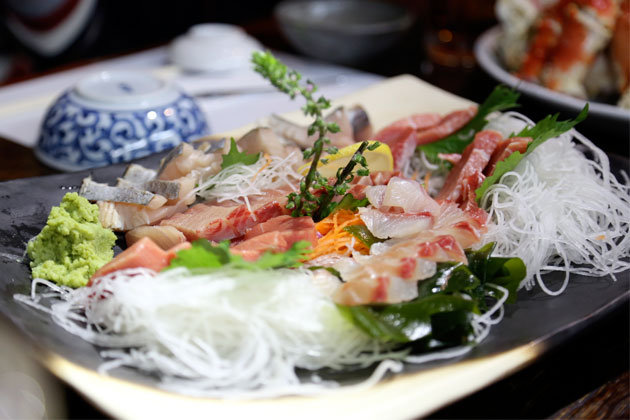 The grilled asparagus (650 yen) are done just right – still crisp to the bite and lightly salted.
Another popular dish is the Eringi mushrooms (650 yen) very simply sauteed in garlic.
Huge buttery scallops (850 yen for 3-4 pieces) here are grilled very simply with a touch of salt to bring out the natural flavours – a definitely must try.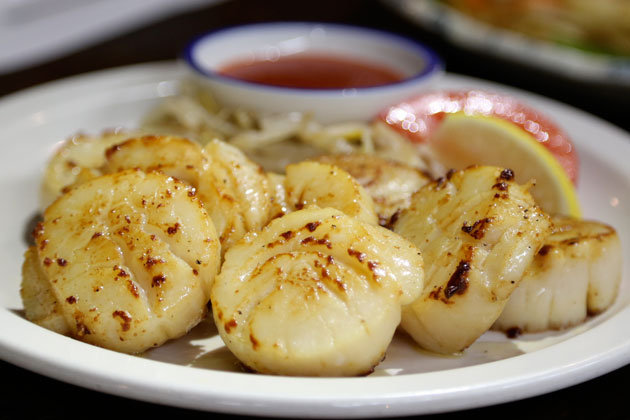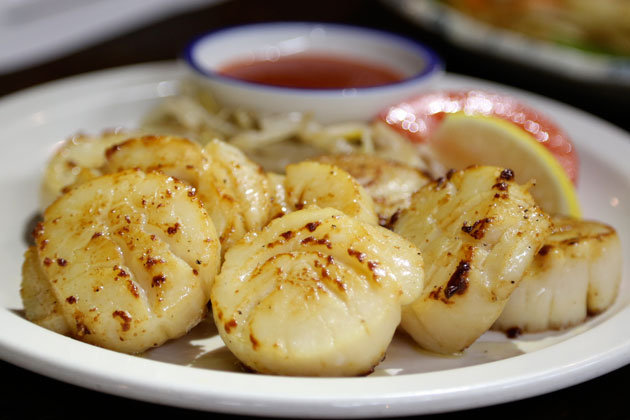 There are also deep-fried items like tempura and tori karaage (above, 650 yen). Large chunks of tender and juicy boneless chicken in crunchy batter served with a sweetish chili sauce.
If that's still not enough, go for the stuffed gyoza chicken wings (650 yen), which are big fat chicken wings stuffed with juicy minced pork, deep-fried to a golden crisp.
The menu is only a starting point. Ask for the daily choice selections, as it may vary depending on seasonal availability. You can even ask for cured whale, if you'd like to try some. We understand Andy has it from time to time.
Andy's Shin Hinomoto is at 2-4-4 Yurakucho, Chiyoda-ku, Tokyo 100-0006, Japan. From Yurakucho station, take the BIC Camera exit, Hibiya. Turn left and follow the train tracks until you are opposite the Yurakucho Denki Building or the Rose and Crown Pub.
Call +81-3-3214-8021 if you are lost (yes, they can give you directions you can actually understand!). Andy's is open daily 5pm till midnight. Reservations very strongly advised (especially on Friday nights).