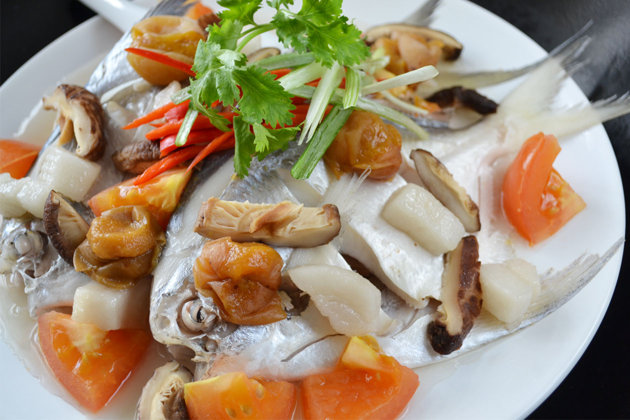 Anyone for a Chinese New Year Reunion Buffet?
By Nadia Tan - Wednesday, Jan 22, 2014
The Chinese New Year brings fresh new starts to past mistakes and a time to bond with families and friends. But of course this should be the case for every other day. What's more important is the sanctity of coming together for a Chinese New Year dinner, where the tradition is fulfilled only when complete fresh dishes are placed on the round table for the family to intimately share.
A few finer establishments are offering up the sacred reunion dinner in grand buffet style. But would you consider an All-You-Can-Eat reunion buffet meal at a hotel of a 5-star establishment?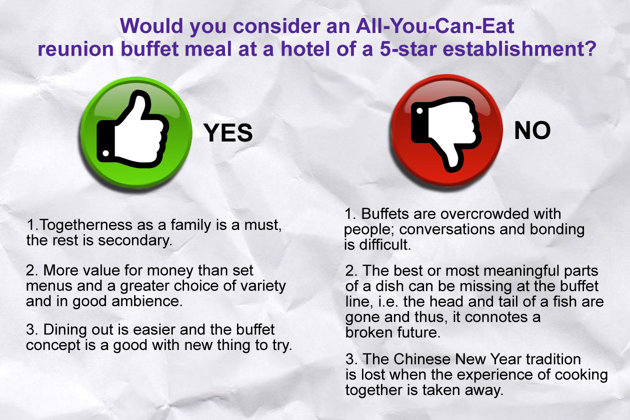 From the young to old, buffet-goers like new tastes and creating new traditions. "It will be better for picky eaters, we don't have to worry about finishing up the full 6-course dishes and can take more ingredients of what we like", says Choon Kang, a 28-year-old software engineer. But he relates that the older generation might not be so agreeable.
To a smaller family like Ben Yeoh's, they prefer to save the trouble of preparing and choose to eat out by making early table reservations and buffets can be considered, "We usually have table barbeque for the reunion dinner, it doesn't matter what we eat really, but buffet-style would be a first", he says.
While some were willing to break the conventions of their traditional beliefs, most others were less accepting of this new alternative choice. "Buffets would be out of the question. I don't like to squeeze and rush to get the food. Sometimes, only a certain section of the chicken is left", says Yvonne Chan, a project manager.
"Reunion for me is to stay at home and be together – to enjoy the food without restrictions. Not concerns as to how much or how ugly I look when I eat", says digital artist, Jordan Wong.
87-year-old, Madam Teo Seok Hiang has a more traditional view for the reunion table. "Must have peh chiong (steamed white pomfret), lou auck (braised duck), suan miao (leek with meat) and yee sang (fish salad) for lo hei (prosperity sashimi salad)." As a Chinese-Caucasian, she was firmly taught to cook Teochew dishes every Chinese New Year from her mother-in-law. It has been a tradition in the family since then. She still prefers to cook instead of dining out for the annual reunion dinner as "the family is so used my cooking and the taste is something which you cannot find outside", she says.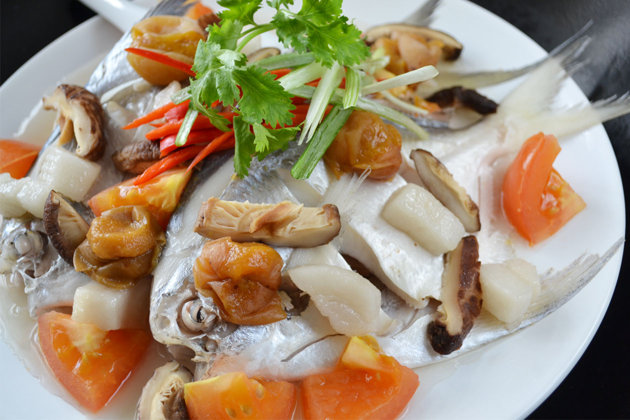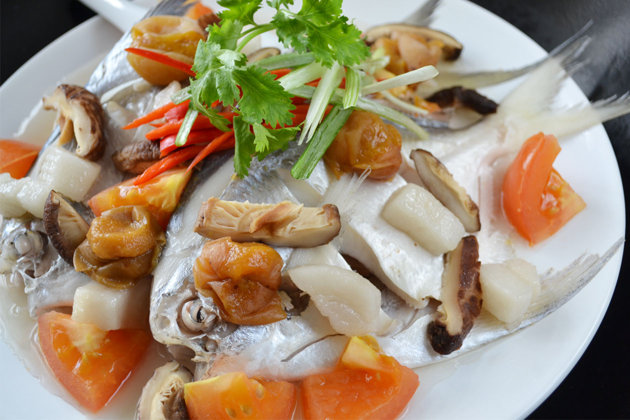 As the older generation voiced their concerns about eating for what they pay for, many of them said that the idea of a buffet would be a waste for small eaters, thus set dinners would seem more appropriate and cost worthy in their case.
Despite the mixed comments, the bookings for the CNY buffet at York Hotel is flowing in fast and furious. Unlike many other restaurants that offer their normal buffet menus, their White Rose Café (Tel: 6830 1156) holds tight to traditional Chinese offerings at this time of the year. With a selection of over 12 auspicious dish choices, they believe that their buffet does "offer more variety as compared with a set menu", says Audrey Ling, marketing communications manager of the York Hotel.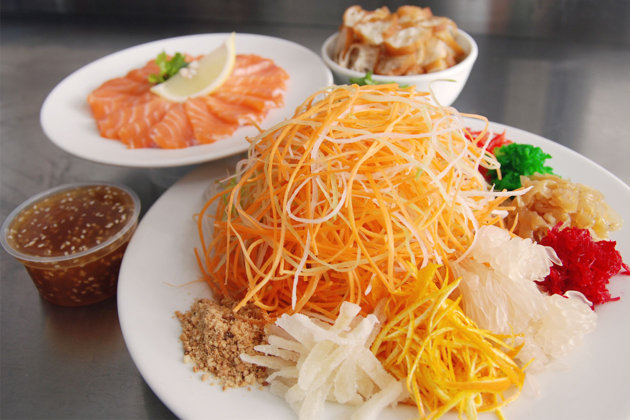 The concept of their All-You-Can-Eat Lunar Reunion buffet is to create an atmosphere where families can enjoy the auspicious and bountiful spread of New Year delights. It was created as a buffet as it was a more popular choice among the locals and they had been offering this for a few years now.
If the old popular CNY adage "If the old don't go, the new won't come" rings true here, then it will take quite a while for this "old" family cozy eating tradition to go. But one belief and philosophy will never go – that the CNY reunion dinners is all about family and togetherness.