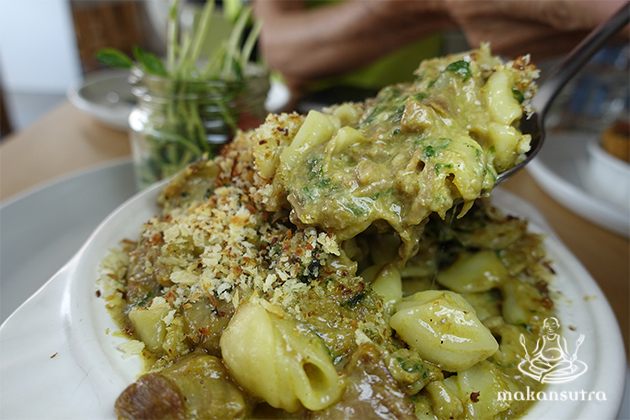 Arbite: Italian Buah Keluak Pieti
By KF Seetoh - Friday, Feb 09, 2018
When you list world favorites like pasta, pizza, steaks and tiramisu on your menu, you are up against the world- every city have top restaurants that offer them in one form or another. But if you push it just a notch further and change the game, you rise above the din. Mark Wee did all the above eight years ago and is now opening up to what twists his culinary heritage and do to his Italian menu, without changing the song. "I have never been overseas for any gig in an international restaurant, so I am not too rigid in my approach to my western menu", and Mark also enlightens me of his learning-curve stint in Michaelangelo Restaurant a decade ago.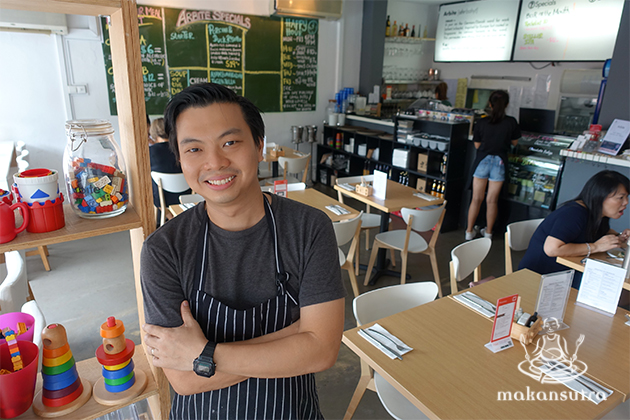 "It's my heritage, what I grew up with" as he qualifies the infusion of local flavours in his largely Italian menu in his very friendly "Ikea-esque" outfitted second floor restaurant. It spells pasta, parma ham, lasagne, cheese, Caesar salad etc… and it was a breath of fresh air to see rendang and even buah keluak infused in the menu which he introduced not too long ago…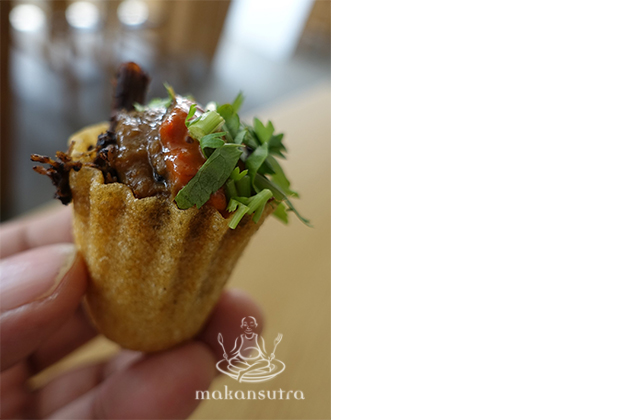 The starter of Ayam Buah Keluak Kueh Pie Ti ($8 for 6 pieces) struck the spot for me. The shells were not the common store bought variety and you can tell by just crunching in- it felt I had more cassava than rice and wheat starch. The little buah keluak chicken chunks rendered black by the nutty paste, though a tad north of salty, went well with the crispy pie-ti shells. But alas, it was marred by (and I am sure it's not habitual) the use of slightly rancid oil in the fryer.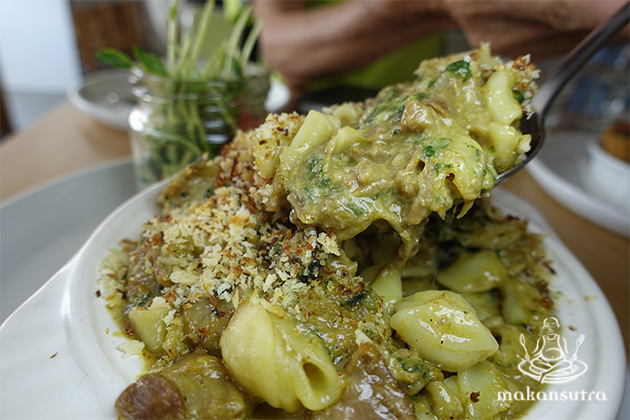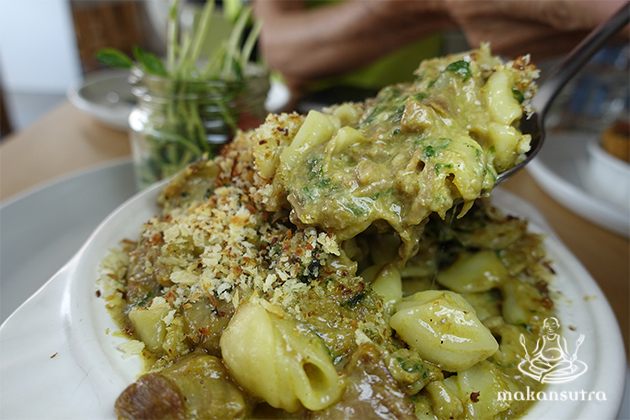 I just had to order the Beef Rendang Mac and Cheese ($16). This requires some skill to balance and Mark knew how and why. The rempah of the minced and little chunks of beef rendang was cleverly tamed so as not to overwhelm the cheese melt in the pasta. The nice touch was the little cup of quick-blanched dou miao greens in a very light vinegrette- a lovely foil to the beefy and cheesy sensation.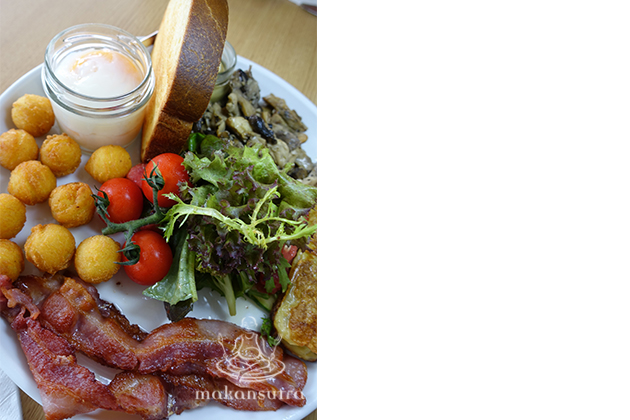 Just because it sounded grandiose, we had the all-day Arbite Breakfast ($15). It came prettily laid out in a platter decked with greens, soft boiled eggs, bacon, toast, pommes noisettes, sautéed mushrooms, cherry tomatoes, kaya and a curious stick of ngoh hiang (seafood laden). How could any decent foodie skip this one on the menu if you first saw it. Beware, this is a portion for two and it was strangely comforting and very decadent for me. It needed only coffee to complete the show. I admit I am no fan of avocado nor common pond variety of fishes but I tried the Avocado and Smoked Salmon anyway. The layer of mashed avocado under a pile of milky scrambled eggs sitting over sourdough bread with some herbs, a dash of balsamic vinegar and a chunk of smoked salmon- as you can read, was a pleasure to devour. We shared the Gula Melaka Tiramisu ($8 and yes, I could not pass on this one too). It came like the usual, with chocolate dust and mascarpone cheese but the sweet crunch of burnt gula Melaka was a pleasant twist and that made this one stand out.
The little edges in today's menu, done tastefully and evolved diligently, will keep your customers humming along and buzzing in. its' the law of change- and that's permanent.
Arbite
66A, Serangoon Garden Way
Tel: 6287 0430
11.30am-2.30pm/ 6p/-9pm (Monday to Friday)
9am-9.30pm (Saturday and Sunday)