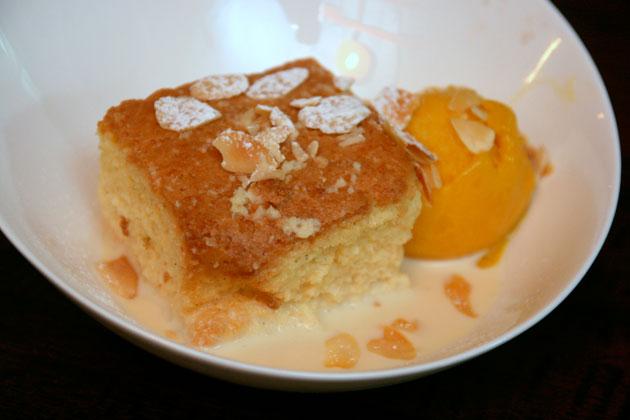 Argentina In Your Brunch
By Catherine Ling - Wednesday, Jan 01, 2014
There's a lot of misconceptions about Argentinian food. In many people's minds, images emerge of huge slabs of beef and steak sizzling on a BBQ right on the grassy pastures. But in reality, they don't really eat that much beef, says Argentinian chef Diego Jacquet of Bochinche, a restaurant at 22 Martin Road (tel: 6235 4990) specialising in Argentinian favourites. They eat a fair bit of lamb and innards. The coastal towns of course rely on seafood. Immigrant influence is strong – lots of Italian pastas and Spanish sausages for example. And for breakfast, Bochinche has just introduced a weekend brunch (11am to 3.30pm). Chef Jacquet, who is of ZOILO and Casa Malevo fame, has put together Argentinian produce in hearty dishes with a refined twist but with robust flavour. Curious about how Argentinians do eggs?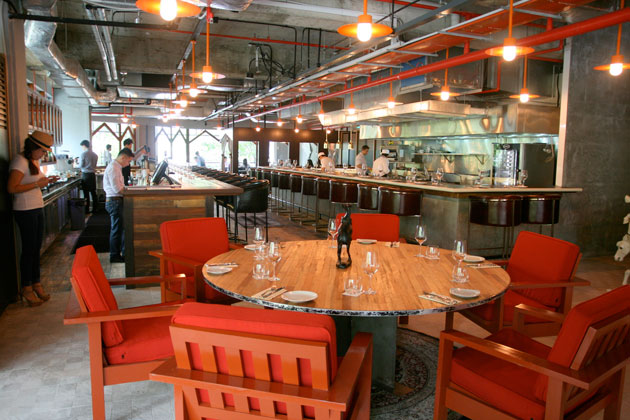 Actually the typical Argentinian breakfast does not include eggs. It's usually toast and butter with a cup of coffee laced with milk (cafe de leche) and maybe juice. By all means, go for the "Pan & Manteca" or House baked bread & salted butter $7. The butter alone is worth it.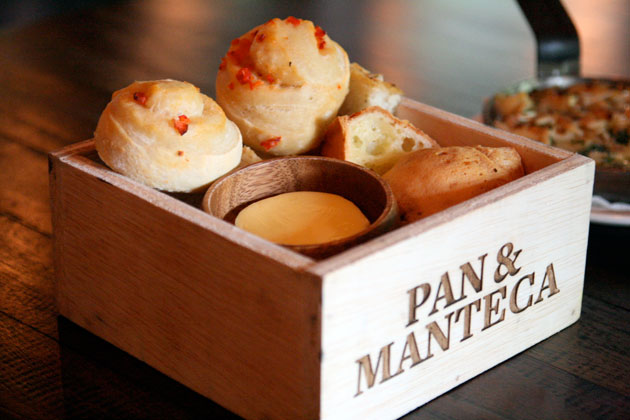 But most of us can't imagine brunch without eggs, so Bochinche does eggs too, among other things like empanadas.
Here are some of the highlights:
Organic poached eggs on toast, braised ossobuco & chives hollandaise S$25
The Italian influence of ossobucco is genius with the poached eggs. You won't miss your eggs Benedict.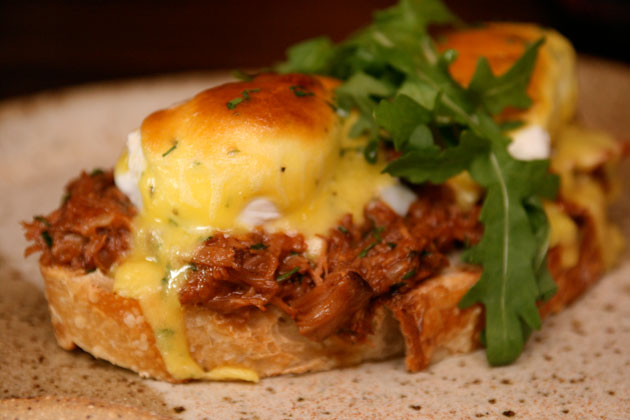 Grilled asparagus, fried hen eggs, pastrami & truffle dressing S$23
Bochinche uses free-range eggs, so the yolks are a rich deep orange.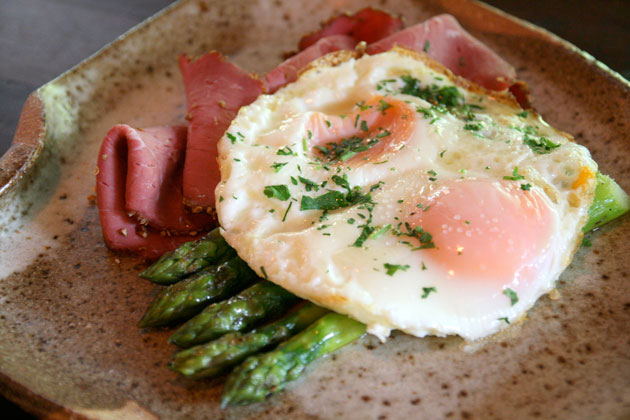 Smoked salmon & scrambled eggs with red onions, capers & dill cream cheese S$24
This may seem quite ordinary but the dill cream cheese within the scrambled egg makes it clear why the two parts are meant to be eaten together. The complementary flavours are interesting on their own but are amazing together.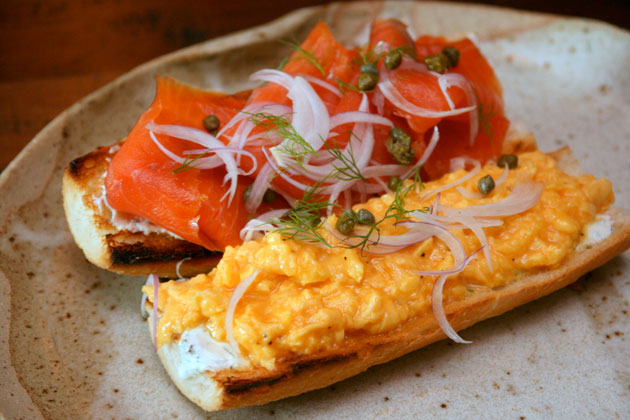 Provoleta, almonds & honey (vegetarian) S$17
This is melty cheese heaven, with the strong provoleta given a nutty and sweet finish by almonds and honey.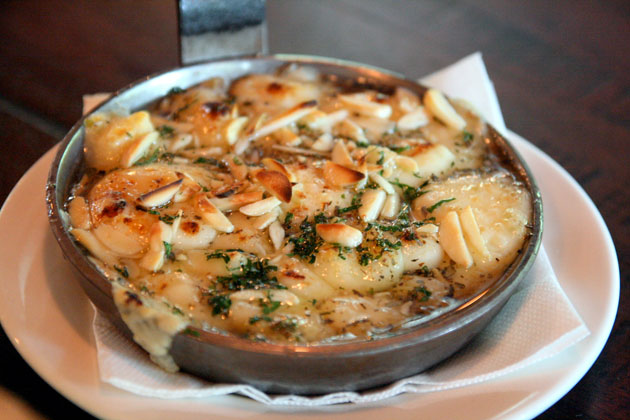 House chorizo sausage, braised ox cheeks & caramelized onions S$25
This is probably the meatiest dish here. Beef makes an appearance but not in huge quantities. Tender ox cheeks with spicy house-made chorizo (this time the chef made the sausage into a patty instead of using casing)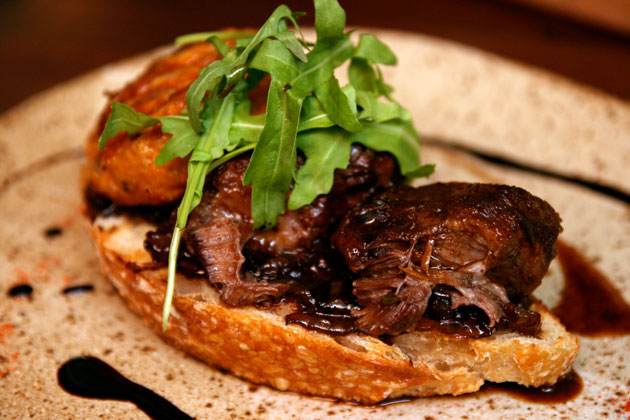 Beef "chimichurri" burger v2.0 (with provolone cheese, tomato, onions, pancetta & fried egg) $28
The famous Argentinian condiment for grilled meats, chimichurri sauce, is slathered on the well-grilled buns. It's herby, garlicky and slightly tangy. Bochinche uses grass-fed beef from Argentina, and you can taste the stronger beefy difference.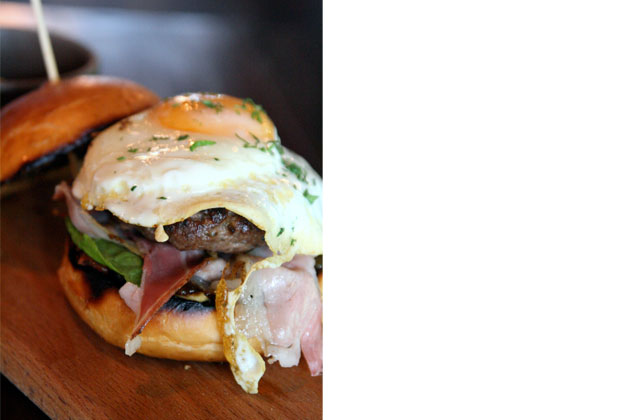 Brioche French toast, grilled white peaches, lemon curd, toasted almonds & house vanilla ice cream S$19
This might be the softest and fluffiest French toast ever, with the Brioche as a base. The lemon curd cuts through the sweetness of the fruit, syrup and ice cream.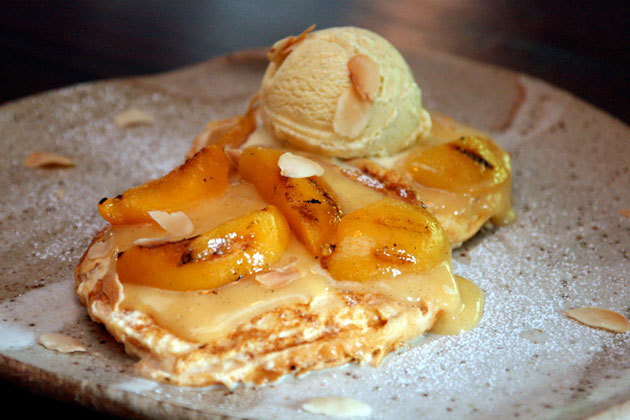 "Dulce de leche" crème brulee & banana split ice cream S$17
This is Chef Jacquet's signature dessert showcasing the sweet caramelised milk flavours of dulce de leche so popular in South America.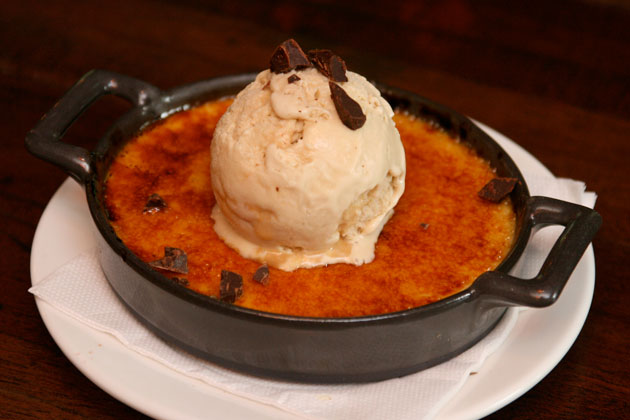 Milk cake, passion fruit sorbet & toasted almonds S$14
The other more understated dessert is milk cake. The sponge cake is soaked in different types of (invariably sweet) milk, and paired with an incredibly tangy passionfruit sorbet.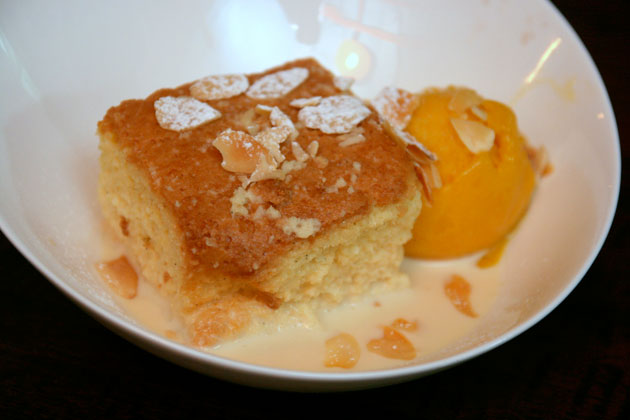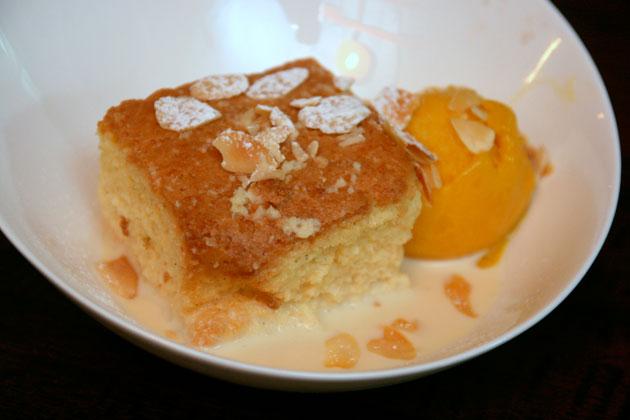 So you do get a glimpse into Argentinian cuisine elements at Bochinche but it's probably not the exact same things you'll see waking up in Buenos Aires. However, it still makes for an interesting brunch. Bochinche's atmosphere is suitably relaxed and chill. You can sit at the bar or get front row seats to the open kitchen and watch the chefs work.