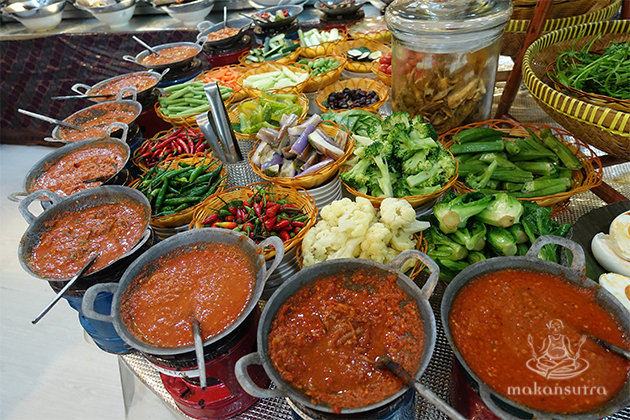 Aroma Kampung: The Ibu of all Padang Buffets
By KF Seetoh - Friday, Sep 29, 2017
I don't know where to begin this with. So brace yourself- they up to 45 items in their Nasi Melayu and Padang buffet spread and, I think the only (and the best I've seen in the region) salad and sambal bar- with 13 types including the hard core Tempoyak (durian sambal) and sambal Budu from Kelantan). And to seal the deal, a sweets, snacks and kueh section offering about 8 items daily.
It's the brainchild of former vegetable hawker Hajjah Siti Khadijah Syariffuddin, "call me kak Ijah please", and her husband Mr Syariffudin. A Boyanese by birth, she felt this need to turn makan entrepreneur and in February this year, she opened this place in this quiet corner or the complex.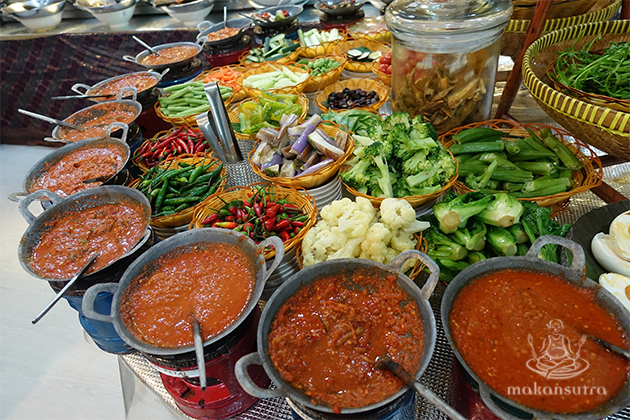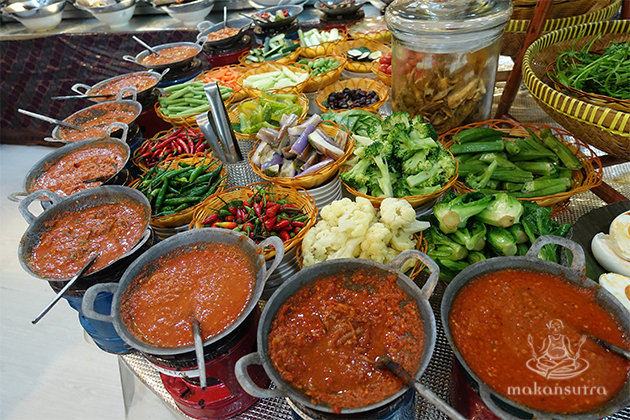 The place doesn't look like much, with a typical Malay wedding stage at one corner facing about twenty tables covered in smooth and transparent PVC covers. But at the far corner, the story unfurls- a beautiful round table sambal bar set up with 13 varieties warmed on little heaters and decked with up to 24 types of fresh greens and salted eggs. Try pronouncing or recognising some of these sambals they have- Tempoyak, Selasih, Mangga, Tomato, Petai, Ikan Bilis, Limau, Nenas, Chincalok, Budu, Kicap and the common vanilla-variety, belacan, of course. I started with four sambals and a pile of greens to dip it in with- four angled beans, bitter gourd, cucumber, blanched brinjals and ladies finger or ochra, in sambal tempoyak, sambal budu (a fermented fish sauce, like the Thai version) and sambal manga (mango sambal). Heavenly…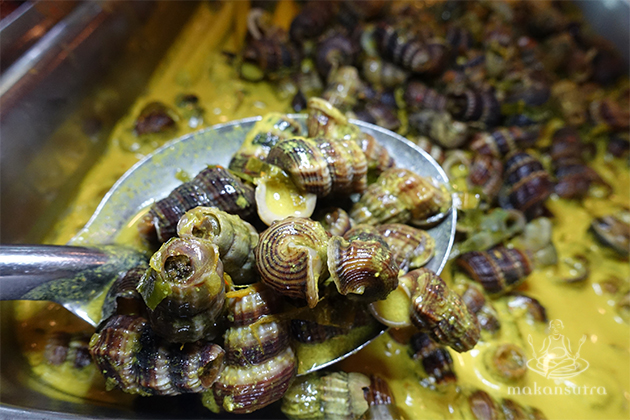 Then the 45 goodies beckoned- I kind of have a photographic memory of the buffet offering all laid out before me. Sambal eggs, siput lemak, rendang, whole tempura quail, spicy gong gong (whelks) soto, ayam korma, assam pedas, blanched cockles, spicy coconut sweet potato leaves, fried chicken, sambal fish roe, fish ball and vegetable soup, deep fried ikan selar, sambal kankong, tempeh goreng, mussels, sambal bitter gourds, sambal prawns, ulam salad, chap chye, chicken curry ermm, ok erred, the stomach began to growl and threatened to shut down the memory system. I gave in.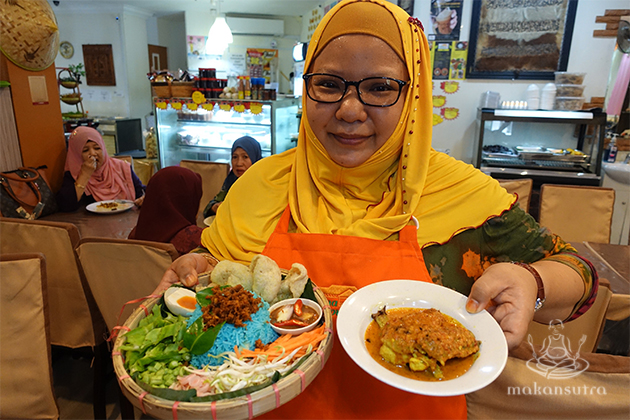 Then Kak Ijah brought out an ala carte special- Nasi Kerabu ($10), flaoured blue pea flower rice with raw salad, sambal budu with ayam bakar- life felt so good and even better when I tore in. It was full of crunch and went so well with the rempah-basted grilled chicken. But the clincher was her Boyanese comfort signature- the Kalak Assam, a very spicy and eye-shutting sour tamarind soup sweetened with nangka or jackfruit core with meats like chicken, fish beef or even string beans. This one is hardly seen in any halal menus in Singapore, "I grew up eating this in Indonesia" she tells me.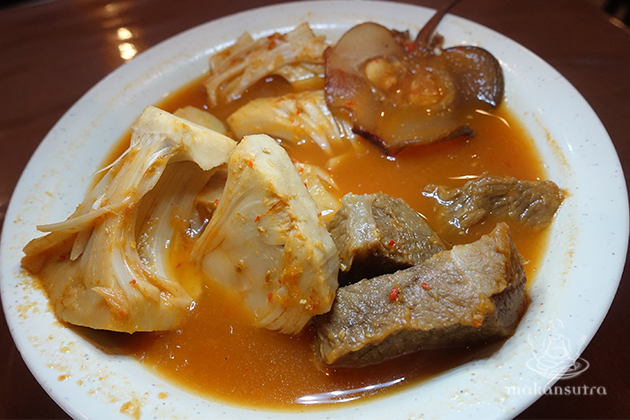 Sweets was a blast, the spread teased with stuff like lopez, a pisang pengat (one of the best I've had), kueh jagong, a leaf wrapped banana kueh or lepat pisang, and it changes every so often. And finally, the best part, all these for a buffet price of $25.90 and she freshly cook the items up to three times a day. When I confronted her with some hard core facts, Kak Ijah reflected "Yes, the price seems low for this food cost and I may have to adjust a little up, but I still need to cater to the older regulars with shallow pockets. I will find a way."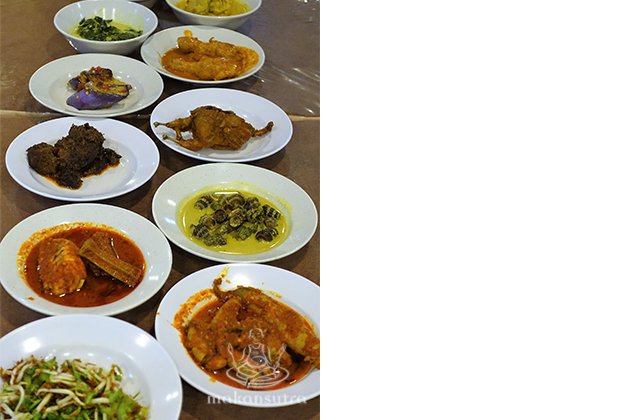 Aroma Kampung
Blk 2, Joo Chiat Complex
#03-1111
Tel: 8750 0089/ 9436 4767
9am-7pm daily. (Best to go just after 11am)