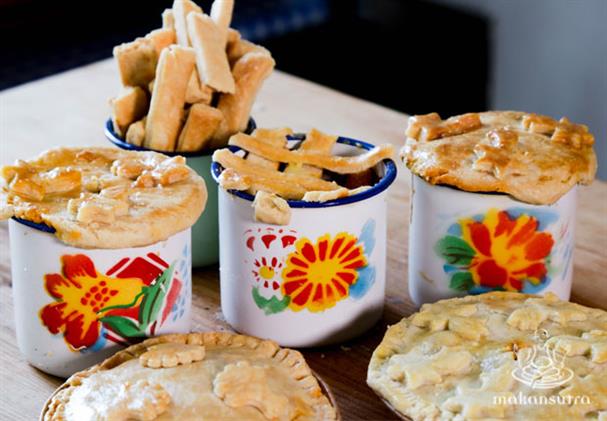 Asian Pies: Pie Pie Must Try, Ayam Masak Merah Pot Pie
By Victoria Lim - Tuesday, Jul 12, 2016
The Ayam Masak Merah (chicken cooked in red sauce) is traditionally eaten at Malay weddings and even at Hari Raya gatherings, is also the firm favourite for most. Many liked it due to its enticing flavour – tangy, spicy and with a subtle hint of sweetness wrapped around chicken.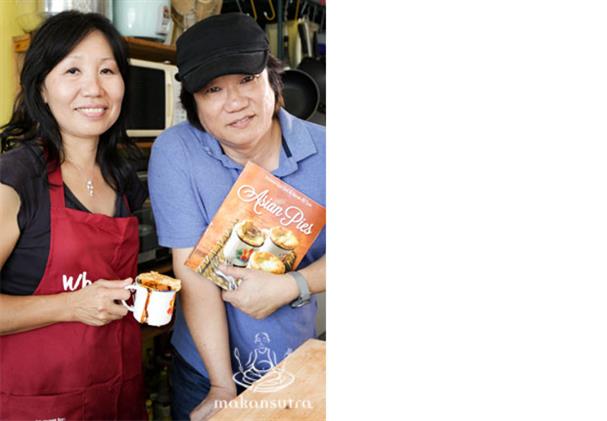 The steps are fairly tedious and laborious, so how? We invited Evonne Lee co-author of Asian Pies to show us a new twist (simpler way) to the traditional Ayam Masak Merah.
Watch the video below on how Evonne and KF Seetoh transform this fairly simple (for kitchen warriors), traditional dish into a modern Instagram-able short crust pot pie.
Ingredients (serves five)
For Rempah
3 Tbsp Chilli Paste
1 Ginger, peeled and sliced
1 Galangal, peeled and sliced
2 stalks of Lemongrass, sliced
1 Turmeric, peeled and sliced
1 Tsp Belacan Powder
10 Shallots, diced
2 cloves of Garlic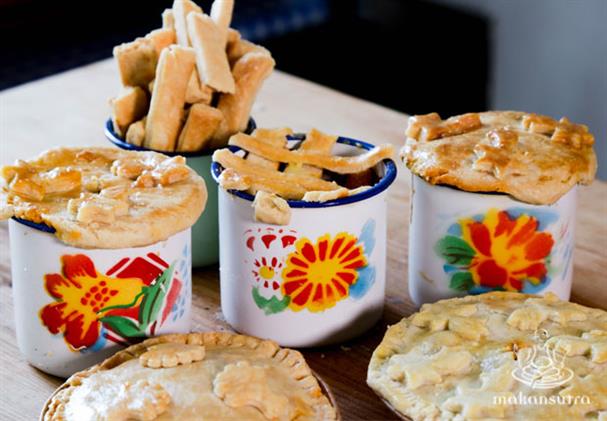 For Ayam Masak Merah
600g Chicken Meat, cubed
1 ½ Tsp Salt
1 Tsp Turmeric Powder
105ml Oil
10 Shallots, diced
1 clove of Garlic
400g Tomatoes, chopped
3 Tbsp Tomato Paste
250ml Coconut Milk
125ml Coconut Cream
Rempah
Sugar, to taste
For Shortcrust
350g Whole-wheat Flour
100g Butter
½ Tsp Salt
70g Vegetable Shortening
150ml Water
Method (Rempah)
1. Place all ingredients in a food processor to grind it into a paste.
Method (Ayam Masak Merah Pot Pie)
1. Season the chicken cubes with salt and turmeric. Place it aside for 30 minutes.
2. Fry the seasoned chicken till light brown. Set it aside.
3. Saute the garlic and shallots till soft and aromatic, but not browned.
4. Add the canned tomatoes and tomato paste. Give it a good toss with the garlic and shallots
5. Add in half the rempah and continue to cook until it reaches pecah minyak (a process where the oil separates from the spice paste and turns deep red).
6. Pour in coconut milk, lower the heat and let chicken simmer for at least 10 minutes before adding in the coconut cream. Cook until the gravy thickens.
7. Season with salt and sugar to taste.
8. Allow curry to cool down overnight for the flavours to develop before baking
9. Preheat oven to 180 degrees Celsius
Method (Shortcrust)
1. Place flour in a large mixing bowl. Mix in salt, softened butter and vegetable shortening until it is well mixed.
2. Lightly knead the dough with your fingers until it resembles breadcrumbs. Pour in water bit by bit while kneading until it forms a dough.
3. Shape it into a disc, wrap with cling film and chill in the fridge for 30 minutes. This allows the gluten in the flour to relax which yields a tender and pliable dough. It's ready when it does not stick to your fingers.
Feeling a little motivated and adventurous? Head down to major bookstores -Popular, Kinokuniya (Ngee Ann City outlet), Times the bookshop (Waterway Point) to get a copy of Asian Pie at $34.55.