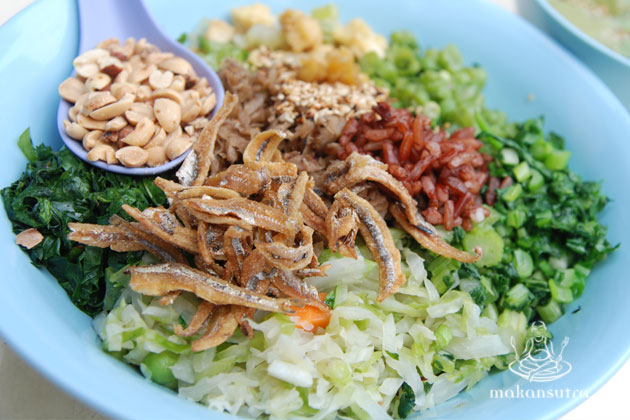 Asian Salads: Going back to our roots
By Victoria Lim - Friday, Aug 21, 2015
Scroll through Instagram and you will see the countless hashtags of #EatClean and #EatGreen, coupled with pictures of salads, salads and the occasion green juices. More salad bars and stalls are popping up to fit the high demand –a rising amount of people opting to eat healthier.
Salads are more than just leafy greens, cherry tomatoes and broccoli. Revisit your grandmother's memories and you will find them eating healthy and clean in their tradition way. Filled with strong flavours and taste, each salad tells a story of how it was back during those days.
So what was their idea of greens back in the day (and not all are healthy though).. we take a look at what's under theirs and our noses all this while.
POPIAH 
Originated from the Southern China, the idea of a popiah came from (but of course) the spring rolls. Similar in style, the popiah skin is made from wheat flour; thin but strong enough to hold the abundant filling in one place. The main filling includes a healthy dose of bean sprouts, shredded radish, carrots and turnips, all cooked in a delicious broth. Spread a layer of sweet sauce and chilli sauce (only if you like yours to be spicy) on to the skin, pile it with the fillings, and then garnish it with peanut and coriander. Go ahead, up the ante, pile on lobster or crab meat inside and take it to Ambrosia if you're planning to make it on your own.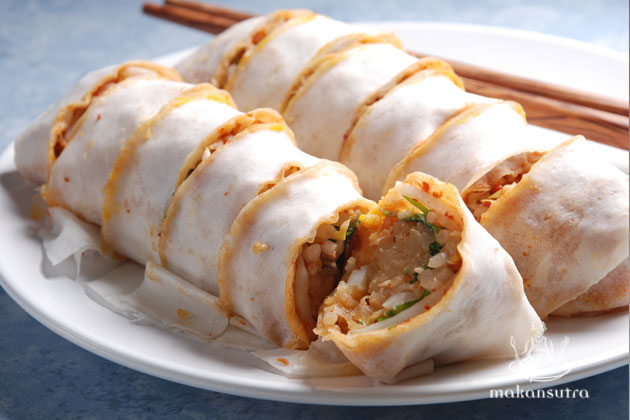 WHERE TO EAT:
KWAY GUAN HUAT JOO CHIAT, ORIGINAL POPIAH SKIN & KUEH PIE TEE
95 Joo Chiat Road Singapore 427389
Opening Hours: 10 am to 8 pm (Daily)
CUTTLEFISH KANG KONG
Slowly slipping away from the market is this traditional seafood salad, the cuttlefish kang kong (water spinach). A reminisce back to the good ol days, many older folks have sworn by it, a plate of blanched cuttlefish, water spinach (kang kong), bean sprouts, topped with prawn paste, chili and sweet sauce. The dish is then sprinkled with sesame seeds and grounded peanuts, and it is ready to be serve. This dish is simple and unassuming but many use hae hor or a sweet prawn paste as part of sauce base. Switch to plum sauce with lime, sesame seeds and chilli for a healthier touch.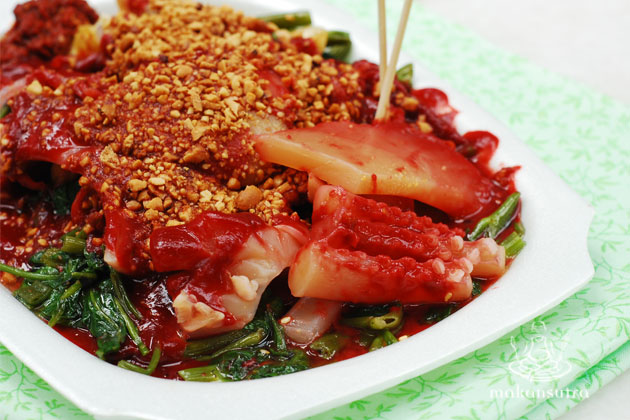 WHERE TO EAT:
MEI QI CUTTLEFISH KANG KONG
1220 East Coast Parkway #01-22 Singapore 468960
Opening Hours: 5 pm to 11 pm (Daily)
THUNDER TEA RICE 
The thunder tea rice is a traditional Hakka dish that was originally found during the Qin Dynasty (221 – 207 AD). It was said that this nutritious dish helped Chinese soldiers ward off plagues and provided energy for them to continue the war. A rather complex bowl, it contains seven different types of vegetables: chye sim (mustard leaves), Romaine lettuce, kai lan (Chinese kale), Thai basil, mint leaves, long beans and mani cai (a local leafy herb), and with a side of tea. It is believed to be effective in containing cough, flu and colds, this is a salad and medicine dish rolled into one. Foodie tip: sip the tea in between every mouthful and when it reaches half pour the remaining tea into the bowl to get the full flavours of the thunder tea rice and tea.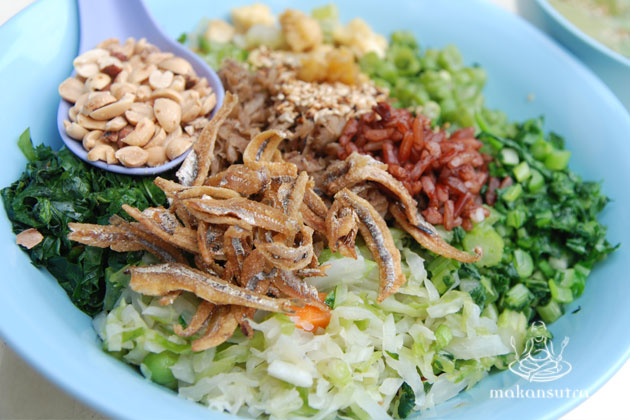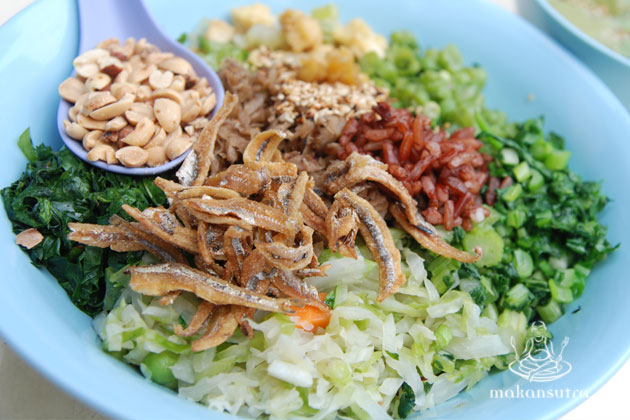 WHERE TO EAT:
THUNDER TEA RICE
1 Kadayanallur Street #01-86 Maxwell Food Centre Singapore 069184
Opening Hours: 10.30 am to 3.30 pm (Daily)
TAHU GORENG 
Tofu (bean curd) is known as one of the healthiest and most versatile ingredient you can get – neutral in taste, this nutritious protein can be paired with anything. The tahu goreng is one such dish, created by the Malays. The tofu is fried till crisp and golden brown, topped with the sweet and slightly fiery peanut sauce, coupled with crunchy bean sprouts and cucumber slices for an added texture.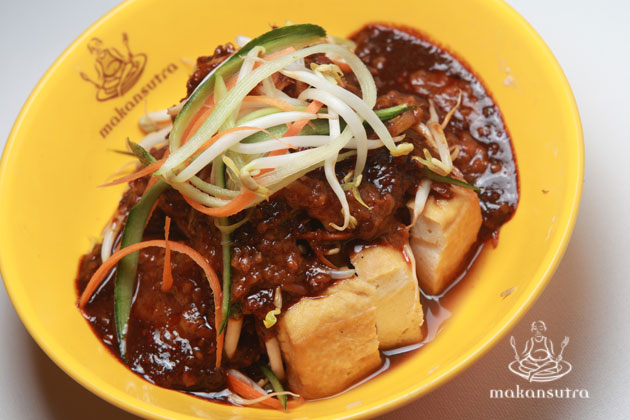 WHERE TO EAT:
RUMAH MAKAN MINANG
18 Kandahar Street Singapore 198884
Opening Hours: 8.30 am to 7.30 pm (Closed on Tuesday)
INDIAN ROJAK 
To make a good Indian rojak is not as easy as plating everything together. Frying all the items in-house is a must, and especially the egg fritters – a certain set of skill is required to get the perfect fry. And the pink sweet taro sauce, oooh, that's another complex tale. Like its name, it is essentially a plate of an eclectic mix of different fried ingredients such as coconut fritter, potatoes, cuttlefish, fish cakes, prawns and tofu, and slices of refreshing cucumber to cleanse your palate.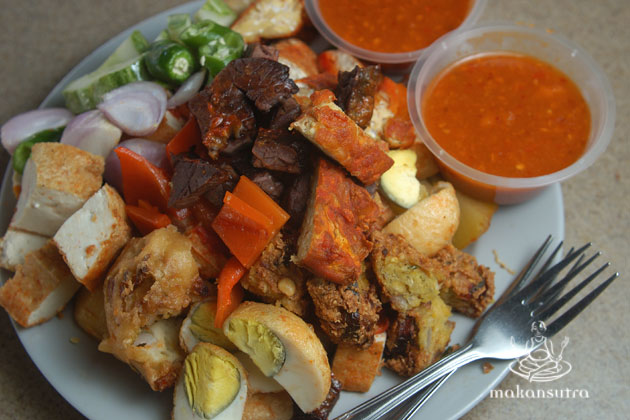 WHERE TO EAT:
HABIB'S ROJAK
Blk 503 West Coast Drive #01-68 Ayer Rajah Food Centre Singapore 120503
Opening Hours: 12 pm to 10.30 pm (Closed on alternate Monday)