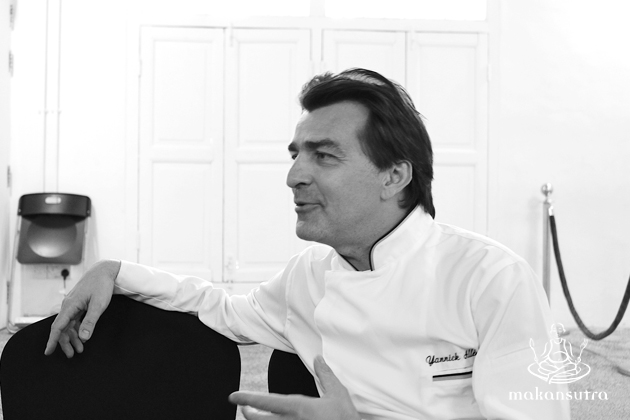 Asia's 50 Best: The Best Chefs Speak
By Catherine Ling - Tuesday, Mar 17, 2015
The Asia's 50 Best Restaurants 2015 concluded on 9 March with a slew of rockstar chefs in town from all over the world. In a speed-dating style interview, we sat down with six chefs to find out what's buzzing.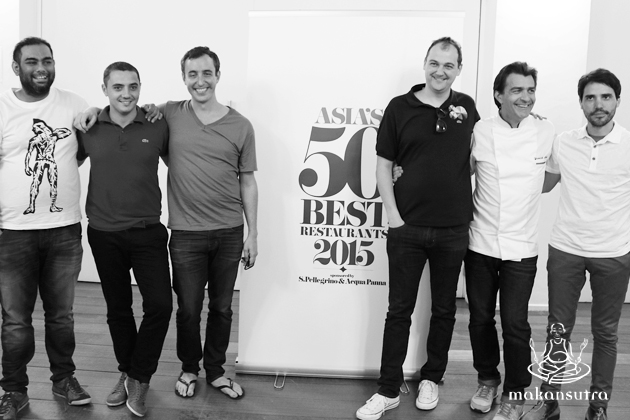 Gaggan's eponymous restaurant clinched the number one spot on the Asia's 50 Best Restaurants list. The Kolkata-born chef learnt many of his techniques during an internship at El Bulli. Yet he draws inspiration from ancient history, picking out lost recipes and swapping ingredients out. Gaggan is an effusive ball of energy, buzzing with ideas.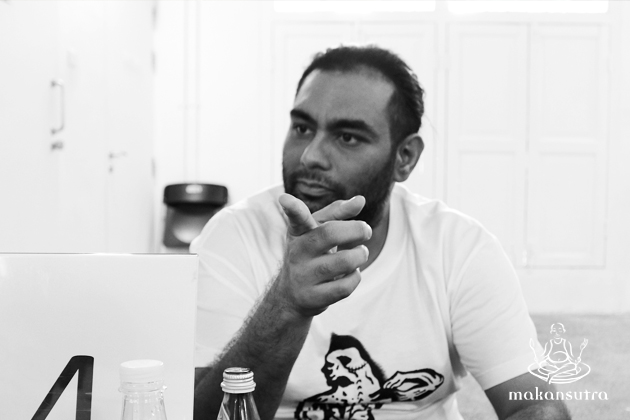 "My cuisine is progressive Indian, because I listen to progressive rock," he jokes. "It isn't about molecular or modern techniques or even fine-dining. We need a new platform for Indian cuisine. But it requires us to step back and step forward. Step back to learn tradition; step forward to create new ones. We destroy and build."
"I hope that more regional chefs will cook their own food. It's too Westernized now. We have Thai cooking French, we are losing our taste."
Co-owners of North America's no.1 restaurant on the World's 50 Best list, Swiss-born chef Daniel Humm and general manager Will Guidara have sought to change traditional restaurant cultures and create original dining experiences. Will says, "Dining is about people connecting with others. We like to do things that help break the ice. It's not meant to be a temple; have fun!"
On trends in the United States, Daniel says, "Things are becoming more casual; there is a swing back to luxury but the definition of luxury has changed. It's no longer foie gras, caviar and Kobe beef; it's restaurants where people care about their food. We are more concerned with what we are eating, where it comes from. A simple vegetable can be luxury."
"The biggest challenges? Food will become expensive to buy. Seafood is increasingly hard to get, and sustainable ingredients are costly," says Daniel.
"Also, a lot of young chefs are not trained in classical techniques. Many restaurants want fame quickly and don't realise it's a craft that takes decades, and it's crucial to know the basics well."
Virgilio graduated from Le Cordon Bleu in Ottawa and London, and honed his skills in kitchens around the world. Dubbed as the "new star of Lima's gastro sky", Virgilio plays with influences like Japanese, Vietnamese, French and Italian but he champions Peruvian food and indigenous ingredients.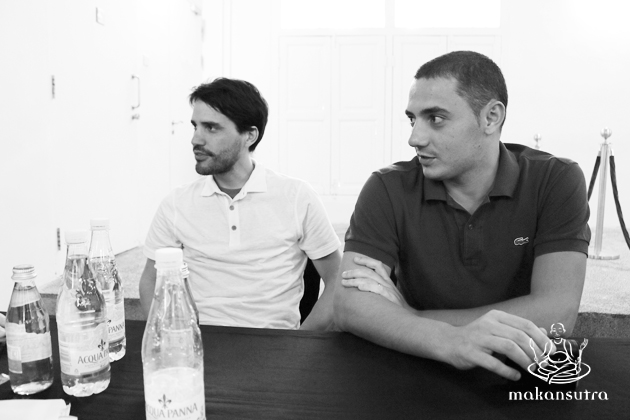 Julien was very pleased to collaborate with Virgilio for a special dinner at JAAN, and finds it inspiring to meet chefs not from Singapore. He is himself "One to Watch" at the Asia's 50 Best Restaurants inaugural awards in 2013, and has brought the restaurant from no.22, rising five places last year, to no.11 now.
On the cuisine of tomorrow, they feel the need to think beyond gastronomy, and to be more open-minded. Both chefs are big on product choice and sustainability. 
"Product supply is already a problem," says Julien. "We make sure it is responsibly raised. We use every part of the head, tail, bones; we don't waste. Why not also take some produce that is bizarre in shape, and get creative with it?"
"Overfishing is a big problem. It's time to take some responsibilities," says Virgilio.
Both chefs also draw inspiration from travel.
Virgilio says, "Peru alone has different ecosystems – mountains, the Amazon basin, the coast and Pacific ocean. I do trips to get produce and stories. It's a rich, diverse territory, and our success is tied to translating what the soil is trying to express. There are various cooking and preservation techniques, such as pachamanca – food slowly cooked underground on a bed of heated stones."
Julien also added among his inspirations the importance of authenticity and doing what you believe in.
Yannick is widely regarded as one of the world's greatest chefs. He pioneered research on modern sauces and is lauded for his sauce-extraction technique – removing flavours to enhance the taste.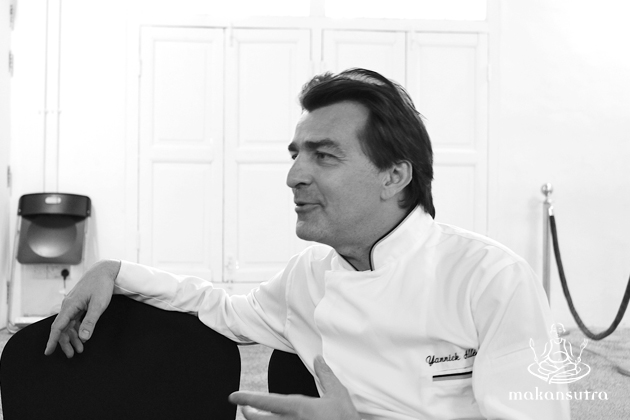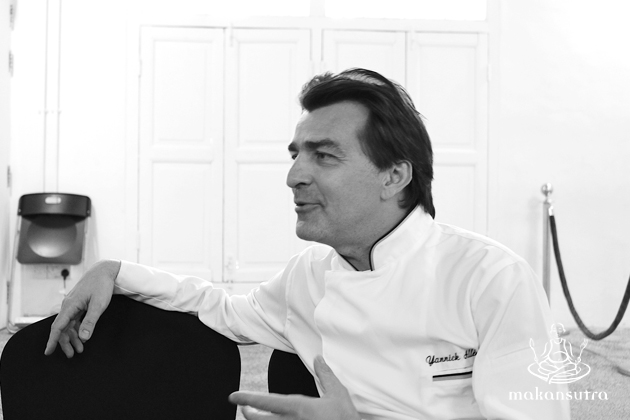 "In France, we have over 500 sauces. The grand saucier was the most important station in the kitchen, but not today. It needs to come back and have a renaissance. It's important to understand the right temperature for cooking, and understand how each element responds."
"The Italians let flavours of ingredients come out naturally, but the French try to control the ingredients. But with the influence of Japan and elements like dashi, French cuisine today has a lighter touch."
"What we are trying to capture from Asia is fermentation," says Yannick who first came to Asia in 1988 (Hokkaido). "Before fire, there was fermentation."
The effortlessly charismatic chef is no stranger to Singapore. "I have several good friends here, and I love pepper crab."