Assam Pedas in Batu Pahat
By KF Seetoh - Sunday, Nov 06, 2016
The name of this little old quaint town is unashamedly used here to refer something or someone who's ulu (from unknown kampong origins). But there are plenty known respected Singaporeans and PRs (like food blogger Cathering Ling of Camemberu and Phillip Lim of Keropokman) who once hailed from this little town. So Batu Pahat or "chiselled stone", is small in size, ulu by reputation but normal in so many other ways. The street is a throwback to the 70s in Singapore, lined with rows of British influenced shophouse architecture with five foot ways and people are still small town friendly. Many parts are unkempt and charming and the best part is to take slow strolls from row to row of these shops in town. You see a shop selling old school hot water flask, except it's not hipster stall hawking old wares but , it's just an old shop selling old things in an old town.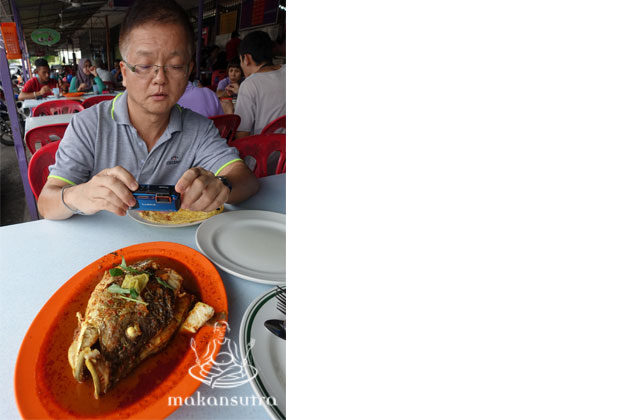 I had the pleasure of exploring Batu Pahat with Johor makan exponent Tony Boey of the Johor Kaki blog (who's actually Singaporean and spends a lot of his early retirement years in Johor) and the first thing I asked was of course "what's this town known for?". Actually, I didn't really wanted to find out but more to take that stroll and drive around and ask locals there. So, back came a few answers.. and Ikan Assam Pedas came up tops.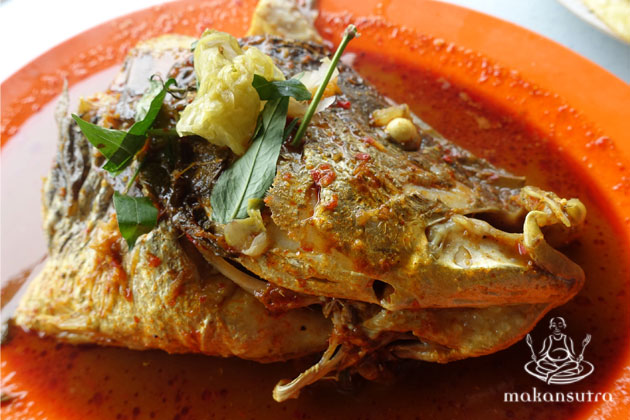 1/ Assam Pedas Tambak, corner of Jalan Hamidon, 1°50'57.5″N 102°55'50.1″E | 1.849319, 102.930578, 8am-2pm , Tuesday closed. Tel: +6014 7764255
This stall, if no locals told you about it, would pass you by. It sits inside one of those ubiquitous corner zinc roof canteens and it houses a few uninspiring looking stalls, two of which sell assam pedas. But look closely under that shade and you'll see a crowd gathering in front of the second stall at lunch. They offer both black and red snapper heads and it's all fresh, as they have a reliable market and supply. If you like this sour, spicy (as in assam and pedas) with a calming hint of sweetness, this won't fail you. Just this with plain rice, perhaps an omelette and you are on the way to humble Malaysian makan heaven. It cost about RM26 (about $9) and it's good for two big tummies.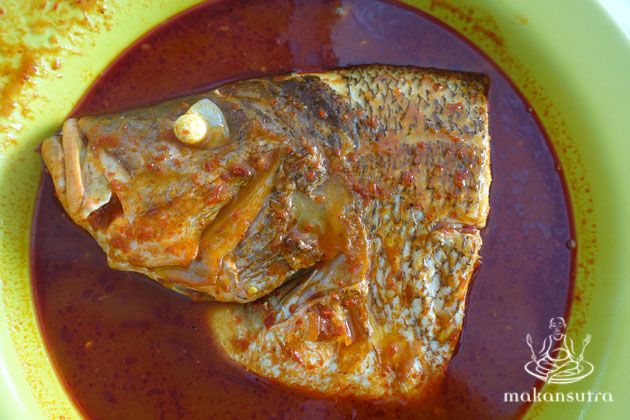 2/ Assam Pedas Mak Limah, No 3, Jalan Dato Tay Kim Peow, GPS 1°51'08.3″N 102°55'31.1″E | 1.852294, 102.925294 , 8am-3pm, Thursday and Friday closed
This one goads me and packs them in every lunch. It is the way I know and like assam pedas- sour and spicy, and in this case, very so and with no hints of sweetness to calm you at all. My throat screamed for more warning time at the first spoonful of the curry and it cried out for more after. The red snapper head was as usual, fresh and it needed no other garnish. Actually, I could have just eaten the curry with rice.. it reeled me in, hook line and sinker. At RM29 for that portion (depending on size, says the menu), it came with a sweeter fresh and soft red snapper head.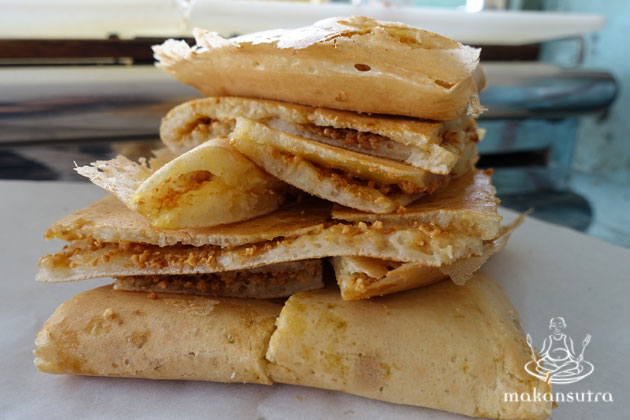 3/ Nam Wee Mee Chang Kueh/ Appam Balik, junction of Jalan Soga and Jalan Abu Bakar, GPS 1.852788,102.926906, 12noon to 4pm, irregular day off.
This is the only food shop in this faded old corner coffeeshop and everyone comes for this basic mee chang kueh, filled with peanuts, sugar and margarine, and a cuppa. It looks thin and crispy, but it's very much like the old thick soft batter type, except it's thin. The crispy edges of this soft gummy pancake is how I like this. I am no fan of those crispy-all-through type. A whole pan of the cake cost RM6 and it'll take an hour , at least, for three people to slowly and deliberately devour it with kopi kao.
Batu Pahat is about an hour's drive from the Causeway.