Aw's Signature Minced Pork Noodles: Aw-some Bak Chor Mee
By KF Seetoh - Friday, Jun 23, 2017
He claimed to be inspired by a bak chor mee recipe video I posted online some time back. But as I demolished a bowl of his "signature" noodles, I realise how much more there was is the dish and just how humble this young gen hawker is. When I probed, it revealed this former police officer of 10 years, looked forward to his day off- just to cook for his "guinea pigs"- his family. So, early last year, Terence Aw went from arresting crooks to an arresting recipe.
"It was tough in the beginning" he laments, and of course it was obvious to me, for someone who has no prior experience in running a hawker stall. There are a lot of nuances to it and coming up to speed with today's expectations can be like a trek in the dark- from not knowing what equipment (traditional, modern, open fire or induction stoves) and who can help advice and fabricate, to getting proper supplies to complement the recipe. "I struggled with one fundamental skill- how best to "sup" or blanch the noodles, which is key component". And he shares that a fellow hawker in the same market taught him how and I knew that is was his big curious eyes, with a very humble and friendly disposition, help made it happen. He runs the stall with the help of his very able wife Jesline.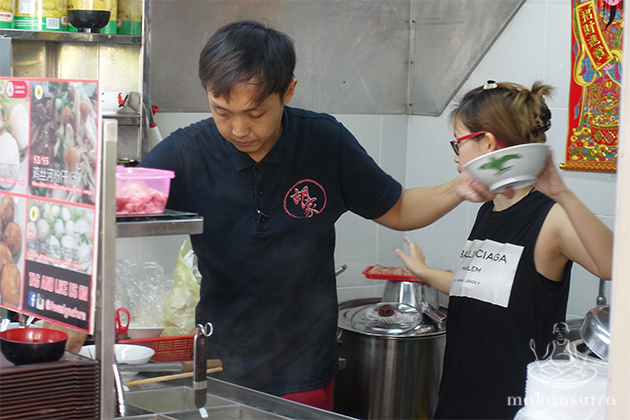 Of course the noodle were diligently done, he looks intently at every moment the blancher is in the boiler and "the trick I learnt was to know when and how often I must refresh the water". Bravo number one. The fish balls, I noticed, were very similar to the better versions I've tried and he revealed- that the supplier offered two types, the machine made and this pricier bouncy, huge, fish laden hand –made version, which is what Terence sells here as "I don't have enough time and manpower to make them by hand here.". Bravo two for practicality. To balance his books, he drives a private online taxi service, part time, to supplement his income. I suspect, at the rate his accolades are flying in online and from his customers, he can give up driving soon.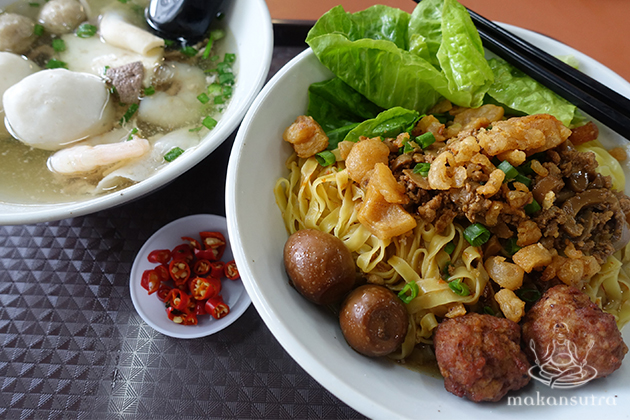 Now, over to the sambal- it's quite a complex rendition and is spicy with enough heat, although not heavy on it – one reason why there is a line of older residents and retirees waiting for their orders the whole hour I was there. You blitz it with more black vinegar yourself, or have it without any. The other icing on this "cake" were the toppings- the $8 signature version came with braised quails egg, fried minced pork balls, mushrooms, minced meat, a happy scoop of fresh fried lard and greens. And in a separate bowl of soup, he lays on the chunky bouncy fish balls, prawns, fish cakes, liver, more boiled pork balls and braised pork rinds. Can't go much wrong there. Bravo three. Even the $5 version has all that, albiet less. His basic order starts from $3.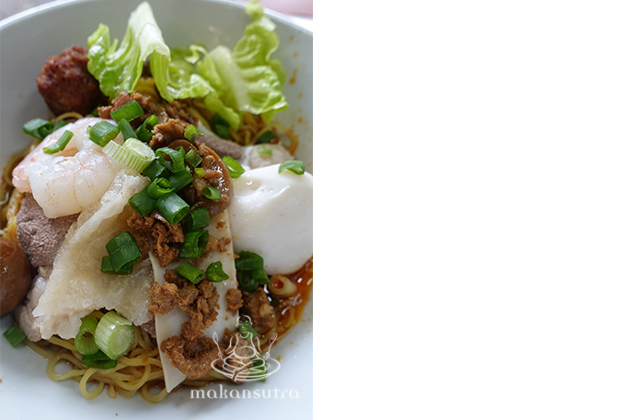 If all that isn't enough for the mastication festival here, order a bowl of his soy braised (easy on herbs) belly pork chunks with quail eggs and tau pok. Keep up the good work Terence, we need a lot more thinking, determined and humble new hawkers like yourself to keep the Singapore food flag flying.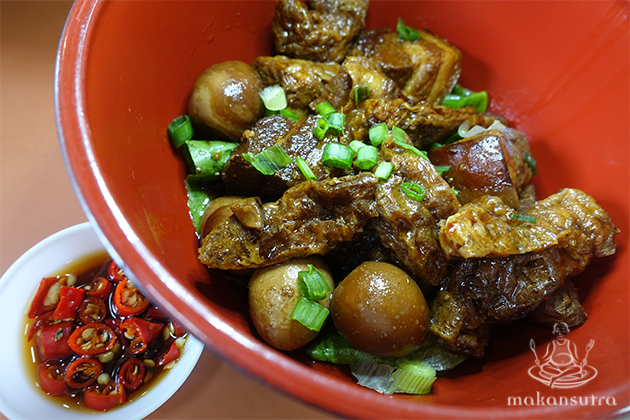 Aw's Signature Minced Pork Noodles
Blk 1A, Commonwealth Drive, Tanglin Halt Food Centre
#01-08
7.30am-2pm/ 5pm-8pm, Mondays to Fridays
7.30am-3pm Saturdays, closed on Sundays