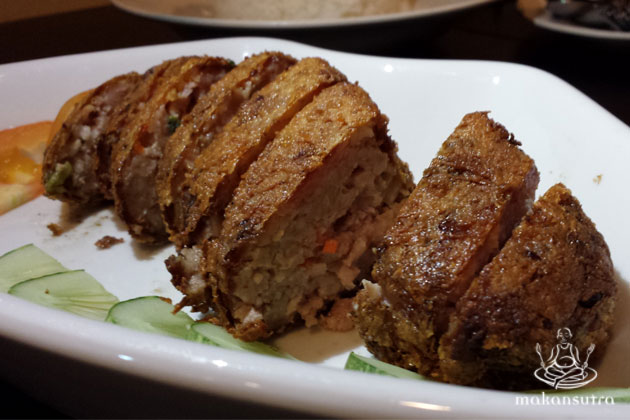 Baba PeranakanTruly: True Blue Value for Money
By TianTianChi - Friday, Aug 22, 2014
We could not tell if there was indeed a restaurant and kitchen sitting behind the wall by those bar stools and tables. A few more stools and small square tables lined the dimly lit shopping mall corridor. Those tall tables are for diners, too, I and shuddered to think what bad weather contingency plans there were for these diners.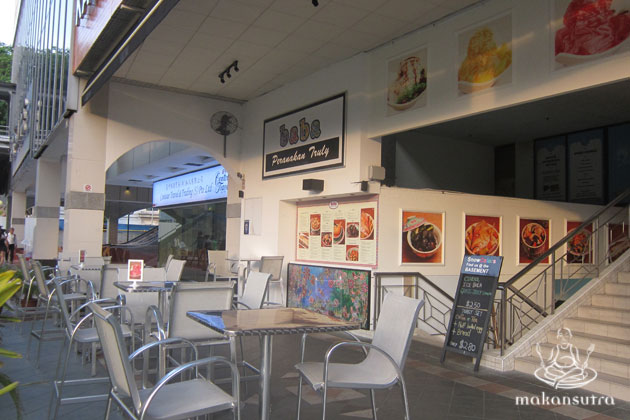 Chef Aloysius Tan, the chef behind that kitchen, is no amateur in the Peranakan food business. The family started a popular Nonya food stand at Bukit Timah Plaza and he dabbled in the Nonya food catering business for a while at one stage. His last job was as a chef at Peramakan Restaurant before he left and joined this eatery.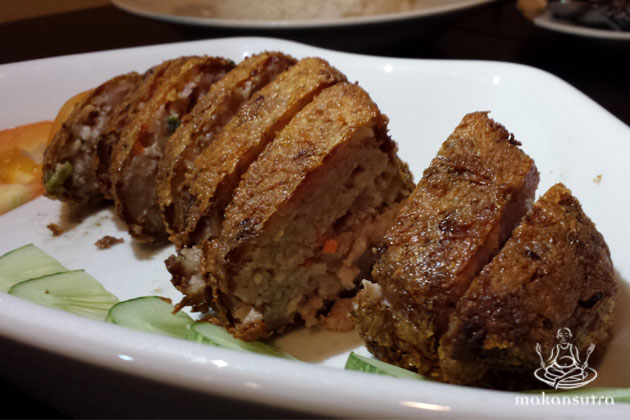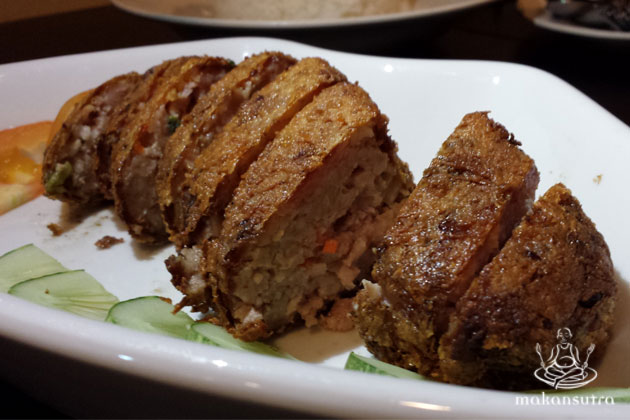 Almost all the perennial Nonya favourites can be found in the rather extensive menu. The starter ngoh hiang comes larger than usual and is amply filled with well flavored minced meat, prawns and crunchy water chestnut ($8). It goes very well with the sharp chilli sauce but just as well with the alluringly pungent and spicy sambal belachan.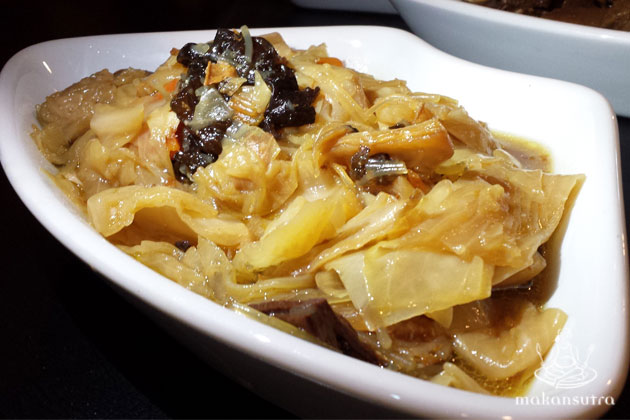 I love the chap chye. The vegetables were well stewed in prawn and meat stock. I noted the compulsory items- cabbage, black fungus, mushrooms, golden lily buds, tang hoon and dried beancurd skin were in it. It would have made my day if some pork belly were present in this agreeable $4 dish, but I was only wishing.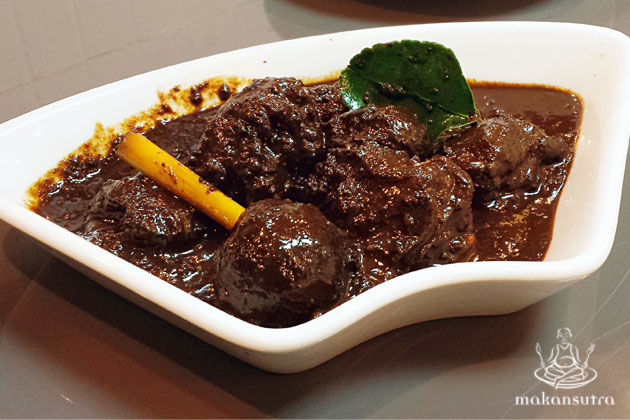 According to Aloysius, he ups the sourness (from tamarind) in the Ayam Buah Keluak ($10) for a good reason. " I find that little extra acidity makes it more appetizing". Quite a brave move as, if slightly overdone, the unique, addictive nutty and earthy flavor of buah keluak will be inundated. He did not tip that balance and this goes really well with white fluffy rice.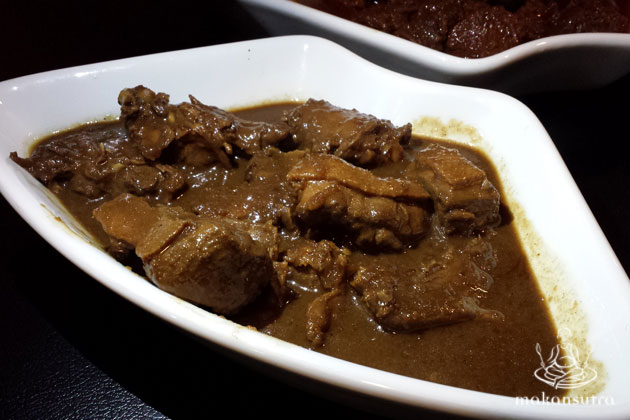 I am rather pleased that the sweetness from the Itek Sio ($10) did not come so much from sugar but caramelized minced onion and the sourness is just right to tease the tastebud.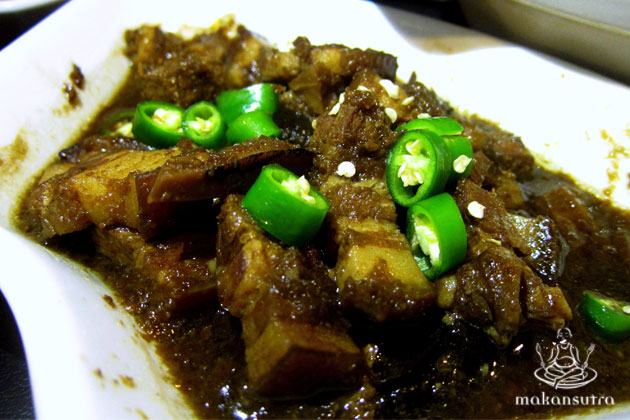 The babi ponteh ($10) is well executed here too. This is another rice friendly dish that made me go for extra serving of rice. The mellow sweetness of palm sugar balanced well with the fragrant preserved beanpaste and the doneness of the pork belly is spot on, with the fat almost at melt-in-the-mouth stage. Do remind them to add the tart fresh green chilli to enliven the taste.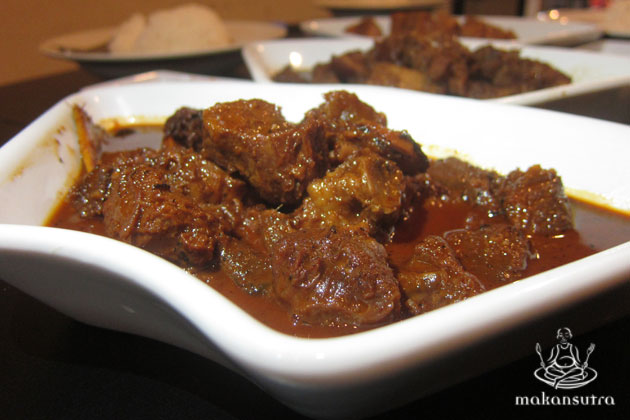 I am not sure about the Beef Rendang ($10). It was the wettest version I have seen. The rumour about chefs rejuvenating these dried out dishes in the fridge with water was lurking in my mind. It also looked nothing like what it was in the menu, but the gravy tasted rich and not too diluted. The meat was fork-tender and its flavor robust. However, it also came a little too sweet and a little too mild on the spicy equation. It did not do it for me.
Another dish that I really like even more than the babi ponteh is the Nonya Sate Babi (nothing to do with the skewered satay). Pork belly (I prefer pork shoulder for slightly lesser fat) is braised with turmeric and herbs with lemon grass for the flavor and fragrance then thickened with coconut milk. Absolutely scrumptious! They do offer some set meals (starting at $4.50) on their menu and this will certainly be my choice of order next time around.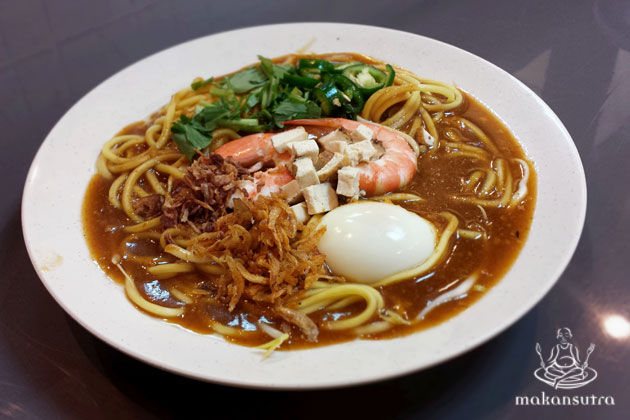 Besides the set meal, they also offer one dish meal such as mee siam, mee rebus and laksa (they do a dry version here) for light eaters. The DNA of Bukit Timah's Nonya Delicatessen is rather obvious and is popular with the brunch crowd.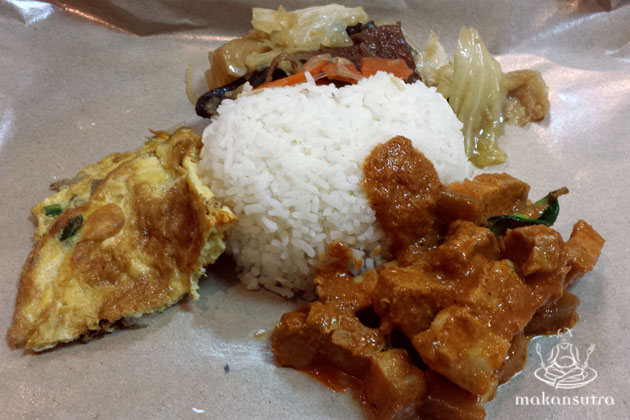 While I cannot be entirely sure the Peranakan dishes here are considered truly authentic by the purist (it's like debating the half empty and full cup claim), they all will tell you, "My mum does it best and the most authentic". The food here is nevertheless hearty and delicious. It is also a great value compared to other similar eateries. This is a place I will surely consider when I need to give a treat even when on a budget. As for the seating, I was told they have taken a shop space one floor above and proper seatings will be available hopefully soon.
BABA PERANAKAN TRULY
1 Brooke Road B1-K3/K4
Katong Plaza
9am-9pm (closed Mondays)