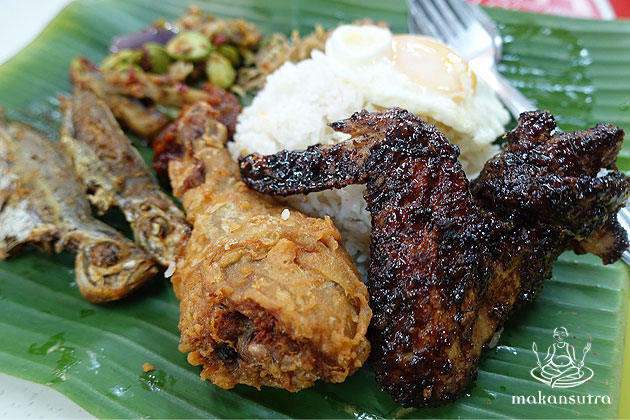 Bali Nasi Lemak Fast Food Shop: Better than Punggol Nasi Lemak
By KF Seetoh - Monday, Feb 09, 2015
She has lineage from that great Chinese nasi lemak family. Her second sister ran the old household name Mt Faber Nasi Lemak stall (currently at Kreta Ayer) and her eldest sister, already in her 80s, is the owner of the famous Punggol Nasi Lemak chain. Mdm Susan koh, sister number 3, holds her own at this, also popular Bali Nasi Lemak. At 68, one would think of retirement, but no, not her. She still drives to Jurong Fisheries every evening to get her ikan kuning and sotong. After 20 years, she's still faithfully at her stall every evening. I am back to check up on her as I heard she was on a 4 months medical leave. This local makan icon will be sorely missed if she quits the scene.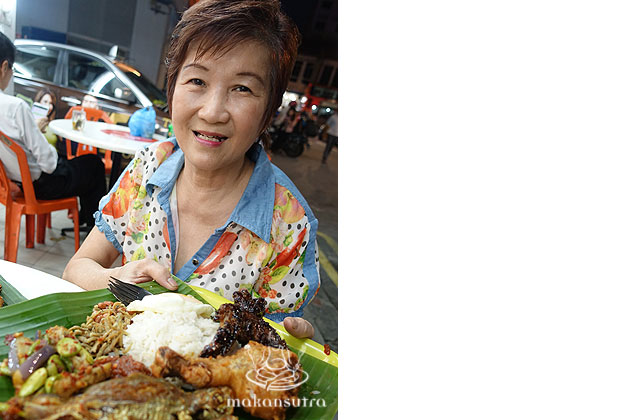 "I had a car accident last August while driving to Jurong after work. I was tired and momentarily lost control and next I knew, my head swelled and I was hospitalised" she recalls vividly. Luckily there was no cranial damage and she was back to work two weeks later. "Sway ah (bad luck), I tripped and fell at the stall, broke my ankle and twisted my right arm" which necessitated a long medical leave.
During her absence, I had not heard bad things about her food as these comments tend to creep up on social media if quality suddenly heads south. She attributes it to her staff, supervised by her husband saying "I am very lucky to have good staff this time around. I dare say they make it as good as myself" as she beams.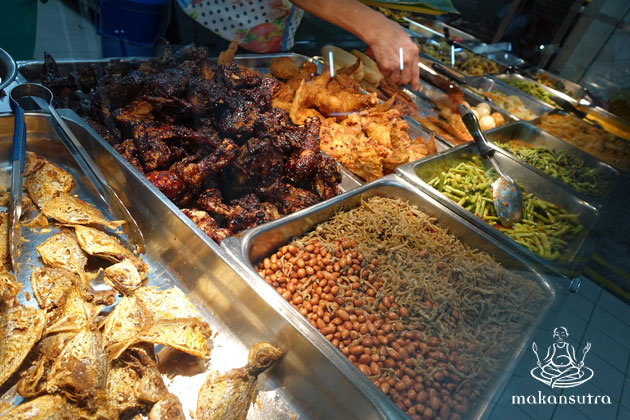 Many tend to compare her with her sister's offerings at Punggol Nasi Lemak but will stop short after seeing Mdm Susan's distinctly unique signature Kicap Manis Fried Chicken. The freshly fried stack of crispy chicken tossed in a sweet and not cloying black sauce. "My sister also doesn't sell Sambal Petai (stink beans in sambal)" and she adds that she uses a different batter for both her Kicap Manis and her regular crispy fried chicken (which is one of the best I've had, bar none). The crispiness holds because she uses a blend of rice and wheat flour and there is a technique to battering it. "Very important, is to use medium fire" and she explains that is why her fried chicken is juicy inside. The Ikan Kuning is done fins and tail crispy and because turnover at the stall is high, they make it in batches and the freshness holds.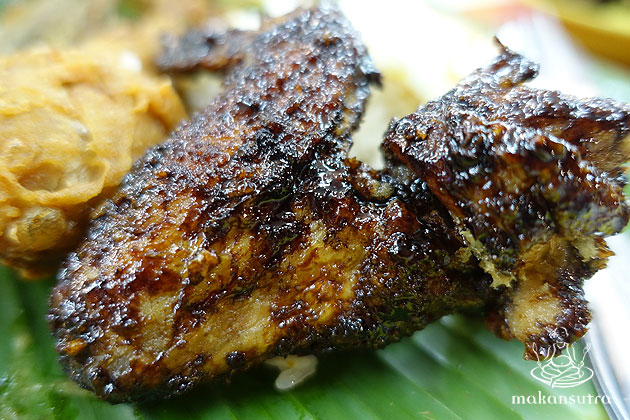 The 16 items on display are clearly different from her sisters. From sambal petal to long beans, sayur lodeh, two types of fried eggs, brinjal and dried shrimp sambal, otah, curry chicken etc… it all goes spread over their lightly salted and coconutty Thai basmati rice which she says " cost me over $90 per sack" and you'll know the difference.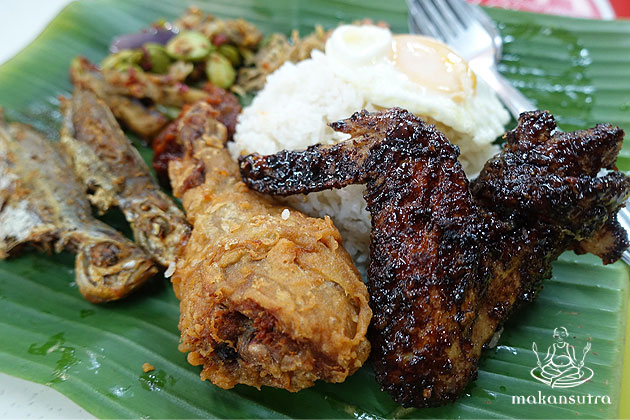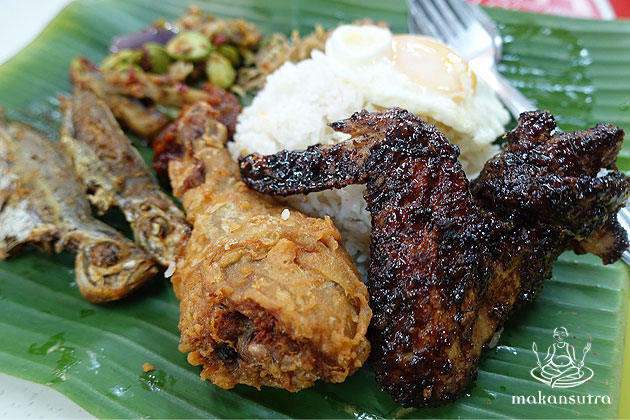 Her children are all successful professionals in their own right, so when asked about continuity, she offered " I have very good staff and I think this team is here to stay for a long time. I pay them well and take care of their welfare" adding she does not hesitate much when some occasionally ask for $100 to tide through emergencies back home in China.
And as we spoke, a new batch of fresh fired gleaming black batch to chicken was laid on the display shelf, made by her cooks. Everyone in the queue pointed to it.
Bravo, Mdm Susan, for keeping this unique Singapore makan culture alive and kicking.
Bali Nasi Lemak Fast Food Shop
2, Lor 15 Geylang
5pm-4am daily.
Tel: 6742 1980