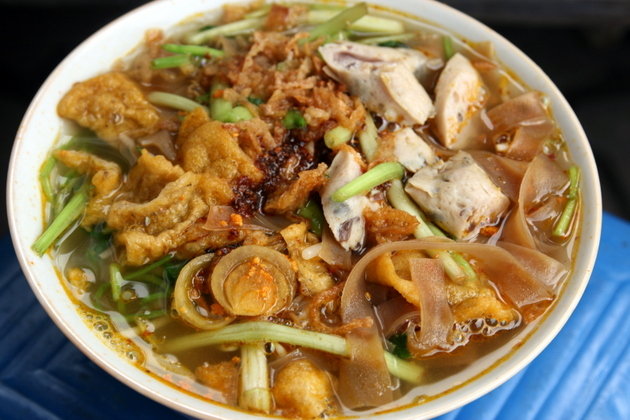 Banh Da Noodles
By Catherine Ling - Wednesday, May 29, 2013
Everyone knows what Vietnamese Pho (flat rice noodles) and Bun (vermicelli-style rice noodles) are like. But many more varieties of noodles exist there that don't get as much foreign attention. Here's something interesting you may have yet to encounter – Banh Da noodles.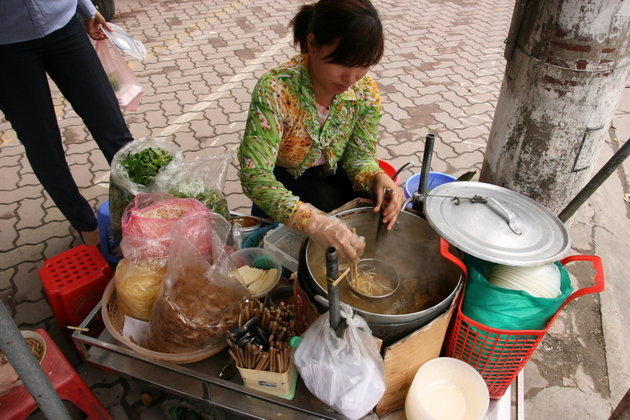 These deliciously chewy, caramel-coloured rice noodles are made with green tea. They are usually wide and flat, and may come with rugged textures. Compared to the white rice noodles, banh da is subtly more complex with a wheaty flavour, dusky earthiness and a springy elasticity. They definitely make for a heartier meal, and are often eaten for breakfast, according to Hanoi locals.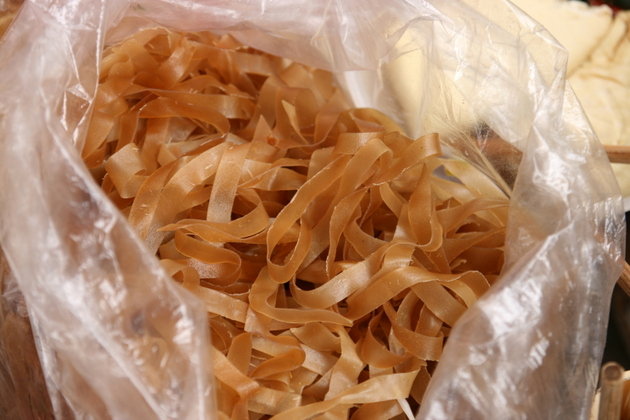 Banh da ca ("ca" meaning "fish"), like the dish above, features chunks of deep-fried white fish and possibly other ingredients such as fish paste or meat-mushroom sausages. This is served in a slightly tangy tomato and pork broth. As is typical in Vietnam, lots of herbal garnishes are used, like cilantro leaves, chopped green onions, fried shallots and sometimes even fresh dill. You can add more of the ubiquitous chili-spiced white vinegar table seasoning if you want to amp up the tartness of the broth.

You may also find banh da cua ("cua" meaning crab), which is a crab-based broth, sometimes fortified with beef slivers and blanched morning glory (water spinach). It's usually a colourful dish with dark greens, red chilies and dried chilies, bean sprouts and pink crabmeat. This version can also be eaten dry, sprinkled with crushed roasted peanuts and shallots.

You can find banh da noodles sold on Hanoi streets, usually in soup form. One way to look out for them is to spot the brownish noodles usually next to the pot of boiling stock.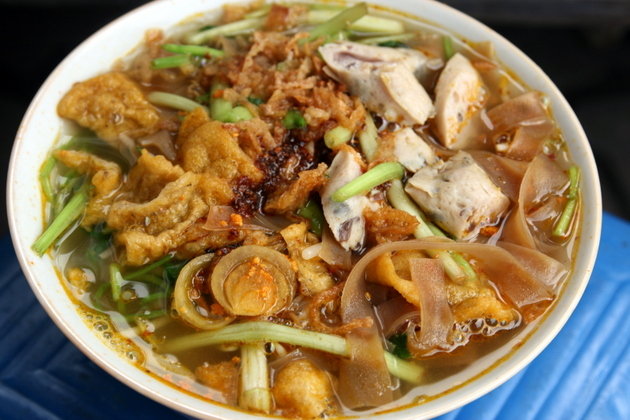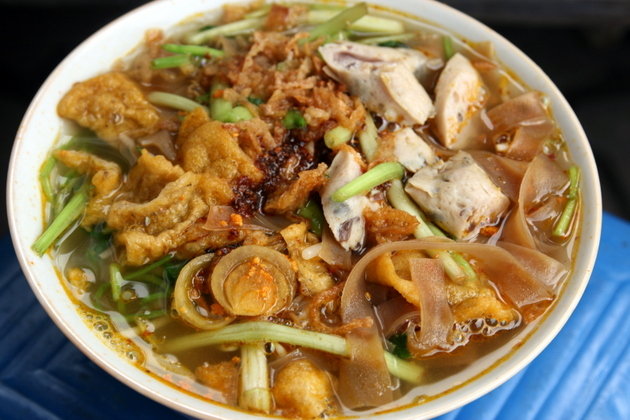 If you'd like to try these unusual banh da noodles in Singapore, come to the World Street Food Congress at the F1 Pit Building, 1 Republic Boulevard between 31 May and 9 June. At the World Street Food Jamboree, you'll find spicy banh da noodles with robust shrimp broth, served with freshly made fish cakes, and duo of fried and grilled snakehead fish fillet.