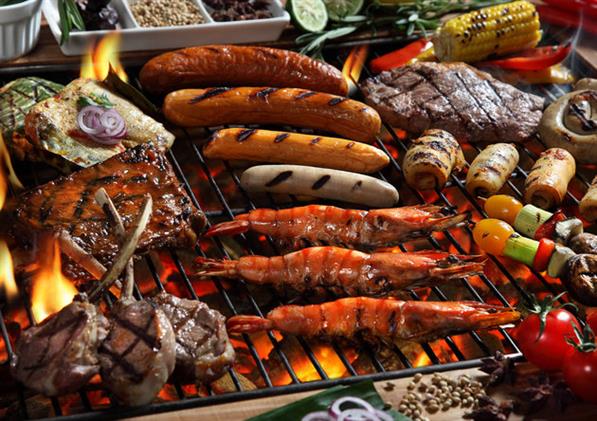 Barbecue by the Pools
By Sim Ee Waun - Monday, Sep 02, 2013
When Friday strikes, the burnt out office crowd tends to swarm towards the latest or hippest cocktail bars, like executive locusts heading for the corn fields. But if you're looking for a more tranquil way to kick-start the weekend or if you're with family, a laid-back, all evening slow roast barbecue may be just the ticket to calmness.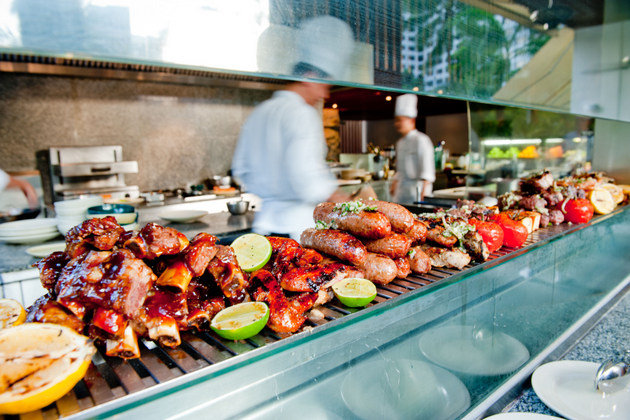 Most people know about Mezza9 at the Grand Hyatt Singapore, but its poolside restaurant, Oasis, set within its pretty gardens on the fifth floor, tends to be overlooked by many. One of the restaurant's best kept secrets though is a good value barbecue dinner which takes place daily from 6.30 pm – 9.30pm. At S$88 per person, this spread is a premium one considering the barbecue comes with free flow drinks including wines like Cloudy Bay Sauvignon Blanc, Prosecco, beers and even margaritas. For meats, there's beef hanging tenders, lamb ribs, bulgogi beef ribs with kimchi, Thai chicken, and for a light respite, jumbo squid, prawns and fish, all cooked on the charcoal grill upon order.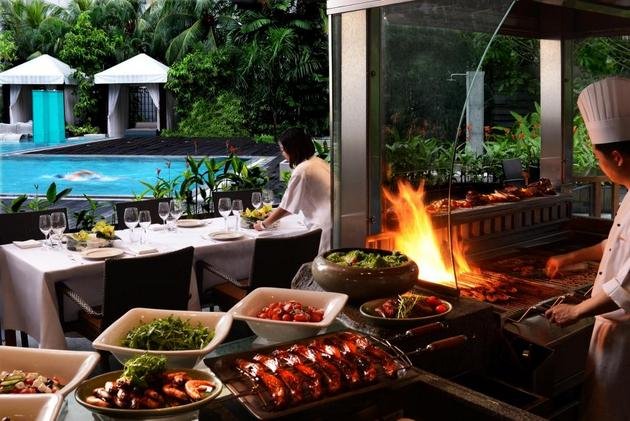 On weekdays, the food is cooked and brought to your table, but on weekends, it's self-service. There's the necessary sides like grilled vegetables and salads, where the there's enough variety to give you a touch of east and west. Expect options like tomato salad with basil and feta, sweet potato salad, Asian slaw. Desserts are a highlight too, considering Grand Hyatt's pastry chef Gottfried Shuetzenberger is one of the most respected dessert maestros around. The setting is casual and relaxed, and especially pretty at night, with an open theatre-kitchen for you to check out the chefs in action. Note that Oasis is non-air conditioned, so best to come on a cool evening. Oasis, level 5, Grand Hyatt Singapore,10 Scotts Rd, Tel: +65 6732 1234.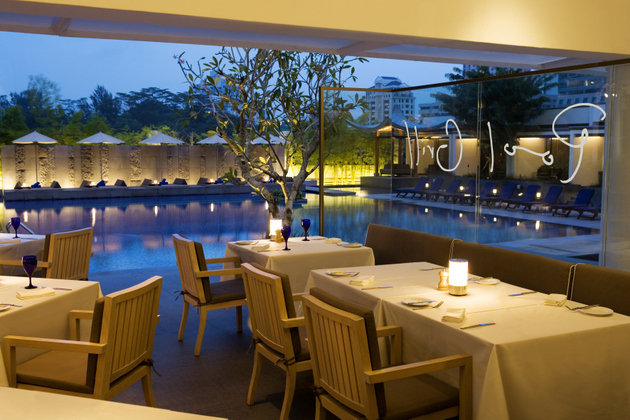 The Pool Grill, on the fifth floor of the Singapore Marriott Hotel, is a quiet hideaway from the rest of busy Orchard Road just downstairs. This is a good place to start the weekend, with its poolside Friday night barbecue of meat and seafood grilled a la minute. On the menu are mains like grilled tiger prawns with garlic, pork ribs marinated in Jack Daniel's whiskey – a signature dish here by Executive Sous Chef, Matthew van der Zwan – and Cumin-rubbed Australian Lamb Cutlets. Sides are pretty heavy going – but then again so are barbecues in general. On the list are grilled asparagus, pumpkin au gratin and baked potatoes with sour cream and bacon, while desserts are equally hearty with sweets like Baked Cheese Cake and Lemon Meringue Tart. Beer, wines and a cocktail of the month flow freely to wash down dinner. Priced at $75++, only Fridays from 7- 10pm. The Pool Grill, Marriott Hotel, 320 Orchard Rd, Tel: +65 6831 4605.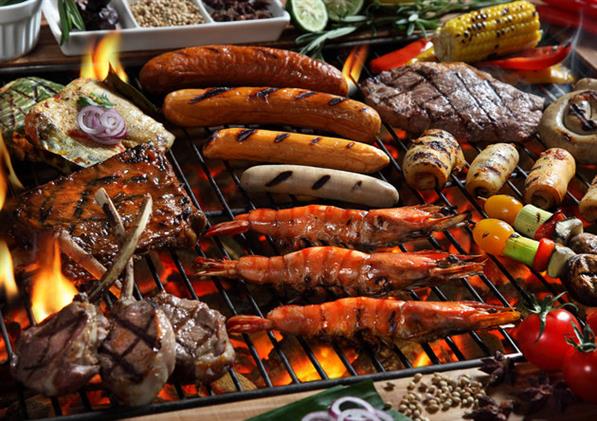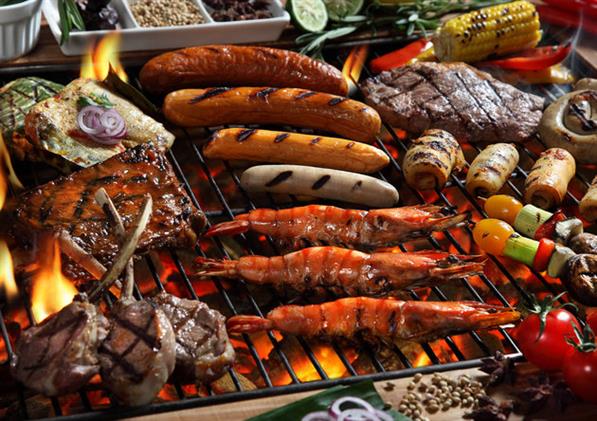 The Cocobolo Poolside Bar + Grill at the Park Hotel Clarke Quay fires up the barbecue buffet on Fridays and Saturdays in an al fresco setting. It may be a little less lux than the two above but at $52++, it offers very good value. As with the others, food prepared a la minute and gets to your table nice and hot. The food options are a little more straightforward here – NZ Black Angus strip loin, Australian lamb racks, tiger prawns, arrow squid, barramundi, spring chicken, US baby pork ribs, etc, done in a mix of Asian and western styles. The deal includes side dishes and desserts like apple crumble and sago gula Melaka. It doesn't offer free flow drinks, but for those who aren't copious drinkers but still like some tipple, Cocobolo has one-for-one deals on the wines, cocktails and beers all night Fridays and Saturdays. Cocobolo Bar + Grill, Park Hotel Clarke Quay poolside, 1 Unity St, Tel: 6593 8855.