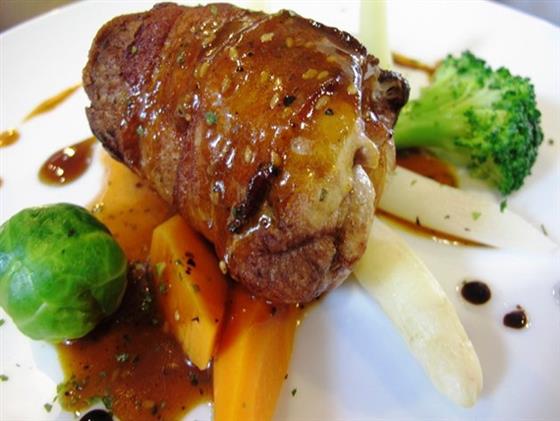 Bathers Café & Restaurant: Outstanding Restaurant Food In A Quiet Café Setting
By KF Seetoh - Friday, Jun 01, 2012
I have to be honest and say that even though I have been to this place a few times before, not all my experiences here were stellar.
That being said, despite the mediocre food, Chef Kelvin Cheong has been able to induce oohs and aahhs in me with quite a few of his creations on more than one occasion. That is worth mention alone.
He has been handling the pans at his café/restaurant, Bathers Café for some 12 years now. It is a neighbourhood eatery serving comfort Aussie/American chow for the residents with finer palates at Sunset Way.
We first met when we featured his café in this quiet little enclave in Sunset Way for our Makansutra TV show some 10 years back.
He brought out a stunning prawn aglio olio that I still can still remember to this day. It is a dish that I still gush about to people.
A caveat: on that particular occasion, we gave him ample notice of our crew's arrival so he had time to serve his best.
On a few occasions thereafter, the food served felt like a different restaurant with a transient cook even though I knew that Kelvin was lording over the stove at the back of the café.
Fast forward 10 years and I made an impromptu re-visit in late May. As usual, Chef Kelvin was lording over the kitchen.
I shall not bother to describe the deco, that's not one of their strengths.
There were no extra helpers in the kitchen during lunch. It was just Kelvin and his unbelievably small kitchen. I ordered the same prawn pasta again but he offered an off menu starter first- his usual habit to his regulars and if he knows you're a more adventurous foodie.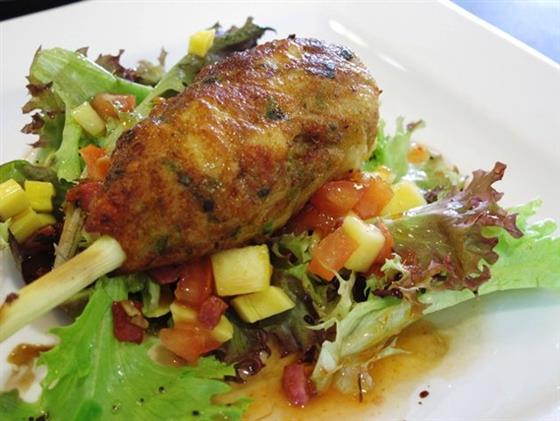 It was a grilled octopus seafood cake in a lemongrass skewer. Quickly grilled, then baked to perfection, it was outstanding.
When my pasta came, it was as good as I wanted to remember it – thin spaghettini (very thin spaghetti) pasta tossed with top grade olive oil with garlic, butter and salt with red chilli padi. The copious and deliberate amount of chopped parsley dusted on the platter took the subtle richness to another peak. The prawns were de-shelled this time round and I asked him why.
Kelvin shrugs, "A lot of customers asked me to do so, so no choice. But is does lose a bit of the flavour."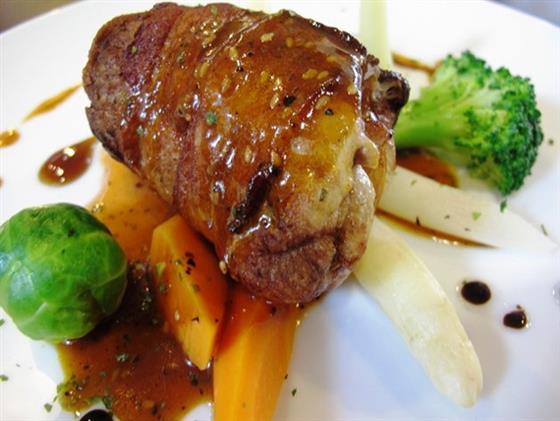 Next, the Pork Tenderloin came rolled up, roulade style. The fat was almost absent, the skin was crispy, well roasted and the insides, juicy. On top of it, the tenderloin was sliding about in a tasty herb sauce with bacon and greens. I did not want to spoil the aftertaste with a dessert so I just ordered a coffee.
Kelvin revealed that he gave up on his other outlet, "I am now back helming just one at Sunset Way – the people, the place here, it is so easy and comforting."
I realised that may be one reason for his past inconsistencies. Work pressure perhaps got the better of this Australian-trained chef.
Not anymore as the standard at Bather's Café is back and hopefully it stays that way.
Prices here average about $30 a main and pastas go for $18 each.
Bathers Café & Restaurant
41, Sunset Way, 01-02/03 Clementi Arcade
1130am-3pm, 6pm-10pm (Mon-Fri) 6pm-10pm (Sat), closed on Sundays
Tel: 6463-1767