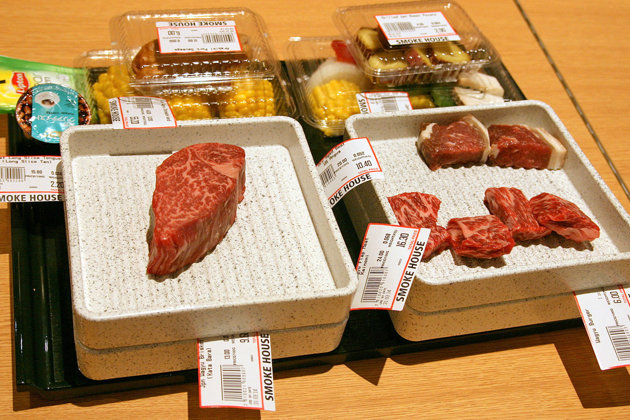 BBQ Wagyu Wonderland
By Catherine Ling - Thursday, Apr 03, 2014
Serious meat lovers – take note! Smoke House Charcoal BBQ at Great World City has brought in premium rare cuts of Japanese wagyu not often found in your regular supermarket or local butchery.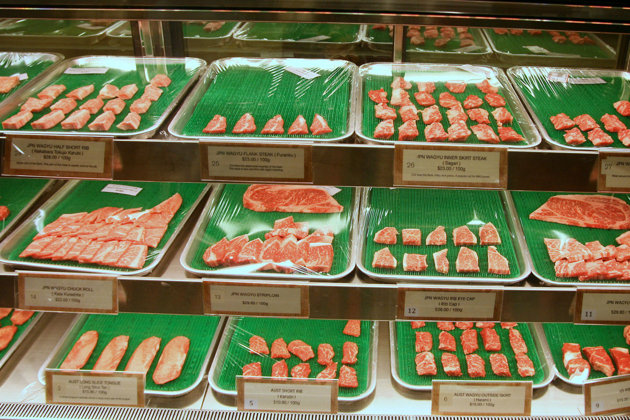 This is a new self-service dining-and-retail concept spearheaded by their master chef Naoki Tsuzuki. It allows BBQ diners to pick from a chiller showcase from more than 20 different cuts of high grade beef from Japan, Australia, and USA. These come at retail prices, not restaurant prices. The Japanese wagyu starts from S$13/100g for Kata Bara (wagyu brisket, thinly sliced). The GetaKarubi (Japan wagyu short rib) is S$18/100g.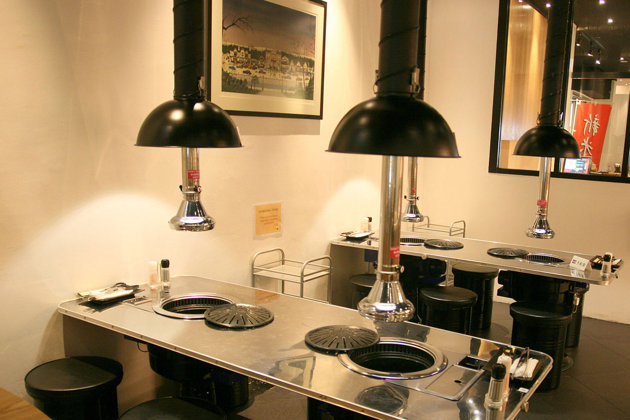 The most premium of karubi cuts is the Sankaku Bara (Japan wagyu chuck short rib, S$30/100g). The rarely seen Zabuton (wagyu chuck flap) is also S$30/100g. Meats from other countries are understandably cheaper. The US rib eye at S$15/100g is only half the price of the Japan wagyu ribeye (S$29.80/100g). There's also beef tongue, intestines and marinated meats, along with pork (Iberico and Kurobuta, no less), lamb, seafood, and vegetables.
Does this make your head swirl? The mind-boggling variety and exotic names can be daunting for diners who are not meat experts, but the counter staff is well-trained to give advice. You can buy by the slice or by weight. Want to try a slice of everything? Go ahead.
The unique dining process itself too, can add to the complexity. You first approach the cashier counter to book your table number. Then you select your BBQ ingredients and drinks from the retail section upfront.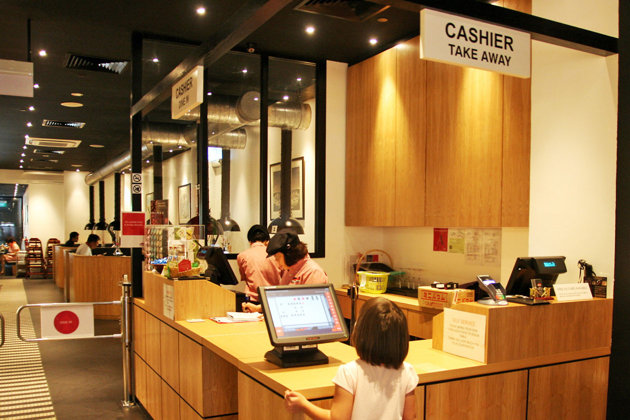 Pay for all those items and a cover charge (S$8 for lunch, S$10 for dinner) which gives you free flow salad, Japanese rice, garlic rice, kimchi, soups and condiments. The good news is – there is no service charge because the restaurant is a self-service concept.
Then you proceed to your table for the do-it-yourself BBQ. If you want to top up with more meats or other items, just head out front and buy more. There are also desserts, cooked food items, and a delicatessen.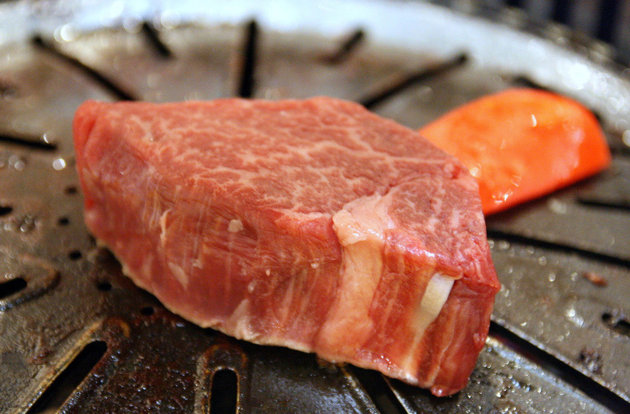 It's quite a process before you sit down and enjoy the food, but the shopping part can add to the anticipation.
And those special retractable exhaust ducts above the grill? They do well to ensure that you don't smell like a BBQ after dining.
The grill is almost smokeless. Here you have the Kainomi (Japan wagyu flap meat, S$24/100g) in four slices at the center, and US Angus dry aged beef (S$20/100g) in two slices at the back. We also tried some regular Australian beef for comparison. The Japanese wagyu, not surprisingly, remains the best of the lot.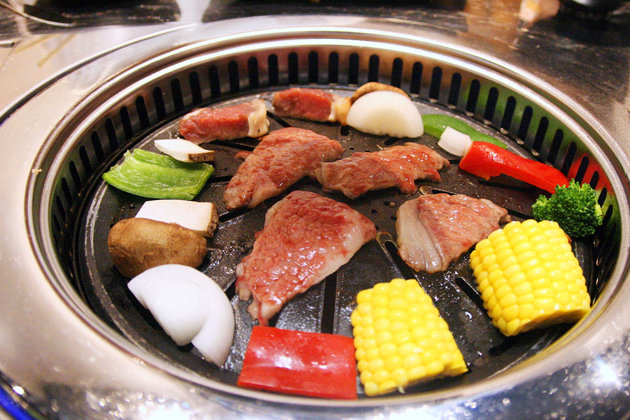 If you feel like splurging, go for the Japan Wagyu Chateaubriand (S$46/100g) – an extravagant cut from the thickest part of the long fillet. This ultimate premium rare cut is incredibly fork-tender and full of beefy flavour. It won't leave your mouth oily like some overly fatty cut of meat.
Smoke House imports the wagyu from various prefectures in Japan and wet ages them in a showcase that also helps educate diners on the shape of the part, and rarity of the cut. Most of the wagyu is of A3-A4 grade.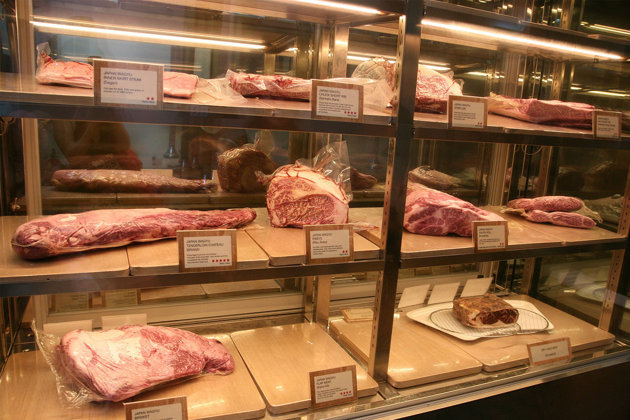 The retail section carries unique Japanese products exclusive to Smoke House. Items like otsumami (dried fish snacks), sweets, dressings, sauces, soup stock, drinking/fruit vinegar, the house-made shochu, and even BBQ gear and charcoal gift products. Customers can also get takeaways of the meat items for BBQs at home.
For simplicity's sake, Smoke House has also introduced 90-minute buffets, which should prove popular with locals. The dinner buffet is a marvellous deal at S$60 nett per adult (S$38 nett per child*) offering everything in the meat showcase including Japanese wagyu, pork, chicken, lamb, seafood, vegetables, as well as items in the cover charge. It runs from Mondays to Thursdays (except eve of and on public holidays).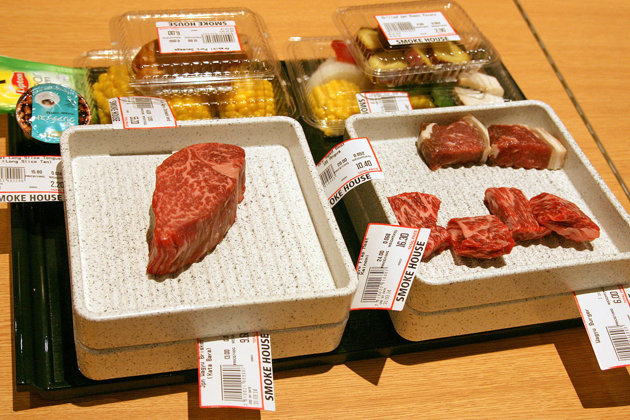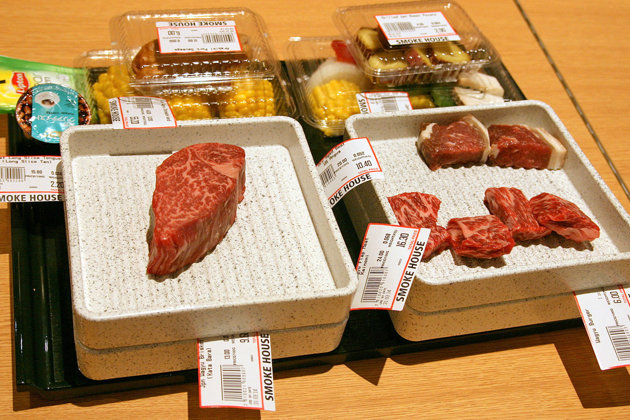 The lunch buffet is from Mondays to Fridays (except public holidays) at S$23 nett per adult, and S$18 nett per child* but does not include Japanese wagyu (only beef from Australia, US and NZ). You can still add on the Japanese wagyu on an a la carte basis. It might not be a bad idea, as some of the richer wagyu cuts are best savoured in small doses for lunch.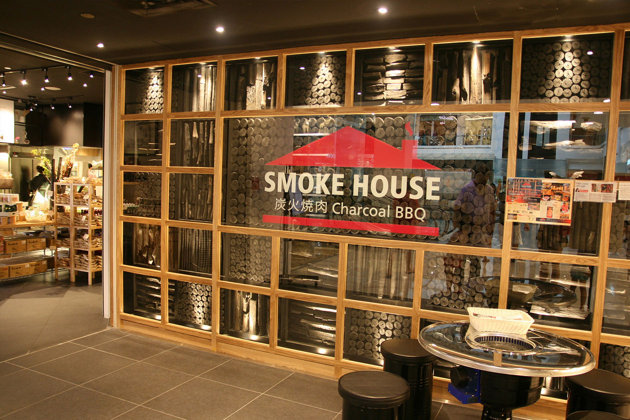 *child measuring between 60-90cm in height.
Smoke House, #01-37 Great World City, 1 Kim Seng Promenade
Tel: 6235 2185
Hours:
Retail Counter: 12.00pm – 9.45pm
Dine-in:
Lunch: 12 – 3pm (Last Order 2.30pm)
Dinner: 6 – 10.30pm (Last Order 9.45pm)