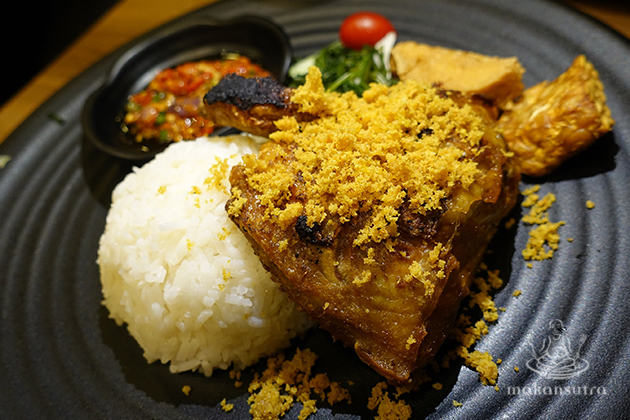 Bebek Goreng Pak Ndut: The Luck of Eating Ducks
By KF Seetoh - Friday, Sep 22, 2017
The thing about duck- it's gamey, dry, and not easy to cook. The texture is on the hard side of soft and it's no wonder duck is not as popular as it should be. For starters, Muslim menus here do not commonly feature it but folks in Bali, Indonesia loves it. It's hard to traverse Bali and not be pointed to Bebek Bengil or "Smelly Duck" restaurant famed for their fried duck and rice with a wicked sambal. Their story was about how a flock of smelly ducks flew into their eatery when it opened and the boss took it as a sign to offer this dish, and there was no turning back since.
But it's a different story here. Bebek Goreng Pak Ndut is sited inside a mall not known for Muslim or Halal fare. You go to Lucky Plaza for money remittances back to Philippines and then chomp in on their famous Jollibee fried chickens or a plate of sizzling pork Sisig with rice. Frankly, I am very particular about ducks. I am fussy about how smooth, crispy and well roasted the skin should be if it's roasted (like Peking Duck), how perfectly is must be sliced if it's Teochew braised (for mouthfeel and texture) and how well the gaminess is contained if it's in Thai Red Curry or in a Kiam Chye Ark soup (salted vegetable duck soup). French Duck Confit, to me, are for folks who haven't tried a good version of any of the above. So this "highly recommend" Bebek Goreng, came with lots of trepidation.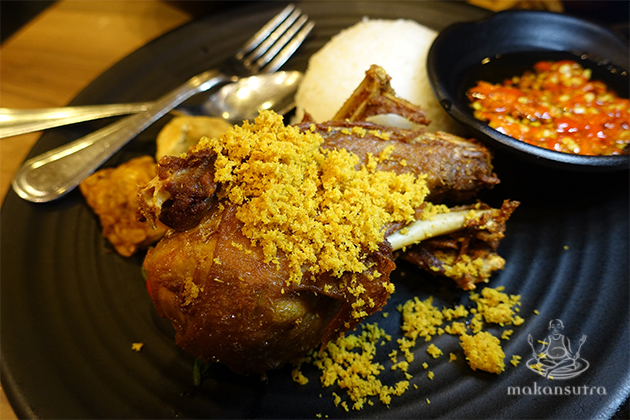 First up was their classic Original Crispy Fried Duck with Rice ($9.90), looking like a dried and fried chunk of fowl with some crispy flour bits atop and you can sense my perceived cynicism if you were with me. But I did a two second epiphany-pause after the first bite. It was moist inside and the hint of gaminess was perfect for the plain fluffy soft sweet steamed rice it came with. The crispy bits, tempeh and tahu were just textures and flavours to enhance the joy. You have to eat and chew it slowly for maximum pleasure. The best part was the sambals (plural) it came with.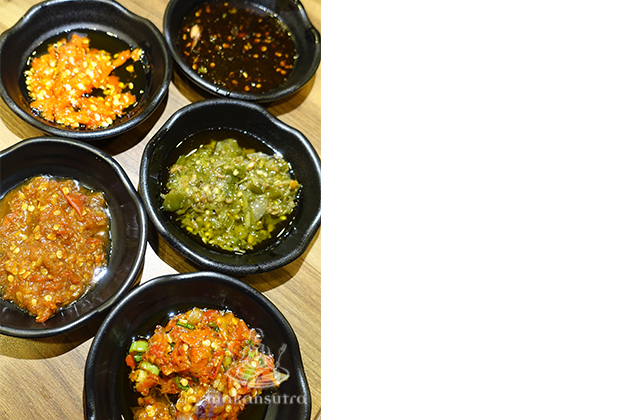 If you asked politely, the very friendly stall will politely offer you (and they normally don't) up to 5 types of sambal dips- plain chilli sambal, sambal hijau (green chilli sambal), kicap sambal (sweet soy sauce with pounded chilli), sambal trasi (sambal belacan) and a Bali style Sambal Matah. Be polite, plead for and try all five, you will not be disappointed. They also tout a Sangan Crispy Fried Duck ($10.50) that's "fried with no oil" (don't ask me) but I reckon it's grilled then lightly fried to finish and to lock in flavours. It was less oily and just as flavourful as the classic, but I loved the sinful original version.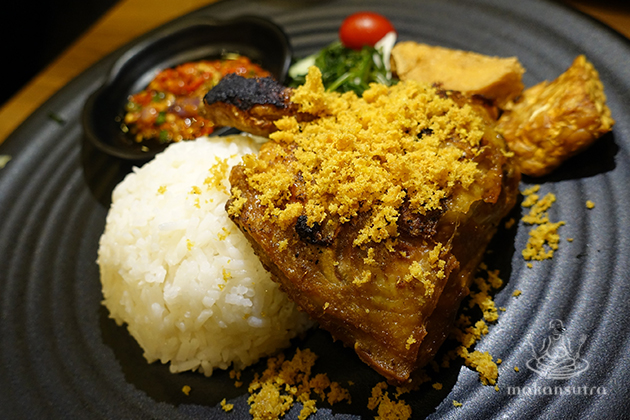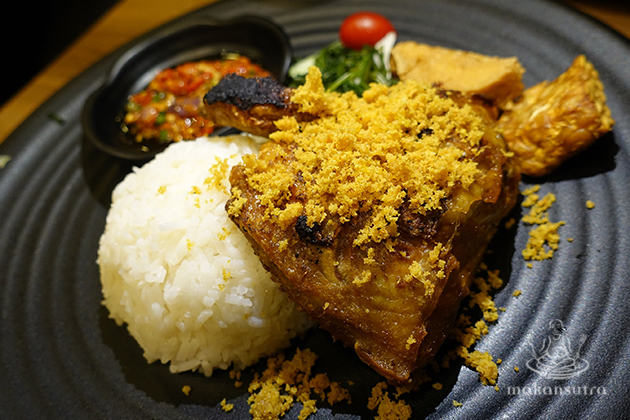 If chicken is your thing, they also do the same with it (Original Smashed Fried Chicken, $7.90). As expected it also came very moist and they you can tell don't pre-fry the orders to anticipate the crowds. Desserts- I think they overdid their take on "less-sweet". Their pink Ice Campur ($3.90) with beans and black jelly could do with a more crystals of sugar to qualify for "less- sweet", in my books.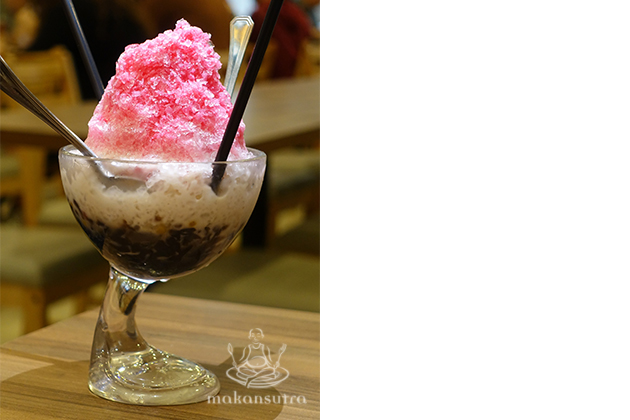 Bebek Goreng Pak Ndut (Halal)
#01-42/43/44, 238863, 304 Orchard Rd, Lucky Plaza,
11.30am-10pm daily.
Tel: 6734 4787