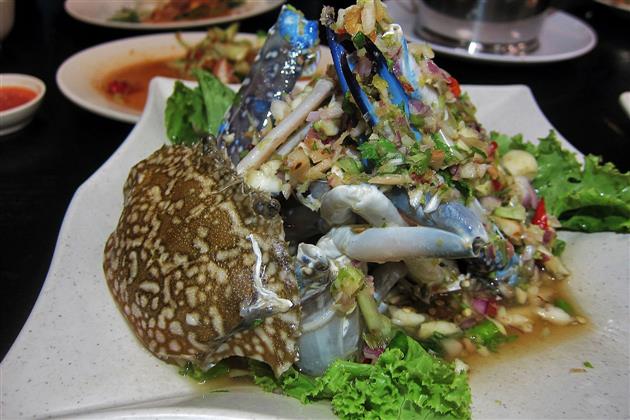 Beer Thai: Not the usual Thai Food in Little Thai
By TianTianChi - Thursday, Jun 12, 2014
These days, it is not easy to fool the well-travelled Singaporean palate with sub-standard Thai food. Thailand is afterall one of Singaporeans' favourite travel destinations and their taste-buds are discerning. However the menus from the better known and local-managed Thai restaurants in town chose to stay on the safe side and are filled with generic and predictable Thai dishes (think tom yum, pad thai and yum voon sen). Real fans explore the crevices of Golden Mile Complex, to track down little eateries with staff that speak little English and serve stuff that are difficult to pronounce.
Jon, my makan kaki suggested we go Beer Thai a few days back when Thai food cravings hit us. Maybe we knew we are not likely to be visiting Bangkok for a while, till the current turmoil there cools somewhat. He is a good Thai makan partner, as he lived in Thailand for several years and speaks the lingo.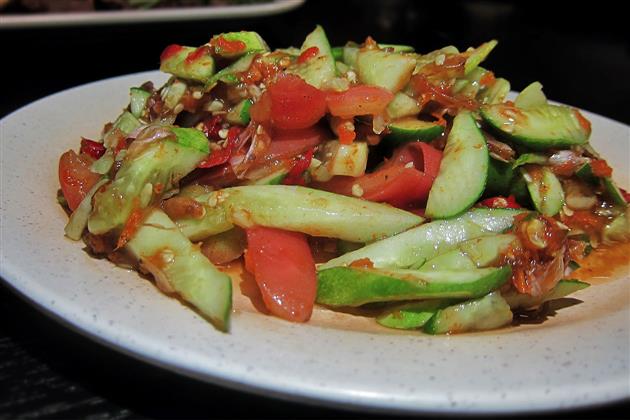 Instead of the usual young papaya or green mango salad appetizer, we ordered cucumber salad (Tamtaeng) instead. With this simple ingredient, the dish is transformed. It was so refreshing with the cooling clean neutral taste taking on the sweet, sour, spicy and sharp sauce. Less fibrous comparing to eating young papaya or green mango, it reminded me of Peranakan sambal timun.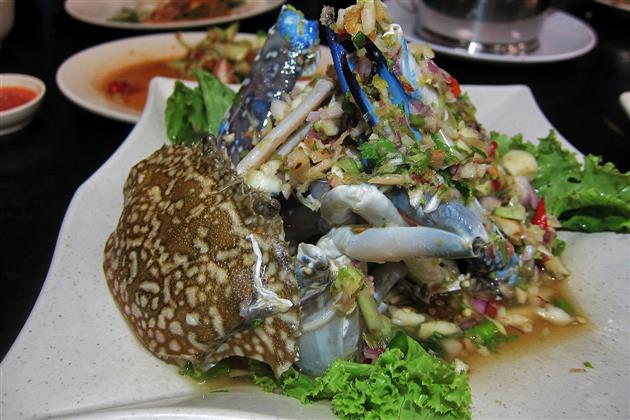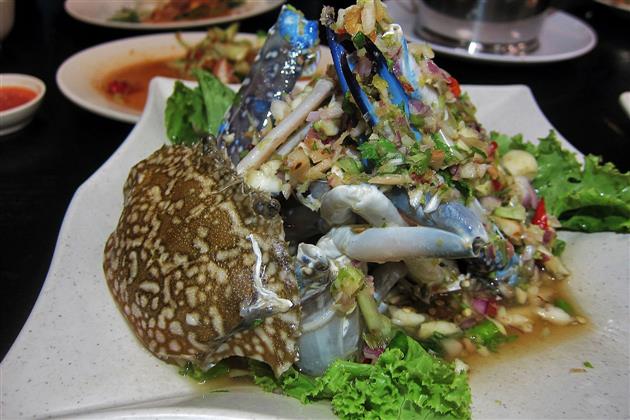 I am no big fan of Thai pickled crab (Poo Dong) even though I love Shanghainese or even Teochew pickled crabs. It may be the marinate, the fishiness or the hassle of removing the tiny bits of shells from the little crabs so I was a little uncomfortable when Jon vetoed my suggestion of raw prawns with Thai lime spicy sauce and ordered the raw crab version. I was surprised they used large flower crab used instead. Seasoned with sufficient lime, palm sugar, fish sauce, lots of shallots, garlics and aromatic galangal there is not a bit fishiness in this. The meat was fresh, succulent and pleasantly sweet with almost gel like smoothness; even Ted our American friend had no problem and like it enough to go in for a few more helpings.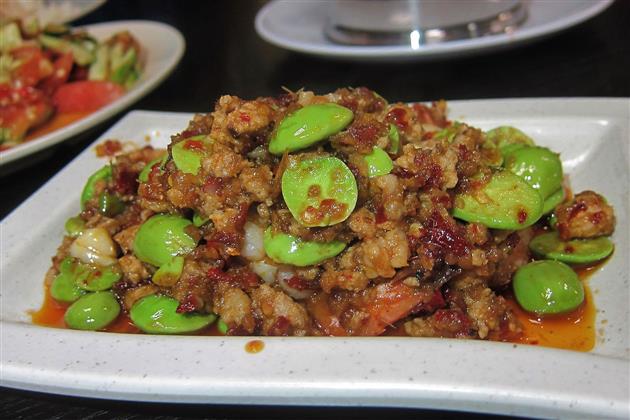 Sambal petai is a must order whenever I visit a Nasi Padang/Melayu stall. Some find the methane like aroma off putting, but I find it alluring. They fry the stink beans here with minced meat and fresh seafood, seasoned with fish sauce and minced chilli. So bold and moreish I almost ordered a second portion. Definitely die die must try.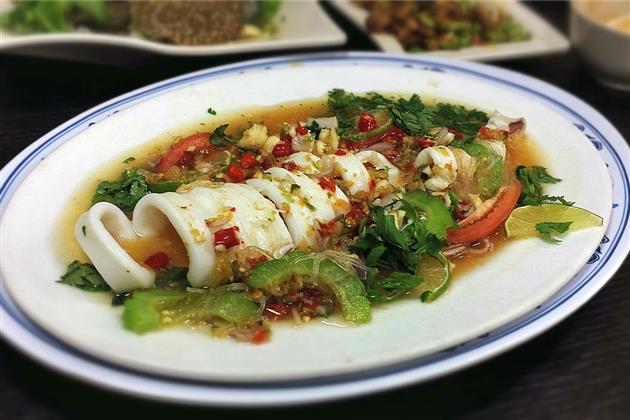 The appetizing and sensational Thai steamed fish with spicy lime sauce is popular with Singaporeans but it will need a big fish to satisfy this of big group of hungry diners. A better choice here would be to order their sotong (squid). It is steamed perfectly, tender and not chewy and the size big enough to satisfy. For those who like the heat, ask them to up the chilli quotient. It will sting hard initially but the heat will warm up in the stomach.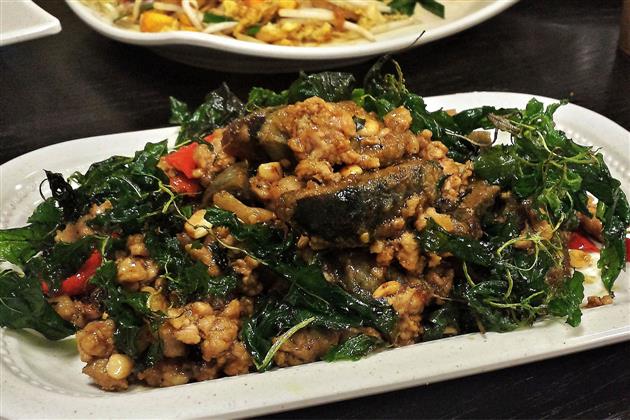 If you are a fan of the ubiquitous fried basil with minced meat might want to try the version with century egg added. I prefer they do not deep fry the basil leaves, but the century egg gave a heighten taste and delightful bite.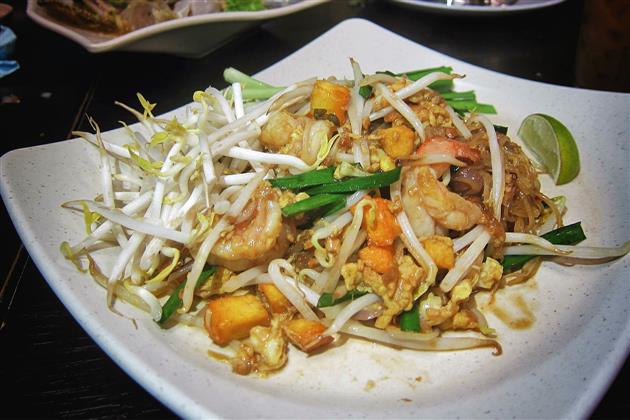 Their familiar Thai dishes such as Som Tam, Tom Yum, Pad Thai, pineapple fried rice etc… are well executed like at some good Thai restaurants here too. But I'll return for the rarer stuff not commonly found at the "please all" Thai menus in town and heartland malls. The red curry duck comes slightly sweeter but there is enough richness in it. The Pad Thai, though also a little too sweet for my liking, is just like how it is in Thailand, well fried and with lots of beansprout to lend crunch and sweetness. Other dishes worth mentioning include Deep Fried Fish with Beerthai Sauce, Thai Jungle curry (Gaeng Paa) and Kah Moo, the signature pig knuckle – stewed to perfection, almost melt in the mouth fat, soft juicy meat and delectable savoury sticky gravy.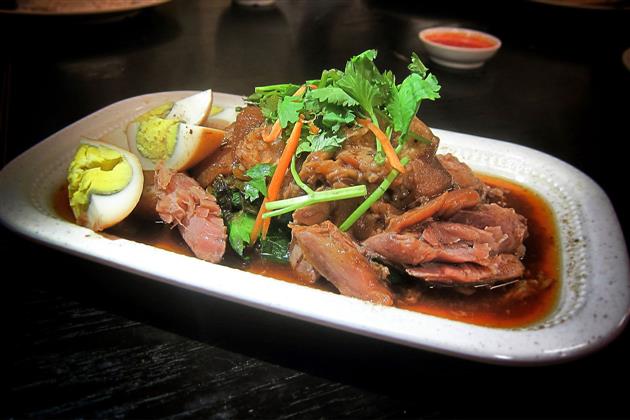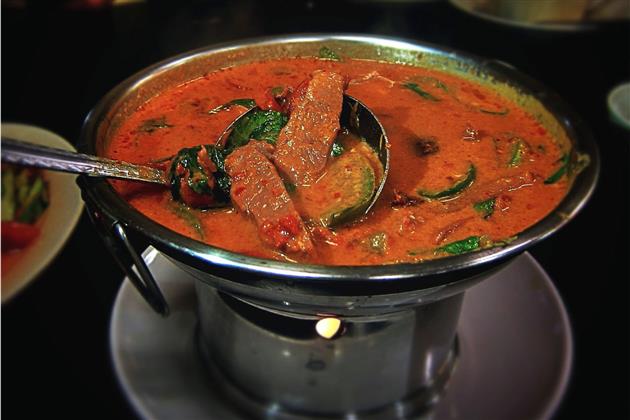 This restaurant we ate at is the little sister of their main outlet next door in Golden Mile Tower, but is more popular with the Thais and the white collared locals working in the vicinity. Their main outlet serves a more deluxe range of dishes and with a more "upmarket ambience". They are one of the few selected caterers to the Thai Embassy and this may be comforting for those needing qualifications and some credence. Prices here are also reasonable ranging from $5 for the salad to $22 for the raw crab dish.
Beer Thai House Restaurant
5001 Beach Road #01-96, Golden Mile Complex
10.30am-10.30pm
And
6001 Beach Road #01-50/51Golden Mile Tower
11am-11pm