Beer Thai Restaurant- A Little hideout in Little Thailand
By KF Seetoh - Monday, Jun 23, 2014
15 minutes into the conversation, and with the pleasantries out of the way, I could sense his fatique and resignations to the realities of doing food business here. After all, Somsak Chomprach has been in Singapore for 32 years now and was among the first full-fledged (he cooks the whole range, not just the usual signatures) Thai chefs to hit our shores back in the early 80s. He has seen the rise and rise of Thai food culture here and at 57, he tells me " I am very tired and the current manpower situation is making it harder for us to do a better job."- the common sentiment among many hirers of skilled blue collar workers today. "But food is in my mind every day, I think and sleep over food ideas.", he adds and his Singapore born 16 year old daughter nods and agree.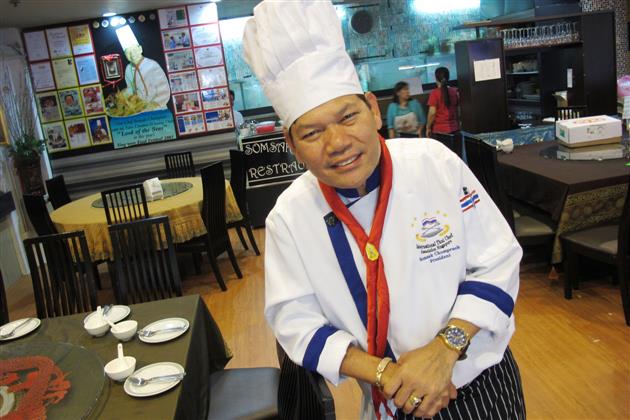 After more than a decade with the Seafood International restaurant at Big Splash, he set up Beer Thai House Restaurant 14 years ago, while still doing part time gigs at his former employer's place with their blessings. This Singapore permanent resident, who is also the President of the 200+ strong International Thai Chef Association of Singapore, now run two outlets and it's his food that speaks volumes about this experience and expertise. To me, it is a "beyond tom yum and green curry" kind of Thai eatery that lures even his own country folks in.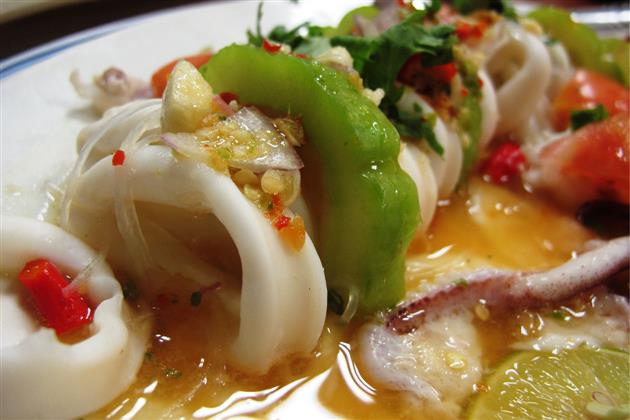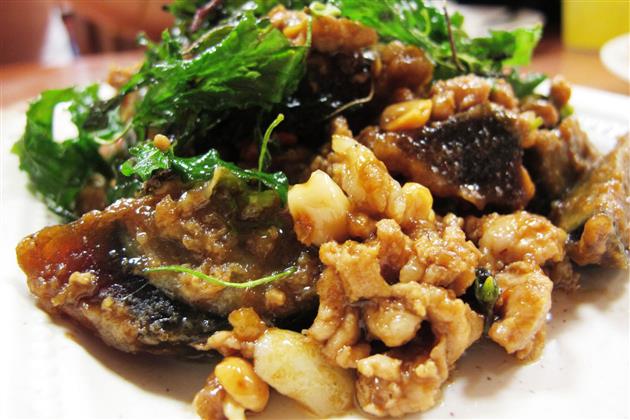 The first time I came across their café, hidden in the back rows of shops in that little Thailand mall, was three years back and I knew there was more here than the robustly spicy and sharp pad kra pow (spicy minced pork with lemon grass) with a sunny side up fried egg over rice, a national comfort dish of sorts for our Thai buddies. Then I discovered just how well their tempura-ed slices of century egg, tossed it with minced spicy pork and topped it with fried crispy translucent basil leaves. I fell in love with this one. It had touches of Chinese but felt so Thai when in the palate. Somsak worked with many Cantonese chefs at his former workplace and now speaks the dialect but still "no spik ingrish" and there's good wok-hei in his stir fries and noodle dishes.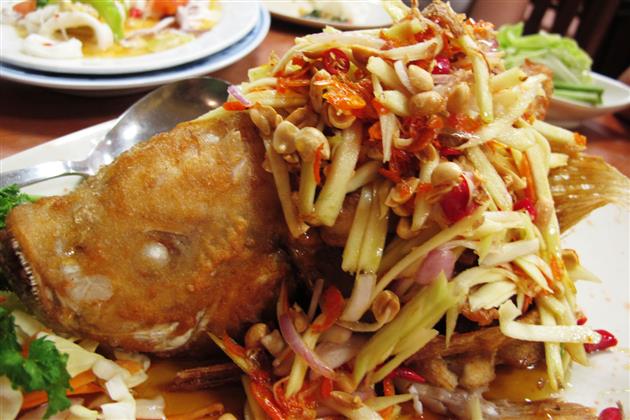 I dug deeper into his menu on this visit and loved the Thai petai sambal prawns with minced pork. Lovely over rice, as was their crispy tilapia fish (very fresh) smothered with nutty papaya salad (som tum) with a sweetish plum base sauce. But what took the cake was the steamed sotong in spicy lime, chilli and fish sauce- nothing special until you noticed slices of bitter gourd plus a layer of steamed egg white lining it below. It lent an agreeable texture and taste to the whole show in the mouth. Hit the like button, someone.
Then he tells me," if you bored of these stuff " just come and tell me- off menu special dishes please" then sit back and be dazzled by his newer creations like a pomelo kueh pieti with jellyfish or a Thai style lobster chilli dish.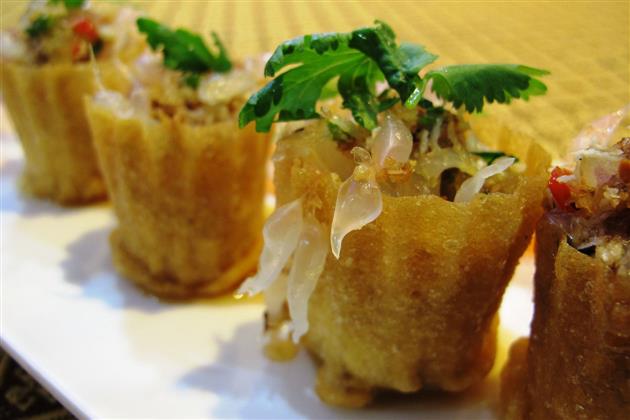 Chop makmak!
Beer Thai House Restaurant
(Café) 5001, Beach Road
01-96, Golden Mile Complex
Tel 6291 2267
8am-11pm daily
(Restaurant) 6001, Beach Road
Golden Mile Tower, 01-50/51
Tel: 6297 7644
11am-11pm daily