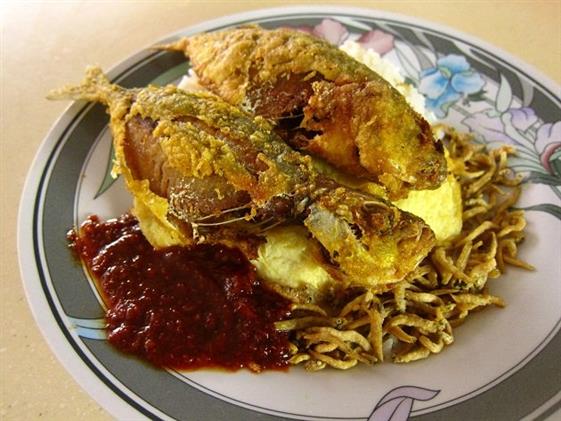 Bests of Hainanese Village Centre
By TianTianChi - Wednesday, Aug 29, 2012
Hougang or "back of the port" (as in the old Punggol port) has a rich cultural history that stretches back to the early time of Singapore. While many know of it's enclave of the Teochew and heritage, not many younger generation know of its roots and association with the Hainanese community in Singapore. The Hainanese Village (near Hougang Avenue 1 and Lorong Ah Soo)was a closely knitted community, many of them seamen, fisher folks and their families, according to 80-year-old Mr Loh, whose family has been staying a longtime resident of the area, since is childhood days, playing with his grandfather.
The market and food centre here underwent a major faceliftand transformed into an airy three-storey wet market and food centre complex in 2005. As a celebration of its Haninanese heritage, it was renamed Hougang 105 Hainanese Village Centre.
The 51 food stalls are situated on the second floor. Interestingly there is hardly any representation of Hainanese food other than their signature chicken rice stalls. But for whatever offered there, it was popular with foodies all over the island. Most of the stalls operate by day and come evening, the stillness is punctured only by the handful of stalls that remain open.
Here are 5 of our faves there…
Hougang 105 Hainanese Village Centre Blk 105 Hougang Ave 1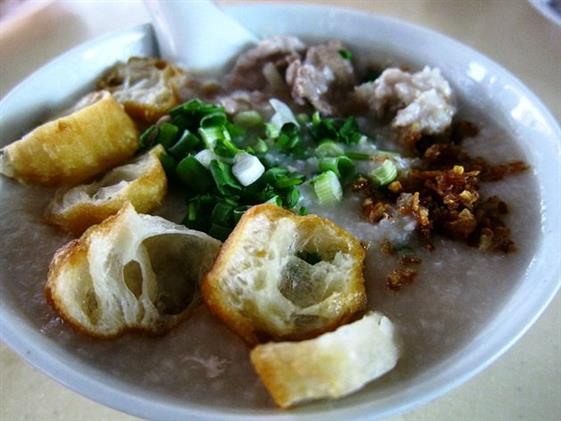 Tampinese Pork Porridge(#02-01) 6am-1am (Closed Mon)
It quite like the Hainanese style, even though they are Hokkiens. Each bowl of the porridge is cooked individually, hence a 20 minute wait on a busy morning. They insist on serving to your table because of a humble reason many choose to ignore. "We don't want the customers to get their fingers burned while carrying the porridge," says the boss. The porridge comes grainy yet smooth and well-flavoured. They are generous with their ingredients. At $2.50 a basic pork porridge, it comes generous with lean pork slices, handmade meatballs (flavoured with teepo or dried flat fish bones) and pig liver. Max the flavour with an extra order of egg.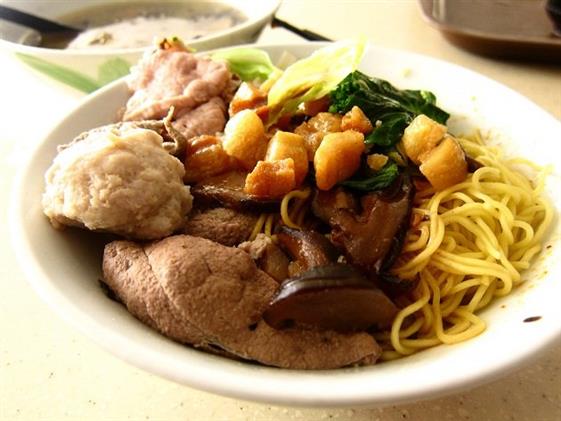 Punggol Noodle (#02-24) 7am-2pm (Closed Sun)
The iconic du pi tao (one armed swordsman) or one armed hawker noodle master has now nested(he moved about a few locations before). It is inspiring seeing him flip, toss and churn out bowls after bowls of noodle diligently, skillfully with only one arm. His gentle and friendly ways is a lost culture- always seeking "permission" from the customers when adding condiments to the noodles. The crispy lard however, is a free-flow-help-yourself system.
The noodle is well blanched, but just a tad soft and floury but his meatballs are peerless. It comes tightly packed, addictively textured and meaty with bursts of tasty teepo flavour. Many like the dry version which comes with a gently spicy and vinegary sauce, we adore the soup version with its robust and rich stock. Wait time at lunch is horrendous not because he is slow, but simple because of the overwhelming demand.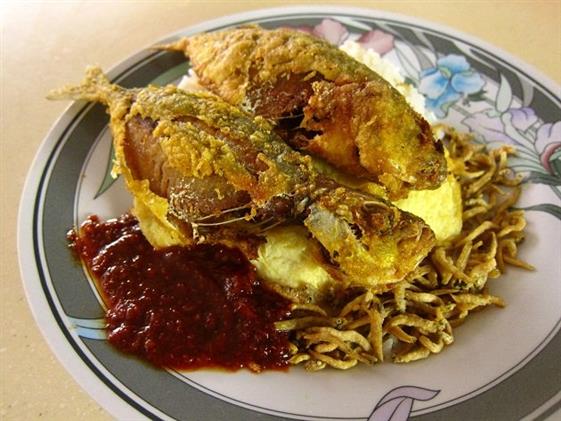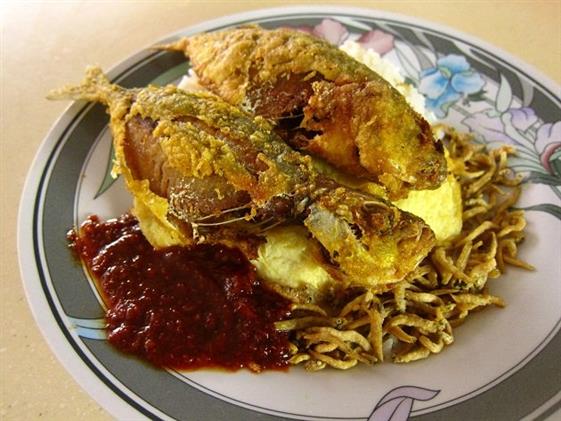 Yi Liu Xiang (#02-30) 6.30am-12.30pm (Closed Mon & Thu)
There is a perpetual queue for its nasi lemak the moment it opens. It is not for the rice which is lightly fragrant and fluffy, nor the sambal which is gently spicy. It's the fish. The very fresh ikan kuning comes slightly larger than usual and is marinated lightly with turmeric with a light dab of arrowroot flour. It is crispy on the outside and meat is juicy and flavourful.
A basic set, at $2.30, consist of coconut rice, sambal, an omelette, some deep-fried white bait and a fish. You can upsize with fish cakes, hotdogs, luncheon meat (unnecessary though) and most importantly – the ikan kuning.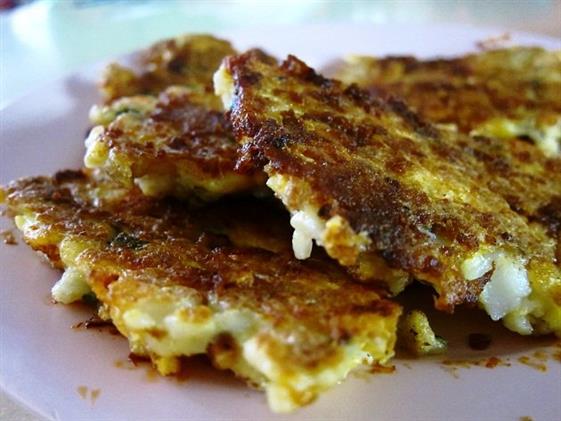 Hup Huat (white) Carrot Cake (#02-35) 7am-1pm (Closed Mon exceptPH)
This is one of the earliest occupants in the food centre and a third generation is helming it. They pre fry (for basic doneness), a small batch of the carrot cake and finish it only upon order. They take portion, flatten themon the frying pan, pour some egg sauce over, let it set, crisp, and then quarter it, then they flip over to crisp the other side with some chilli smeared on. It comes thin, crispy on the outside, soft and slightly spongy on the inside. While it is smoothly savoury, it's a tad salty, probably to cater to the seasoned palates of the elderly regulars there. Best eaten while it's hot as it turns soft after a while.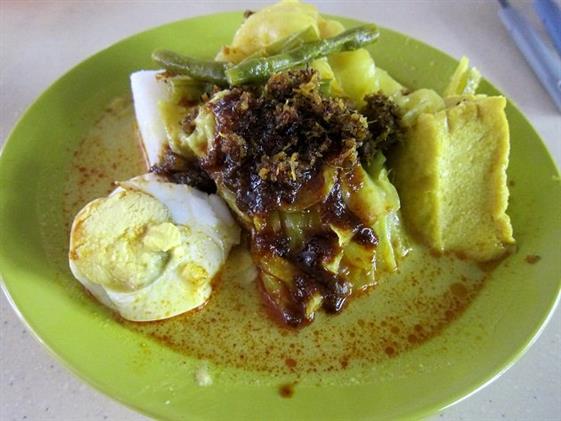 Rosmin Muslim Food (#02-42) 7.30am-5pm (Closed Mon)
This the only Malayfood stall here so naturally it attracts a lot of Muslim customers. But that is not the only reason for its popularity. The folks here do a pretty mean Malay breakfast items such as nasi lemak, mee siam, mee rebus and our favourite here, lontong. It looks just like any normal lontong, serves with sayur lodeh and a whole hardboiled egg. But the gravy, which comes with a prominent and refreshing scent of lemongrass, is refreshingly rich. They introduce just enough coconut and is not overly heavy and it's enhanced with a topping of well toasted desiccated coconuts (serondeng) and spiced up with sambal chilli.