Big Prawn Noodles: You Die Die Must Try this Hae Mee
By KF Seetoh - Friday, Aug 03, 2018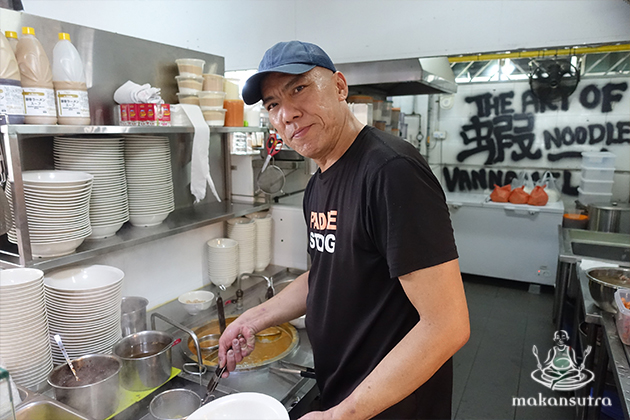 I agreed with him when he said there aren't many good prawn mee hawkers showing up of late. So Dixon Fong, took all of two days, to figure out a recipe and set up shop here in the eastern boondocks, and now, our observations, no longer apply anymore. A chef turned hawker like Dixon, knows his stuff and you can taste all the respect and diligence in his bowl of prawn noodles. For starters, this Fujian style noodle has evolved over the decades here. No longer do many use the teenie-weenie halved prawns in a broth that don't seem to use enough prawn heads as a base in the stock. These days, the common method is to roast the prawn heads and shells, simmer them in light bone stock, then blend these moist and roasted heads and reintroduce them back to the stock, with more bones (chicken or pork), garlic, some rock sugar, shallots and even hae bi or dried shrimps. You taste the intense umami that is punctured by a roasty prawn heads flavour, sweetened by some shallots and bone stock.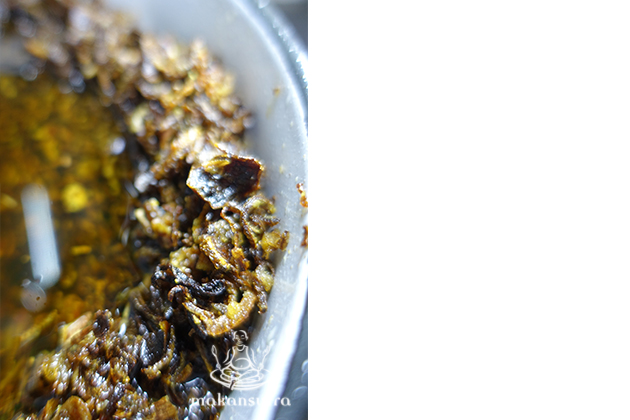 And that's what I felt upon my first sip of his soup- the all important factor in this dish. As if that's not enough, every other day, he fries up a huge pot of his own made fried shallots- done just past brown for more caramelisation and spoons it over the noodles. And did I mention the sinful pebbles of crispy lard laid on? The "big prawns" as advertised is just medium sized in my books, but it's more than decent. It's not those sized like an outstretched thumb tip to top of index finger sized ones, but then again, those are secondary factors in a prawn noodle soup. Dixon's soup comes orangey which comes from the roasted roe in the prawn heads. I gush, but truly, it's been a long time since I came across a Hae Mee Thng (Prawn Noodle Soup) that instantly eggs me to rate this a "die die must try", the highest accolade Makansutra accords to respectable, top of their game hawkers.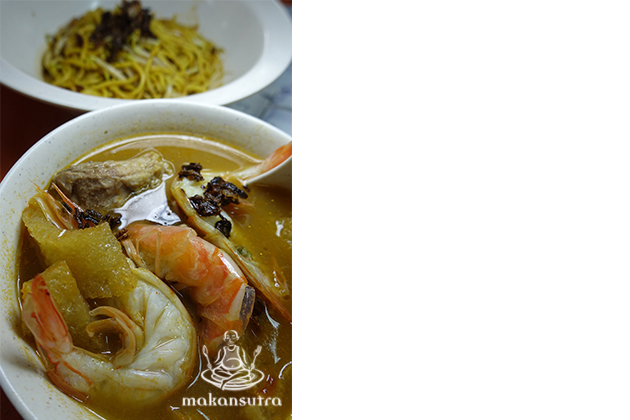 Dixon, a Damian De Silva-esque (of Folklore Restaurant) tall, bold, bald and confident chef, and has never sold prawn mee soup before and his one year old stall sees a daily line of regulars in this industrial area. A standard hearty bowl at $5, comes with at least three halved medium sized prawns showered with a spoon of his fried shallots. And if you order his dry version ($5), you will know the hae bi laced sambal, is on point- boldly savoury and gently spicy. I asked to add more soft boil pork rinds and pork ribs for a dollar more, and it was worth all the extra calories. The ribs came soft and most importantly, moist inside as he times the pot to bowl cooking operation cleverly- it does not sit in a pot long enough to dry up.
I agree also it's an unforgivingly long drive and ride to this ulu part of Singapore but then Loyang is like a euphemism for "far" in our country. Truth be told, I will be back for this on a regular basis- far or otherwise, as travelling and roaming around this city state of ours for good food, is one of the greatest organic pleasure this land has to offer. Just take your fingers off the phone and go, see, do and eat. Have a great National Day Week of happy eating and roaming ahead. PS, if you go before 10 am, he even offers a discount!
Big Prawn Noodles
Loyang Way Food Village
64, Loyang Way
6am-3pm, Monday to Friday
6am-2pm, Saturday
Closed Sundays and Public Holidays.